Topic Page: Hazelnuts
---
Definition: HAZELNUT from A Dictionary of Entomology
---

Summary Article: Hazelnuts
From The Illustrated Cook's Book of Ingredients
Over a hundred varieties of hazelnut are cultivated in many temperate countries, with Turkey being the world's largest producer. The rounded nut, which may also be called cobnut or filbert, has a sweet flavor and a pleasantly crunchy texture. Fresh "green" hazelnuts are juicier and milder in taste than the mature, ripe hazelnuts.
Buy
Fresh hazelnuts are available in the late summer months. The common mature nuts are sold either in their brittle brown shells or shelled, when they may be raw, blanched to remove their skins, or roasted. If buying in shell, choose unblemished nuts that feel heavy.
Store
Keep both unshelled and shelled hazelnuts in a cool, dry place; eat shelled nuts as soon as possible. Or store shelled nuts in an airtight plastic container in the fridge for 6 months, or the freezer for a year.
Eat
Roasting hazelnuts enhances their flavor and makes it easy to remove their papery skins. Eat as a snack. Use in cakes, cookies, and desserts, as well as in savory dishes.
Flavor pairings
Fish, apples, plums, cinnamon, coffee, chocolate.
Classic recipes
Romesco sauce; nougat; lokum.
San Giovanni
Traditionally sold in its thick, shiny shell, this Italian variety is excellent for biscotti and pastries.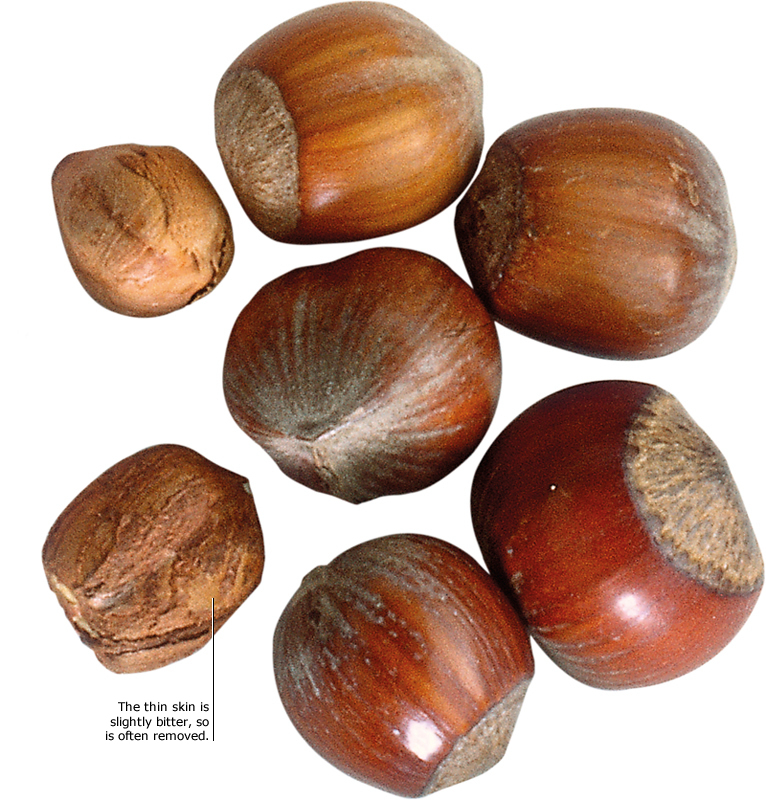 Tonda Gentile Romana
This small, flavorful Italian variety is associated with the Piedmont region of Italy, noted for the quality of its hazelnuts. It is the nut used in much Italian confectionery.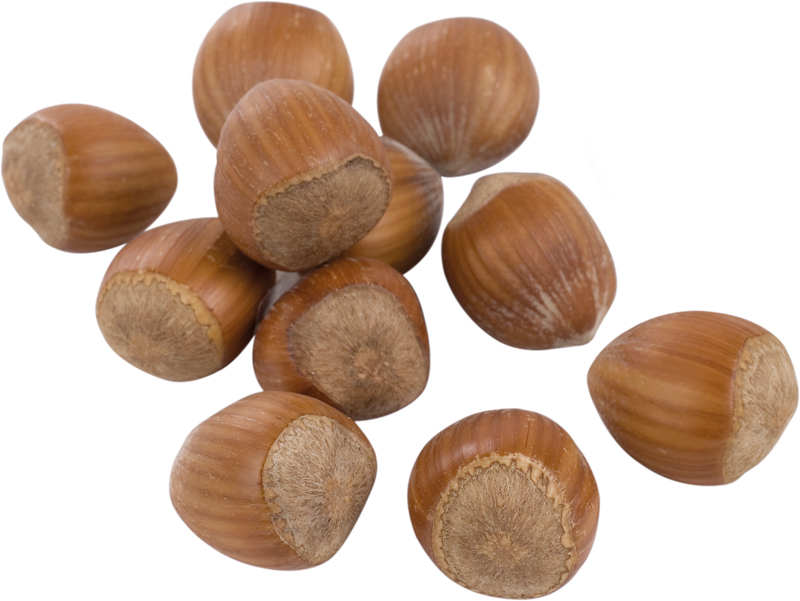 Kentish cobnut
This variety of cultivated hazelnut is harvested and eaten both when green (when its flavor is very mild) and when brown and mature.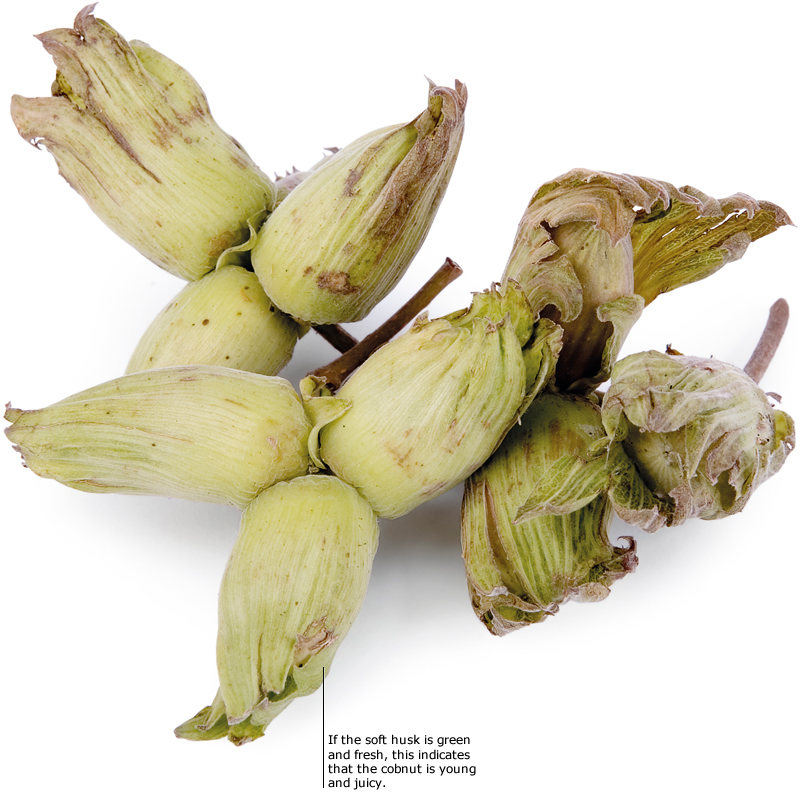 Classic recipe
Romesco Sauce
There are a great many versions of this traditional Catalan sauce, which is served with grilled seafood or vegetables such as asparagus.
Serves 4
1 Romano or red bell pepper
1/4 cup blanched almonds
1/4 cup skinned hazelnuts (filberts)
5 tbsp olive oil
3 garlic cloves, peeled
1oz (30g) stale baguette, cubed (about 1/4 cup)
1 medium tomato, coarsely chopped
1 ñora or other dried mild red chili pepper, soaked in cold water for 15–20 minutes, then drained and chopped, discarding the stem and most of the seeds
1 tsp tomato purée
1/2 tsp sweet smoked Spanish paprika
2 tbsp sherry vinegar or white wine vinegar
salt and freshly ground pepper
Preheat the oven to 350°F (180°C).

Under a broiler or over a gas flame, roast the red pepper, turning frequently, until charred on all sides. Seal the pepper in a paper or plastic bag and leave to cool, then peel off and discard as much of the blackened skin as possible. Chop the pepper, discarding the seeds and stem. Set aside.

Spread out the almonds and hazelnuts on a rimmed baking sheet and bake for about 15 minutes, shaking the pan once or twice, until golden and fragrant. Allow to cool.

Heat the olive oil in a heavy-bottomed medium frying pan. Add the whole garlic cloves and cook, stirring, just until golden. Remove with a slotted spoon and reserve. Add the cubed bread and cook, stirring, until golden brown. Remove from the pan and reserve. Add the tomatoes and cook, stirring, until slightly charred at the edges. Remove the pan from the heat.

In a food processor, pulse together the almonds, hazelnuts, garlic, and bread cubes until finely ground. Add the tomatoes, red pepper, chili, tomato purée, and paprika. Process until the mixture forms a thick purée.

Stir in the vinegar and season to taste with salt and pepper. Serve at room temperature.
Related Articles
---
Cambridge World History of Food
The term "hazelnut" has been used so interchangeably with "filbert" that the two are sometimes listed as synonymous in dictionaries - and no...
See more from Credo