Topic Page: Harpers Ferry (W. Va.)
---
Definition:
Harpers Ferry
from
Brewer's Dictionary of Phrase and Fable
The present quiet residential village in West Virginia was the scene of an assault by the Abolitionists under JOHN BROWN on 16 October 1859, their aim being to capture its arsenal and establish an independent stronghold of freed slaves. The armoury was captured, but Brown's forces were outnumbered and overwhelmed by state and federal troops. Seventeen men died in the two-day struggle, and Brown together with six surviving henchmen was hanged before the year was out.
---

Summary Article: Harpers Ferry, Virginia
from American Civil War: The Definitive Encyclopedia and Document collection
Strategic town located in western Virginia (after June 1863 in northeastern West Virginia), situated at the juncture of the Potomac and Shenandoah Rivers. Prior to the Civil War, Harpers Ferry was known as the locale of John Brown's October 16–18, 1859, raid and for the federal arsenal there. Around 1750, Robert Harper received a land grant near the town's present location and in 1761 established a ferry service across the Potomac. In 1799 the U.S. government established an arsenal at Harpers Ferry, which by 1861 had produced more than 600,000 muskets, rifles, and pistols for the U.S. Army and Navy. When Virginia seceded in April 1861, the federal garrison at Harpers Ferry attempted to destroy the arsenal and its machinery, but locals saved most of the equipment, which the Confederates moved to Richmond.
Because of Harpers Ferry's strategic location, both Union and Confederate troops frequently moved through the town, which changed hands eight times during the war. On September 15, 1862, Confederate major general Thomas "Stonewall" Jackson captured the town to secure the Confederate left flank as General Robert E. Lee advanced toward Sharpsburg, Maryland. On June 20, 1863, the western counties of Virginia, which included Harpers Ferry, seceded from Virginia and became the state of West Virginia, under Union control.
Confederate guerrilla leader Lieutenant Colonel John S. Mosby staged a daring raid on the outskirts of Harpers Ferry on October 13, 1864, after his men damaged the rail line leading into the town. A train passing over the sabotaged tracks in the predawn hours of October 13 partly derailed, and Mosby's men proceeded to rob the passengers of their personal effects and also pilfered the train's baggage car. Mosby's raid netted the Confederate guerrillas some $173,000 in cash, which they quickly spirited away.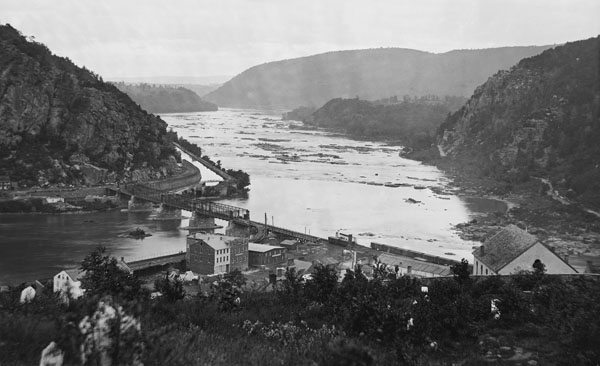 See also
Antietam Campaign; Brown, John; Harpers Ferry, Battle of; Harpers Ferry, Virginia, John Brown's Raid on; Mosby's West Virginia Raid; Virginia; West Virginia