Topic Page: Harper, Frances Ellen Watkins, 1825-1911

Summary Article: Frances Ellen Watkins Harper (1825-1911) Social Reformer and Poet Who Publicized the Struggles of Freedpeople
from Defining Moments: Reconstruction
Frances Harper was born as Frances Ellen Watkins on September 24, 1825, in Baltimore, Maryland. Although Maryland allowed slavery at that time, she was born free as the daughter of free black parents. When Frances was three years old, her mother died, leaving her an orphan. She then went to live with an aunt and uncle, Harriet and William Watkins. Her uncle was an influential minister in the African Methodist Episcopal Church and a prominent activist in the movement to abolish slavery. He also established a school for African-American children, the Watkins Academy for Negro Youth, which Frances attended until the age of thirteen.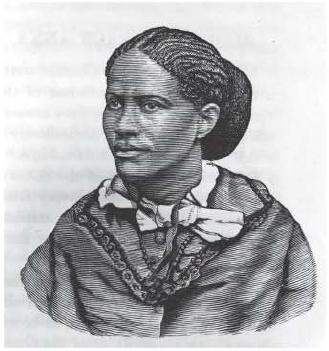 As a teenager, Frances worked as a nursemaid in a Quaker household and served as an apprentice in a Baltimore bookstore. Both of these positions gave her access to a wide variety of literary works, and she continued her education by reading extensively. Frances also began writing poetry during these years. Many of her poems contrasted the lives of enslaved African Americans with those of the wealthy white people they were forced to serve. She published her first collection of poems, Forest Leaves, in 1845. It received praise from abolitionist leaders for drawing public attention to the social disparity between the races in Virginia.
Protests against Slavery
In 1850 Harper moved to Ohio, where she took a job as a teacher at Union Seminary, a school for African-American children. The principal of the school was the abolitionist leader John Brown, who later took up arms in an effort to overthrow the institution of slavery. Harper taught vocational skills, such as sewing, to help students find jobs to support themselves. Two years later she moved to Pennsylvania to take another teaching position.
Although Harper recognized the value of education for African Americans, she soon decided that she could make greater contributions to the welfare of her race as an abolitionist. In 1850 the U.S. Congress had passed the Fugitive Slave Act, which made it a crime to assist or shelter an enslaved person who had escaped from bondage. It also required state and local authorities—as well as ordinary citizens—in the North to cooperate with slaveholders seeking to capture and reclaim runaways. The aggressive enforcement of the Fugitive Slave Act led to the arrest of hundreds of free blacks who had been living legally in the North. If they were unable to prove their free status to the satisfaction of authorities, they ended up being shipped to the South and sold into slavery.
The possibility of being kidnapped by slave catchers sent fear and anger radiating through free black communities. Harper decided that it was not safe for her to return to Maryland. Instead, she dedicated herself to speaking out against slavery and the Fugitive Slave Law. Harper embarked on a two-year lecture tour for the Anti-Slavery Society. She became a popular speaker and often appeared alongside such well-known abolitionists as Frederick Douglass, William Lloyd Garrison, Lucretia Mott, and William Still.
Harper also contributed to the abolitionist cause through her writing. In 1854 she published Poems of Miscellaneous Subjects, which included one of her most famous works, "Bury Me in a Free Land." The powerful poem features the lines:
Make me a grave where'er you will,

In a lowly plain, or a lofty hill;

Make it among earth's humblest graves,

But not in a land where men are slaves.1
The book sold more than 10,000 copies in the first few years following its publication, and it went on to be reprinted twenty times. In 1859 Harper became the first African-American woman to publish a short story when her work "Two Offers" appeared in print. She also published a series of articles in anti-slavery newspapers.
Chronicles Reconstruction
In 1860 Harper married Fenton Harper, a widower with three children, and settled on a farm in Ohio. Two years later she gave birth to a daughter, Mary. Harper mainly concentrated on family life during the early 1860s. Like other abolitionists, she rejoiced when the North's victory in the Civil War ended slavery in the United States. After her husband died in 1864, Harper resumed teaching, lecturing, and publishing poetry and novels in order to support her family.
During the postwar Reconstruction period, Harper had an opportunity to tour the South to promote equal rights and educational opportunities for freedpeople. In 1872 she published Sketches of Southern Life, a long-form poem inspired by her travels. It features the character of Aunt Chloe Fleet, a former slave whose wit and wisdom helped counter the negative stereotypes of African Americans that were circulated by white Southerners who resisted emancipation and Reconstruction. Her work drew attention to the hardships and violence faced by freedpeople in the South. "We have spoken of Mrs. Harper as a laborer, battling for our freedom under slavery," wrote Still. "She is equally earnest in laboring for equality before the law—education, and a higher manhood, especially in the South, among the Freedmen."2
A major focus of Harper's activism during the Reconstruction era was improving the lives and advancing the rights of African-American women. Although she believed that all women deserved equality before the law, she broke with many other women's rights advocates by supporting passage of the Fifteenth Amendment. While the amendment granted voting rights to African-American men, women were still denied the right to vote. Harper argued that allowing black men to vote would also promote the welfare of black women and children, so the fight for women's voting rights could wait until a later time.
Promotes Social Reform
After Reconstruction ended, Harper continued writing and speaking in support of social reform movements. In 1892 she published her most famous novel, Iola Leroy or Shadows Uplifted. Told from a feminist perspective that was unusual for its time, the book presented an optimistic future of full equality for African-American citizens. "Harper's novel addressed many of the intricacies surrounding slavery, the wartime south, emancipation, and Reconstruction," one reviewer noted. "It was also a historical discussion of the role and social responsibility of educated, privileged African Americans."3
In 1896 Harper co-founded the National Association of Colored Women with Ida Wells-Barnett, Harriet Tubman, and several other prominent activists. She was also an active member of the American Women's Suffrage Association and the Pennsylvania Women's Christian Temperance Union, and she served as the director of the American Association of Colored Youth.
Harper died of heart failure on February 20, 1911, in Philadelphia, Pennsylvania. She was buried at Eden Cemetery, which is the oldest public African- American burial ground in the United States. It contains the remains of thousands of prominent abolitionists, members of the U.S. Colored Troops, and civil rights activists. In recognition of her historical impact, Harper's writings have been collected in several recent volumes, including Complete Poems of Frances E.W. Harper (1988) and A Brighter Coming Day (1990).
Sources