Topic Page: Hansberry, Lorraine, 1930-1965
---
Definition:
Hansberry, Lorraine
from
The Columbia Encyclopedia
1930–65, American playwright, b. Chicago. She grew up on Chicago's South Side. In 1959 she became the first black woman to have a play produced on Broadway when A Raisin in the Sun opened to wide critical acclaim. The play dealt in human terms with the serious and comic problems of a black family in modern America. Her next play, The Sign in Sidney Brustein's Window (1964) was less successful. Hansberry died of cancer at 35. A collection of her writings, To Be Young, Gifted, and Black, was published in 1969.
---

Summary Article: HANSBERRY, LORRAINE (1930-1969)
from Africa and the Americas: Culture, Politics, and History
Lorraine Hansberry was an African American female dramatist, activist, and educator, and the author of A Raisin in the Sun, the first play by an African American woman to reach Broadway. Lorraine Vivian Hansberry's work was the by-product of a protest tradition that took root in the 1940s. She was born in Chicago on May 19, 1930, to Nannie Perry, a former schoolteacher and Republican ward committeewoman; and Carl Hansberry, an inventor and former U.S. deputy marshal who later ran for Congress. Her family lived in a segregated ghetto of Chicago—the setting of A Raisin in the Sun (1959)—since rigid housing segregation confined all blacks to the same neighborhood regardless of economic status. The reality of American racism also hit Hansberry in the Jim Crow grade schools she attended, and, in 1948, at the University of Wisconsin, Madison, where she fell victim to restrictive housing policies. So, rather than find shelter and comfort within personal luxuries, Hansberry developed a dramatic vision that dealt with African American themes, but she did not restrict her focus to this subject.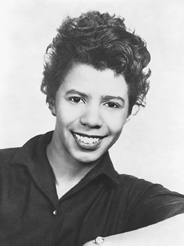 Hansberry was deeply influenced by her parents' promotion of race pride, commitment to civil rights programs, and involvement with the NAACP and the Urban League. Although she was acquainted with political movements at her family home, Hansberry's personal political life began in 1948 when she was a student at the University of Wisconsin. She came in contact with political groups, one of which was the Young Progressives of America (YPA), and joined the campus chapter of YPA in 1949. Dissatisfied with the educational prospects offered by the University of Wisconsin, she departed for New York where, between 1950 and 1963, Harlem offered a huge intellectual and cultural attraction. The cultural and artistic consciousness promoted by the Harlem Renaissance, about thirty years earlier, still seemed to have a powerful pull on the community.
During her Harlem years, especially 1961 through 1964, Hansberry spoke at antiracist street corner rallies and marched in picket lines. In 1964, while hospitalized in failing health, she completed the text for a photographic document on the Civil Rights Movement titled The Movement: Documentary of a Struggle for Equality (1964).
In 1951, Hansberry joined the staff of Freedom, a monthly newspaper founded the same year in New York by renowned black actor, Paul Robeson. The paper became a voice of, and political weapon for, the masses of blacks and all progressive Americans. Hansberry remained on the staff of the magazine for nearly five years. Aside from encouraging Hansberry's commitment to desegregation and equal opportunity, Robeson aroused her interest in African affairs and, between 1951 and 1953, she wrote a number of articles that focused on reconciling Africa and black America.
Through the offices of Freedom Hansberry met with and had lengthy discussions with students and politicians from Southern Africa, Kenya, Ghana, Sierra Leone, and Nigeria. In the early 1950s, when the offices of the Council on African Affairs were located in the same building as Freedom, Hansberry maintained close contact with Robeson, W. E. B. Du Bois, and distinguished Africans, all of whom had a powerful political, intellectual, and philosophical impact on her dramatic vision.
When, therefore, Africa is encountered in Hansberry's drama, the reference is supported by her genuine interest and profound research on the arts, histories, politics, and traditions of a number of its major ethnic groups. Rejecting the notion of Africa as an obscure region, Hansberry became more emotionally attached to the continent in the 1950s when, because of its independence struggles, it had become more visible in black American literature and politics.
In two of her works, A Raisin in the Sun and Les Blancs (1970), Africa materializes as a direct aesthetic and sociopolitical symbol, while in a third play, The Drinking Gourd (1960), Africa emerges indirectly through oral traditions. In spite of the angle through which it is presented, Africa is either conjured as a distant myth or as a tangible socio-geographic setting in relation to a number of related subjects. These include the essence of the region to Hansberry, its political and cultural relevance, relations between Africans and African Americans, and the adaptation of African values that serve key theatrical and cultural roles.
A Raisin in the Sun marked the beginning of a more confrontational era in the black theater. In the play, Hansberry calls on Africans and diasporic blacks to develop the sense of belonging to a cohesive family. Set in the South Side slums of Chicago, the play is about the economic and social effects of racism on members of the Younger family who strive to attain fulfillment through singular aspirations. Against this background, the play is structured on African images and family values that recapture this influence.
A direct reference to Africa is reached through the Nigerian character, Asagai, who represents the first appearance of an intellectual African as a major character in black American drama. Asagai introduces a relatively new insight on Africa. Through him Hansberry creates a particularized African whom she uses to dissipate the myth that Africa does not accept its descendants in America.
At the other extreme is George Murchison, the African American who spurns Africa. He personifies those conventional and uninformed facts about Africa that are still largely predictable, and is the classic victim of cultural rape. Irrespective of how laudable some of the images of Africa are in A Raisin, Hansberry does not romanticize the yearning for a culturally rich, viable, and spiritual homeland. In the end, Africa also surfaces as a background afflicted by political and neocolonial weaknesses that have existed for generations, many of which continue to exist.
Hansberry began drafting Les Blancs (The Whites) as early as 1960. But it was not until 1970 that Robert Nemiroff, her ex-husband, put together the published version of the play. In Les Blancs Hansberry expands on the attention given to Africa in A Raisin. The play is the first major play by an African American to translate into dramatic form the European exploitation of the lands and peoples of Africa, and the ensuing rebellion against European rule. When Les Blancs was drafted in 1960, African nationalist movements had assumed vast and powerful proportions.
In recreating an African colonial scene in the play, Hansberry advances the need for dialogue between the oppressed and the oppressor, yet insists on action and commitment, and advocates the attainment of sovereignty at any cost. The play does not resolve any issue but raises thought-provoking questions about history, Africa, America, anger, and confrontation. Hansberry finally argues for humanism even as she visualizes the genesis of a new black world and directs her themes through a predominantly African historical and socio-artistic experience.
African-based folklore, customary practices, chanting, drumming, and dancing in Les Blancs energize the action and tempo of the plot, heighten the tone and moods disseminated through dialogue, and celebrate indigenous African practices. Herein lies the peculiarity of Hansberry's dramatic vision: her success at re-evoking and reenacting history through an essentially Western model, yet ritualizing and mythologizing history through the use of certain African cultural and folkloric paradigms. Like A Raisin, Les Blancs expands thematically, finally addressing global concerns along with black issues within and beyond Africa.
Without making direct references to Africa in The Drinking Gourd, Hansberry exploits African-based aesthetic and indigenous forms by using folk material for contemporary dramatic creativity. Whereas characterization and setting sustain a tangible African presence in A Raisin and Les Blancs, the crux of Drinking Gourd lies in Hansberry's ability to recapture African sensibilities within an ancestral oral experience. Published a year after A Raisin, Drinking Gourd shifts from issues of the family, integration, and colonialism to the relevance of communal art and slave freedom. The recreation of a slave world in Drinking Gourd is anchored to a folk background and group consciousness that are fortified by the components of folk article. This folk idiom is realized in music, song, and dance-drama. As she keeps slave history alive, Hansberry also highlights the rich musical tradition arising out of this history.
Movement, music, folksongs, spirituals, and folklore are thus used to reinvigorate the overall tone of Drinking Gourd. Although African American like African drama has steered from its rudimentary source, the innovative importance of folk material has not been lost. In Drinking Gourd this truth is apparent in a musical tradition where song, music, and dance are tools for the type of group participation that strengthens communal bonding, especially in the face of a crisis. Action and rhythm are direct results of dance and music in the play, and unfold not only as key elements of folk drama but as factors that intensify the themes and overall theatricality of the play.
Because she invokes Africa from different perspectives, Hansberry has succeeded in opening up a channel through which several themes affecting Africans and African Americans are inquired into. Beyond her appreciation of the region, she is able to tap aesthetically from it and exploit thematic and stylistic elements commonly absent from white plays of the same period.
In the end, and in spite of her initial and precise attention to African American life, Hansberry's drama is not restricted to this motif. True, Africa is artistically and culturally symbolic. But while nurturing the sociopolitical well-being of blacks, Hansberry's plays also serve as a metaphor for surveying broad-based human issues.
See also:
Civil Rights Movement; Négritude; Pan-Africanism
References
Their Place on the Stage: Black Women Playwrights in America

. New York: Greenwood Press, 1988.
.
Hansberry's Drama: Commitment Amid Complexity

. Urbana: University of Illinois Press, 1991.
Lorraine Hansberry

. Boston: Twayne Publishers, 1984.
.
Make New Sounds.

" American Theatre (November 1984): 5-8, 41.
. Interview. "
To Be Young, Gifted, and Black; A Portrait of Lorraine Hansberry in Her Own Words

. Adapt. Robert Nemiroff. New York: S. French, 1971.
.
A Critical Background.

" In Les Blancs: The Collected Last Plays of Lorraine Hansberry. New York: Random House, 1972.
. "
The Sighted Eyes and Feeling Heart of Lorraine Hansberry.

" Black American Literature Forum 17, no.1 (Spring 1983): 8-13.
"