Topic Page: Hampton, Wade, 1818-1902
---
Definition:
Hampton, Wade
from
Chambers Biographical Dictionary
1818-1902
US soldier
He was born in Columbia, South Carolina, the grandson of Wade Hampton. In the Civil War (1861-65) he raised "Hampton's Legion". As brigadier-general he commanded a cavalry force (1862-63), was wounded at Gettysburg, received the command of Robert E Lee's cavalry (1864), and served in South Carolina against William Sherman (1865). He later became state governor in 1876, when he was instrumental in restoring white rule to South Carolina, and was a US senator (1878-91).
---
Summary Article: Hampton, Wade
from American Civil War: The Definitive Encyclopedia and Document collection
Birth Date: March 28, 1818
Death Date: April 11, 1902
Confederate officer, South Carolina governor, and U.S. senator. Wade Hampton was born in Charleston, South Carolina, on March 28, 1818, into a wealthy and well-established family. Hampton grew up on the family estates of Millwood Plantation near Columbia, South Carolina, and Cashiers Valley Plantation in the mountains of North Carolina. He received a primary education through private instruction and in 1836 graduated from South Carolina College (now the University of South Carolina) with a degree in law.
Hampton never practiced law but instead devoted himself to the management of his large plantations in South Carolina and Mississippi. In addition, he participated in state politics. He was elected to the South Carolina General Assembly in 1852 and served as a state senator from 1858 to 1861. Upon his father's death in 1858, Hampton inherited a large fortune; numerous plantations in Mississippi, Louisiana, and South Carolina; and one of the largest holdings of slaves in the South.
While a state legislator, Hampton opposed the dissolution of the Union. Nevertheless, at the start of the Civil War, he remained loyal to his home state. In 1861 shortly after South Carolina's secession from the Union, Hampton resigned from the Senate and enlisted as a private in the South Carolina Militia. Despite Hampton's military inexperience, South Carolina governor Francis Pickens insisted that Hampton accept a colonel's commission. Hampton organized and largely funded Hampton's Legion, which consisted of six infantry companies, four cavalry companies, and one battery of artillery. In addition, he personally paid for most of the weapons for the legion.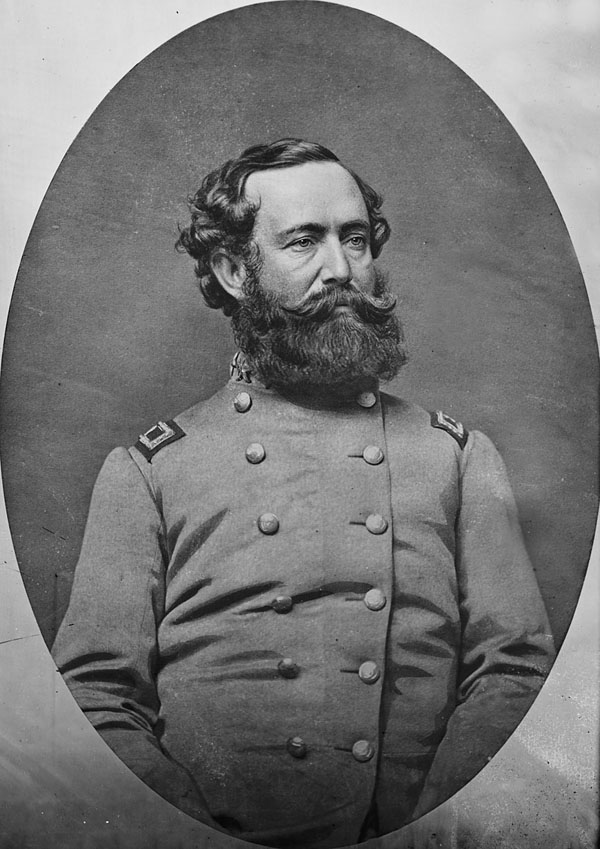 During the war, Hampton proved himself as a capable cavalry commander and was one of only two officers to achieve the rank of lieutenant general in the Confederate cavalry. At the First Battle of Bull Run (July 21, 1861), he was wounded in the head although not seriously. He was promoted to brigadier general in May 1862 while commanding a brigade in Major General Thomas J. "Stonewall" Jackson's division of the Army of Northern Virginia.
After the 1862 Peninsula Campaign, during which Hampton was wounded at the Battle of Seven Pines (May 31–June 1, 1862), General Robert E. Lee organized his cavalry as a division under the command of Major General J. E. B. Stuart, who then selected Hampton to lead one of two cavalry brigades. During the First Battle of Fredericksburg (December 13, 1862), Hampton inflicted considerable damage to Union forces in cavalry raids behind the Union lines.
During the Gettysburg Campaign (June–July 1863), Hampton was slightly wounded at the Battle of Brandy Station (June 9, 1863) in the largest cavalry engagement of the war. On July 3, 1863, just east of Gettysburg, Hampton led a cavalry advance in an effort to harass the Union rear but encountered Union cavalry and was seriously wounded in the hip by a piece of shrapnel. He was carried off the battlefield and sent to Virginia for recuperation.
In August 1863 Hampton was promoted to major general and took command of a cavalry division. After Stuart was mortally wounded in the Battle of Yellow Tavern (May 11, 1864), Hampton emerged as his likely successor. At the Battle of Trevilian Station (June 11–12, 1864), Hampton performed magnificently, with his men defeating the Union cavalry in a fierce contest. After another strong showing at Samaria Church on June 24, in August Hampton assumed command of the Cavalry Corps. For the rest of the war, in fact, Hampton would not lose a single cavalry engagement. He was advanced to lieutenant general in February 1865 and ordered to report to General Joseph E. Johnston in North Carolina, where Hampton participated in the final actions in that state and surrendered along with Johnston's command.
After the war, Hampton returned to his estates and restored their productivity. He also became a leading opponent of Radical Republican Reconstruction policies in the South. In 1876 he reentered South Carolina politics as the first Southern gubernatorial candidate to run on a platform opposing Reconstruction. As a result of the Compromise of 1877, Hampton was the first Democrat to win office in South Carolina since the end of the Civil War. That along with the election of President Rutherford B. Hayes brought the promised end of Reconstruction.
After the 1876 election, Hampton became known as the "Savior of South Carolina." He was elected to a second gubernatorial term in 1878 but resigned in 1879 when he was elected to the U.S. Senate, where he served until 1891. The dominant figure in South Carolina politics during this period, from 1893 to 1897 Hampton served as the U.S. railroad commissioner. Hampton died on April 11, 1902, in Columbia, South Carolina.
See also
Brandy Station, Battle of; Bull Run, First Battle of; Fredericksburg, First Battle of; Gettysburg, Battle of; Seven Pines, Battle of; Trevilian Station, Battle of
Related Articles
---
Encyclopedia of the Antebellum South
(1818–1902) plantation owner, soldier, U. S. senator, and governor of South Carolina . Wade Hampton was the third in his family to bear the...
See more from Credo