Topic Page: Haley, Alex
---
Definition:
Haley, Alex Palmer
from
Chambers Biographical Dictionary
1921-92
US novelist and biographer
Born in Ithaca, New York State, and brought up in North Carolina, he worked as a coastguard for 20 years from 1939. He turned to writing with the publication of The Autobiography of Malcolm X (1965), which he co-wrote after the assassination of the black activist. Roots (1976) was a phenomenal success, being adapted for television and winning a Pulitzer Prize the following year. Beginning with the life of Kunta Kinte, an African who was enslaved and taken to the USA, this novel documented the history of black Americans, and its essentially optimistic approach rendered it accessible to a large white audience.
---
Summary Article: Alex Haley (1921–1992)
From African American Almanac
Journalist, Novelist
The author of the widely acclaimed novel Roots was born in Ithaca, New York, on August 11, 1921, and reared in Henning, Tennessee. The oldest of three sons of a college professor father and a mother who taught grade school, Haley graduated from high school at fifteen and attended college for two years before enlisting in the U.S. Coast Guard as a messboy in 1939.
By 1952 the Coast Guard had created a new rating for Haley, chief journalist, and he began handling U.S. Coast Guard public relations. In 1959, after twenty years of military service, he retired from the Coast Guard and launched a new career as a freelance writer. He eventually became an assignment writer for Reader's Digest and moved on to Playboy, where he initiated the "Playboy Interviews" feature.
One of the personalities Haley interviewed was Malcolm X—an interview that inspired Haley's first book, The Autobiography of Malcolm X (1965). Translated into eight languages, the book has sold over six million copies.
Pursuing the few slender clues of oral family history told to him by his maternal grandmother in Tennessee, Haley spent the next twelve years traveling three continents tracking his maternal family back to a Mandingo youth named Kunta Kinte, who was kidnapped into slavery from the small village of Juffure, in The Gambia, West Africa. During this period he lectured extensively in the United States and in Great Britain on his discoveries about his family in Africa, and he wrote many magazine articles on his research in the 1960s and the 1970s. For his work he received several honorary doctor of letters degrees.
The book Roots, was finally published in the fall of 1976 with much publicity and media attention. In January 1977, ABC-TV produced a twelve-hour series based on the book, which set records for the number of viewers. With cover stories, book reviews, and interviews with Haley in scores of magazines and newspapers, the book became the number-one national best-seller, sold in the millions, and was published as a paperback in 1977.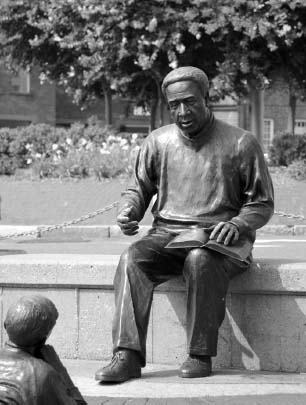 Haley's book stimulated interest in Africa and in black genealogy. The U.S. Senate passed a resolution paying tribute to Haley and comparing Roots to Uncle Tom's Cabin, written by Harriet Beecher Stowe in the 1850s. Among the book's awards are the National Book Award for 1976 and a special Pulitzer Prize that same year for making an important contribution to the literature of slavery.
Haley received the NAACP's Spingarn Medal in 1977. The ABC-TV network presented another series, Roots: The Next Generation, in February 1979 (also written by Haley). Roots had sold almost five million copies by December 1978 and had been reprinted in twenty-three languages.
In 1988, Haley conducted a promotional tour for a novella called A Different Kind of Christmas about slave escapes in the 1850s. He also promoted a drama, Roots: The Gift, a two-hour television program shown in December 1988. Haley died February 10, 1992, of a heart attack.
Related Articles
---
Continuum Encyclopedia of American Literature
For a short time, H. may have been the most famous living African American author, but it is not entirely clear which of the...
African American Almanac
Journalist, Novelist The author of the widely acclaimed novel Roots was born in Ithaca, New York, on August 11, 1921, and reared in Henning, Tenn
African American Holidays, Festivals, and Celebrations
The annual Kunta Kinte Heritage Festival is a two-day event that marks the arrival of Kunta Kinte, an African ancestor of acclaimed novelist Alex Ha
See more from Credo