Topic Page: Grimké, Sarah Moore (1792 - 1873)
Summary Article: SARAH MOORE GRIMKÉ (1792-1873)
from Slavery in the United States: A Social, Political, and Historical Encyclopedia
Intelligent, pious, dedicated to justice, and withal a determined lecturer and essayist, Sarah Moore Grimké was a strong foe of southern slavery and a fearless proponent of women's rights. Born to a wealthy South Carolina slaveholding family, Sarah could have enjoyed an unusually leisured life. Yet like many other southern women, she abhorred the use of slaves and had trouble reconciling her principles with the culture of her home state. Formally educated in the scant manner thought appropriate for young ladies of good families, Sarah read widely in her father's library. She was denied her wish to study law, and for years, she tried to satisfy her restless mind in a giddy social whirl.
By 1817 she experienced a religious conversion and joined the Presbyterian Church; in 1820, after reading John Woolman's memoirs, she became a Quaker. A year later, Sarah moved to Philadelphia. She returned to Charleston in 1827 and persuaded her sister Angelina to join her in the Quaker faith. In 1829 the Grimké sisters joined forces in Pennsylvania, and after 1831, Sarah never returned to the slaveholding states.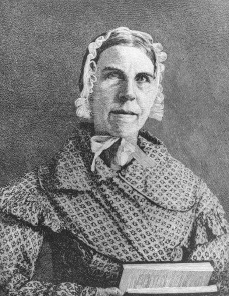 In Philadelphia, fellow religionists did not appreciate the Grimké sisters' participation in abolitionist activities. Relations grew more difficult when the pair moved to New York to be trained as activists and worse yet when Sarah and Angelina took to the lecture halls. As southerners familiar with, and disgusted by, slavery's daily realities, both women were valuable additions to the antislavery cause.
Because Angelina made more speeches and was judged the better orator, Sarah's contributions to abolition have been deemed less significant than her advocacy of women's rights. Sarah herself always held that her abolitionism and support for women's rights were inseparable, as both were predicated on a scriptural view of the moral responsibilities of women. She wrote an antislavery statement called An Epistle to the Clergy of the Southern States (1836), and a year later, she cowrote the "Letter to Clarkson," which answered a call for advice as to what nonslaveholders could do to bring an end to slavery. In 1839, Sarah edited the anti-slavery compendium, American Slavery As It Is, along with her sister Angelina and new brother-in-law, Theodore Weld.
After that project, Sarah Grimké's participation in antislavery activities waned despite importunings when abolitionists in the United States quarreled over the question of the role of women in the movement to free the slaves. In addition to teaching in progressive schools, she wrote on women's rights and translated a biography of Joan of Arc. In 1868 she and Angelina acknowledged and befriended two nephews who were mulattoes. An ardent supporter of woman suffrage, Sarah lived to vote in a local election.
See also: Grimké, Angelina; Weld, Theodore Dwight.
For Further Reading
The Grimké Sisters

. Boston: Lee and Shepard.
1885.
Ceplair, Larry

, ed. 1989.

The Public Years of Sarah and Angelina Grimké

. New York: Columbia University Press.
The Grimké Sisters from South Carolina: Rebels against Slavery

. Boston: Houghton Mifflin.
. 1967.