Topic Page: D.W. Griffith
Summary Article: Griffith, D.W. (David Wark)
From Encyclopedia of Early Cinema
b. 1875; d. 1948
actor, scriptwriter, filmmaker, USA
More exaggerated claims have been made for this American director than any other figure in film history, but hyperbole should not cause us to underestimate Griffith's very real contributions. After a modest career as a theatrical actor and playwright, Griffith came to moving pictures in early 1908, contributing scenarios for and acting in films produced by both Edison and Biograph. By 1908, the nickelodeon boom had created a voracious demand for new product, and American companies were seeking to break the deadlock of production caused by Edison's patent claims and legal actions. The new regularized mode of production that ensued, especially through the Motion Picture Patents Company's formation, and the increased emphasis on story films that this promoted greatly influenced Griffith's career.
Griffith took over directing at Biograph in the summer of 1908. Although Biograph had long employed a partnership of cameramen and directors to make its fiction films, Griffith modeled himself on new theater directors such as David Belasco who crafted individual styles for each stage production, paying close attention to new naturalistic styles in performance and set design and the potential of new technologies, such as electrical light. Griffith did not merely coach actors and prepare scenarios, as had previous Biograph directors, but rather constructed the narrative style of each film.
The era of Griffith's filmmaking for Biograph (1908-1913) saw a shift in the models for fiction film, from a focus on physical action (as in the chase film or slapstick farce) to an increased attention to psychological characters and realistic contexts. Griffith absorbed the chase film into new scenarios of suspenseful action and generally shifted farce production to the company's second unit. His work with actors yielded nuanced performances from, among others, Mary Pickford, Mae Marsh, Lillian Gish and Bobby Harron. Griffith based his narrative style primarily on editing, increasing the average number of shots per one reel of film from under twenty to more than eighty by 1913. This increase (which also can be found to a lesser extent in other companies) derives primarily from his use of parallel editing, cutting between different locations in patterns of alternation. Griffith did not restrict such editing to creating suspense but also used it to reveal a character's thinking and create moral contrasts—or even political argument, as in The Corner in Wheat (1909). The more than 400 films Griffith directed at Biograph were in the forefront of the move toward narrative integration in American cinema, and include many mini-masterpieces: After Many Years (1908), The Country Doctor (1910), Rose of Salem Town (1910), The Lonedale Operator (1911), The Informer (1912), and The Mothering Heart (1913).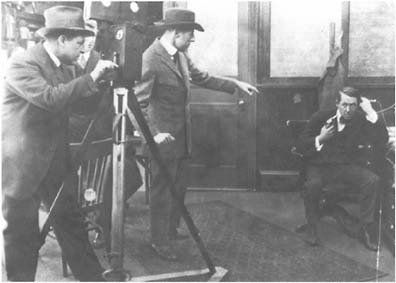 In his last year at Biograph, Griffith chaffed at being restricted to single-reel films, with occasional exceptions such as Judith of Bethulia, which ran four reels. Biograph shelved the film and removed Griffith from direction, which led to his leaving the company, taking Billy Bitzer and many actors with him. Joining Mutual Film, he produced a series of four-reel feature films in 1914, including the extraordinary Edgar Allen Poe adaptation, The Avenging Conscience, bringing his psychological editing to a climax. He then began work on his historical epic, The Birth of a Nation, which helped to inaugurate a new era of film history.
See also: acting styles; editing: spatial relations; editing: temporal relations; lighting
Further reading
D.W.Griffith and the Origins of American Narrative Film

, Urbana:

University of Illinois Press

.
(1990)
Thinking in Pictures: Dramatic Structure in D. W. Griffith's Biograph Films

, Berkeley:

University of California Press

.
(1987)
Related Articles
---
The Macmillan Encyclopedia
His intuitive understanding of the artistic potential of the cinema and his innovations in editing and narrative...
Encyclopedia of Early Cinema
In 1907, American Mutoscope and Biograph was facing liquidation because of the economic downtown as well as the defections by key production...
See more from Credo