Topic Page: Greenaway, Kate (1846 - 1901)
---
Definition:
Greenaway, Kate
from
The Columbia Encyclopedia
1846–1901, English illustrator and watercolorist. She is famous for her fanciful, humorous, delicately colored drawings of child life. She influenced children's clothing and the illustrating of children's books and was often imitated, though never successfully. Among the books for which she provided text as well as illustrations are Under the Window (1879), A Day in a Child's Life (1881), Kate Greenaway's Birthday Album, and The Language of Flowers (1885).
---

Summary Article: GREENAWAY, Kate (1846-1901).
from Dictionary of British Women Artists
Painter/ Illustrator. Born in London, the daughter of draughtsman and wood engraver John Greenaway who worked for, among others, Punch and the Illustrated London News. Her aunt, Rebecca, was a bookbinder, and another aunt, Mary, was a wood engraver. At the age of 12, Kate attended art classes at Williams Street, Clerkenwell and won a first prize for her work. She then attended Miss Springet's School, followed by the Head School of the Science and Art Department in South Kensington. In 1861 she won a bronze medal, followed in 1864 by a National Award for designs for tile decoration. In 1869 Greenaway won a silver medal in the National Competition of Schools of Art. While at South Kensington she also attended life classes at Heatherley's, then joined the Slade School under Professor Legros. In 1868, at the age of 22, Greenaway exhibited a watercolour and six drawings at the Dudley Gallery, her first public showing of her work. The Gallery would become a regular exhibiting place for her. Early in her career, Greenaway began working as an illustrator for magazines, and in 1871 began designing Valentine and Christmas cards for Marcus Ward & Co. who used the work of a number of women artists. She worked for Ward for around six years. Then she met Edmund Evans, a colour printer who worked in collaboration with Walter Crane and Ralph Caldecott.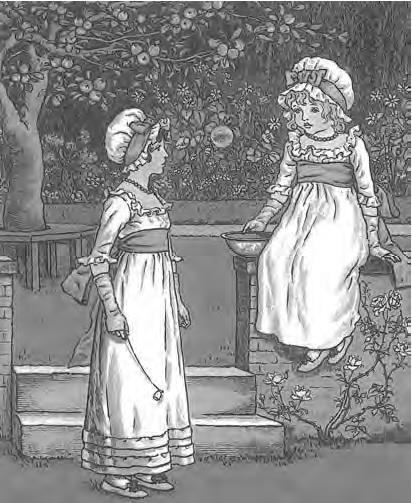 Although Greenaway did some book illustration early in her career, it was only as an accompaniment to the writings of others, such as Topo by Gertrude Blood. In 1877/78 Greenaway showed 50 of her drawings to Evans with verses she had written, and they were published by George Routledge & Sons as Under the Window, largely through Evans's efforts. The book was a success. In 1877 Greenaway also began to exhibit at the Royal Academy, showing seven works there up to 1895. The drawings for Under the Window were exhibited at the Fine Art Society, where they were seen by John Ruskin. Greenaway and Ruskin began to correspond, and from December 1882, when they first met, they formed a close friendship. She visited Ruskin's home in the Lake District several times. There, Ruskin gave her advice on drawing and encouraged her to sketch from nature. Some of her sketches were exhibited locally. So impressed was Ruskin by her work that in May 1883 he delivered a lecture, 'Fairy Land: Mrs Allingham and Kate Greenaway', one of a series of Oxford lectures titled The Art and Pleasures of England. Until 1885 Kate lived at Pemberton Gardens in London. In 1877 she had been able to take a studio in Islington. Then, with other books published, still under Evans and Routledge, she was able to commission a new house which was designed by architect R. Norman Shaw.
In 1891 Greenaway held a one-woman exhibition of her work at the Fine Art Society, where Lord Leighton bought two of her drawings. The exhibition made £1,350, a considerable sum for a woman artist. Over the years her drawings were used for decorating plates, vases, tiles and wallpapers. In 1922 F. Warne & Co. published a volume of her work which included watercolours given to Ruskin and other friends, most previously unpublished. She continued to work until her death in 1901, her popularity having never waned. During her career she was made a Member of the Royal Institute of Painters in Water Colours, and exhibited two works at the Society of Women Artists in 1877. In 1905 two of her works were illustrated in Walter Shaw Sparrow's Women Painters of the World (London, Hodder & Stoughton).
Further reading:
Kate Greenaway

(Adam & Charles Black

London

, 1905). Art Journal (1902, pp.

33-35

, and

105-109

).
; ,
Related Articles
---
Dictionary of British Women Artists
Painter/ Illustrator. Born in London, the daughter of draughtsman and wood engraver John Greenaway who worked for, among others, Punch and the Illus
Britannica Concise Encyclopedia
Illustration for "When We Went Out with Grandmamma" by Kate Greenaway for Marigold … Credit:Mary Evans Picture Library, London (born March 17, 1
Continuum Encyclopedia of Children's Literature
G., daughter of a woodblock engraver, grew up in both the country and the environs of London 330 during the Victorian Age. A...
See more from Credo