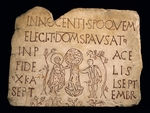 Summary Article: Tombstones
from Encyclopedia of Death and the Human Experience
A tombstone is a marker for a grave. Historically many graves have gone unmarked, but where tombstones are used, across cultures these markers are made of different materials. There are graves marked by fieldstone that are either placed upright or horizontally on the surface of the earth. Fieldstone can be any type of rock, but it is generally made of local material, such as sandstone. Usually nothing is inscribed on the stone, which serves solely to inform the living that someone is buried below. One example is historic African American slave cemeteries located in the southern portion of the United States that are replete with irregularly shaped fieldstones.
More elaborate tombstones are made of materials such as granite, marble, slate, limestone, iron, and bronze and are often carved with descriptive notations, inscriptions, and are sometimes ornately decorated. Tombstone grave markers are also perishable. Wooden crosses weather and deteriorate over time. Some wooden crosses are plainly carved, while other crosses are carved into hearts or even stylized people. This essay offers a brief history of tombstones and provides a discussion of the functions, uses, and culture of tombstones.
History of Tombstones
Prehistoric groups throughout time marked their graves with a stone or a horizontally placed slab of stone. Neanderthals may have been the first species to mark their graves. At the rock shelter site located at La Ferrassie in France, which dates to 70,000 years ago, paleoanthropologists have found eight buried Neanderthal skeletons. One of these individuals was buried under a triangular stone, thus representing what some analysts believe to be one of the earliest tombstones.
Ancient Egyptians, Greeks, Romans, and Persians at times marked an individual's grave with a stone. In Greek society, for example, the only individuals awarded a tombstone were those Spartan warriors who died in battle and mothers who died in childbirth. But generally tombstones were not considered essential until 1804, when on June 12 of that year, France created the Decree of Prairial, Year XII. This decree established that burials were not to be in churchyards and towns but in cemeteries outside the city, and that common graves would be replaced by juxtaposed graves. Individuals could buy a grave plot for perpetuity. The Decree of Prairial also stated that a tombstone or other burial mark could be placed over the burial site of a loved one. In one cemetery, called Père-Lachaise, 114 tombstones were placed in 1804 and over the period of 1814 through 1830, an average of 1,879 tombstones were placed each year. This decree propelled people to claim a grant of land, big or small, and designate that plot as theirs by a tombstone or monument. To the present time, the tombstone has been integral to a gravesite.
The Social Science and Historical Use of Tombstones
Scholars use historic and modern cemeteries as laboratories for collecting and analyzing data. With a tombstone library of millions, anthropologists and historians, for example, investigate cultural, linguistic, biological, and archaeological data. Each tombstone provides insight into a person's life as marked in stone. Information extracted from tombstones can be used to address broad questions involving biological, economic, social, technological, and religious issues. A single tombstone display may offer numerical, linguistic, biological, epidemiological, geological, iconographic, and epigraphic information.
Sociocultural Characteristics
Rich cultural information can be derived from tombstones. The size of the marker and the material used to create it is indicative of the wealth and status of the individual. A tombstone epitaph may also communicate information about one's low status in life. One such example is found on a tombstone located in Alabama that reads, "E. L. A. Wife of … and …" (1843-1918) "was pleasant to live with." While the deceased's two husbands are named on her gravestone, the wife is identified by three initials.
Even the method used to engrave the deceased's identification, birth and death dates, and epitaph are suggestive of a person's station in life. The wealth of the deceased can be suggested by the size of and material used to create ornate and elaborate tombstones. The use of a sharp object or a stick to scratch into a hardening cement tombstone versus a stone carved by a stonemason not only speaks to the wealth of the buried but, in the case of the hardening cement, those sentiments and descriptions made by scratches are quick unedited thoughts. Inscriptions carved by a stonemason can be edited and corrected for spelling. Carvers or stonecutters of tombstones also imprint their mark on the front or on the back of the tombstone.
Military veterans are often buried together in a section of a cemetery with each headstone appearing in uniform fashion. But on many of the older tombstones, a written legacy is offered in the form of epitaphs, photo portraits, and engravings. Symbols or a more direct indication of one's occupation also have been listed, thereby providing an indication of one's occupation. Examples include the display of a sheriff's star or a medical caduceus. Other examples are engravings of a semitruck, a trowel, and even an embedded screwdriver in the tombstone, again suggestive of one's occupation.
Language inscriptions and photo portraits as well the documented location of the individuals' city and country of birth are useful for establishing one's ethnicity. Heraldic crests point to a country of origin or ancestry, thereby providing information that is useful to trace migration patterns. Tombstones of Japanese individuals often have family crests called mon. The mon of the Motoyama family is a goose, while the Murata family is indicated by a mulberry leaf.
Symbols of Affiliation
Religious symbols allude to an individual's religious affiliation. Examples of Christian symbolism include carvings of Adam and Eve, a cross (Greek, Latin, Celtic), the chalice, wafer and grapes of the Eucharist, the dove from heaven representing the Holy Ghost, angels, and nails and the crown of thorns representing the Crucifixion. Tombstones with the star of David, the menorah, a Levite pitcher, a yahrzeit candle, or the indication of years according to the Hebrew calendar represent the markers of Jewish individuals.
Over 1,200 symbols and acronyms are recorded on tombstones in the United States alone, representing organizations, clubs, and societies, past and present, to which deceased individuals were members. Examples of these symbols refer to the Masons, Shriners, Boy Scouts, and Woodmen of the World. Familiar acronyms include CSA (Confederate States of America), GVS (Giuseppe Verdi Society), ORC (Order of Railroad Conductors), and NEFMC (New England Fat Men's Club).
Tombstones of males, females, adults, and children often vary in size, shape, and stone material. The male tombstone may be more ornate, larger, or made of marble, while the female tombstone is simple, small, and made of sandstone or granite. An infant's or child's tombstone may be small with carvings, such as a lamb indicating innocence. In the past, the tombstone of an unbaptized infant was often without an inscribed name.
Cause of Death
Demographic information, such as the number, sex, and age, of the deceased are easily obtained from tombstones. If needed, an average age at death can be determined for each decade the cemetery was in use. The same is true for infant and childhood mortality. Such statistics can be used to assist in determining the health of a population or serve to understand the effect of an epidemic, war, or natural catastrophic events.
Older tombstones display epitaphs that indicate the cause of death, such as cholera, yellow fever, flu, drowning, murder, childbirth, explosion, or battle. Multiple tombstones from a family with dates of death on the same day or close together might suggest that death may have resulted from a fire, accident, or an epidemic.
Seriation
A relative dating process called seriation is useful to access the popularity of a style of artifact over time. One examination of the application of seriation involves the change in popularity of designs on New England tombstones. Icono-graphic representations on tombstones spanning the years of 1720 to 1830 at a cemetery in Stoneham, Massachusetts, were tabulated, the results of which portrayed a pattern involving the use of three popular designs. Each design followed what is known as a battleship curve. First, a design was popular, then became very popular, and then waned in popularity as another design gained in notoriety. From 1700 until about 1760, the death's head design found at the top of the tombstone increased in popularity until its peak in the 1730s through the 1750s, and then decreased in popularity when a new cherub design started to replace the grisly death's head. The cherub is found to be at its greatest popularity in the 1780s, and then it lost favor to a design depicting an urn and willow. The urn and willow increased in popularity throughout the early 1800s.
Humorous Tombstone Epitaphs
Numerous compilations have been made of epitaphs on tombstones. Some epitaphs are humorous as noted in the following:
Here lies the bones of a man named Zeke,

Second-fastest draw in Cripple Creek.

(Boothill; Cripple Creek, Colorado)
Other epitaphs are more poignant:

My wife from me departed

And robbed me like a knave;

Which caused me brokenhearted

To sink into my grave.

My children took an active part,

To doom me did contrive;

Which stuck a dagger in my heart

That I could not survive.

(Vermont epitaph)
Or:
His brains were lead; and with the dead he lies;

He said but little, and that little dies.

(Epitaph of a hospital patient; 1662, England)
Historical Preservation Efforts
Tombstones represent an important cultural artifact and record of the past and for this reason organizations such as the Association for Gravestone Studies seek to preserve and record information from grave markers throughout the United States. As other methods of body disposal gain popularity, such as cremation, these efforts are increasingly important. Although such organizations focus on the tombstones of the past, contemporary cemetery regulations dictate tombstones be flat and low to the ground, primarily to facilitate the perpetual maintenance of a cemetery. Thus, uniformity and practical maintenance issues take precedence over the artistic and verbose tombstones of earlier times. The result is a silencing of a final expression of the self through epitaph voice of the individual buried below the tombstone.
See also
Cemeteries, Christian Beliefs and Traditions, Memorials, Memorials, Roadside, Symbols of Death and Memento Mori
Further Readings
The hour of our death.

New York:

Alfred A. Knopf.
(1981).
In small things forgotten: The archaeology of early American life.

Garden City, NY:

Anchor Press.
(1977).
Stories in stone: A field guide to cemetery symbolism and iconography.

New York:

MJF Books.
(2004).
And the men who made them: The signed gravestones of New England.

In

Watters, D.

(Ed.),

Markers II: The Journal of the Association for Gravestone Studies (pp. 1-103).

Lanham, MD:

University Press of America.
, & (1983).
Meyer, R. E.

(Ed.). (1992).

Cemeteries and gravemarkers: Voices of American culture.

Logan:

Utah State University Press.
Tombstone humor.

New York:

Pocket Books.
(1972).
Related Articles
---
The New Encyclopedia of Judaism
The first biblical mention of a tombstone was the one which JACOB erected over the grave of RACHEL (Gen. 35:20). During talmudic times,...
DK Eyewitness Books: Ancient Greece
At certain periods in Athens, tombstones, carved in marble and originally painted in bright colors, were placed above graves. Above the carving...
Encyclopedia of Jewish Folklore and Traditions
Throughout Jewish history, tombstones have marked the burial places of Jews, evolving over history. Their shapes, decorations, rich symbolic motifs,
See more from Credo