Topic Page: Goldwater, Barry M. (Barry Morris), 1909-1998

Summary Article: Goldwater, Barry Morris
from Encyclopedia of the Kennedys: The People and Events That Shaped America
Born in Phoenix on January 1, 1909, and the heir to a Phoenix department store, Barry Morris Goldwater left the University of Arizona after one year to run his family's business. After a tour of duty with the Army Transport Command during World War II, he won election to the Phoenix City Council in 1949. Three years later, he upset Senate majority leader Ernest W. McFarland (D-Ariz.) to become senator, despite the state's previously strong Democratic traditions. As one of the most conservative and anticommunist Republicans, Goldwater defended Senator Joseph R. McCarthy (R-Wis.) and voted against his censure in December 1954. A member of the State Labor and Public Welfare committee, he frequently criticized leaders of organized labor. In 1958, Goldwater handily beat McFarland again despite a determined effort on his opponent's behalf by the state AFL-CIO.
His 1958 triumph marked the beginning of his career as a national conservative spokesman. As chairman of the Senate Republic Campaign Committee, Goldwater's heavy speechmaking schedule brought him before thousands of Republican Party members. During his eight years as chairman (1955–1963), he proved one of the party's most effective fundraisers.
Goldwater's performance at the 1960 Republican National Convention confirmed his position as the leader of the Republican Party's conservative wing. The Arizona senator led the conservative attack on the preconvention platform compromise reached by Vice President Richard M. Nixon and Governor Nelson A. Rockefeller (R-N.Y.). Goldwater accused Nixon of having participated in the "Munich of the Republican Party" by giving in to Rockefeller's demand for a more liberal party document. Enraged conservative delegates nominated Goldwater for president as a protest against Nixon's accommodation with the New York governor. Aware of Nixon's overwhelming delegate strength, however, Goldwater asked that his name be withdrawn in an address calling for party unity. He received 10 votes from Louisiana on the first ballot.
Many conservative Republicans, long frustrated in GOP presidential politics, looked to Goldwater as the natural heir to the late senator Robert A. Taft (R-Ohio), who had three times sought and been denied the party's highest honor. Goldwater, however, proved more militant in his anticommunism and conservative on social welfare legislation than Taft. The senator was also less pragmatic and more ideological than Taft. Unlike Taft, he promoted his views with evangelical fervor; his Conscience of a Conservative, published in 1960, sold more than 700,000 copies in its first year, and ranked 23rd in sales of nonfiction works published between 1895 and 1965.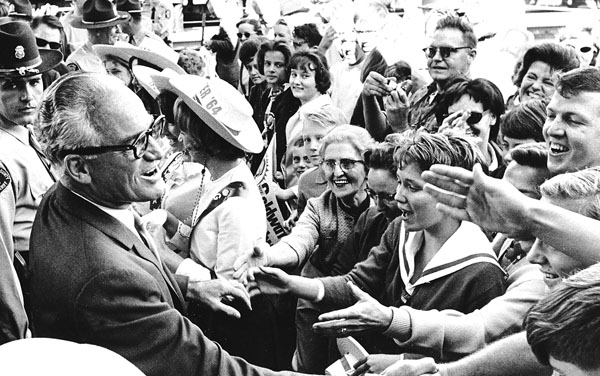 As a political leader Goldwater drew support from, and in turn applauded, the expansion in the early 1960s of diffuse ring-wing, anticommunist groups separate from the regular party. Goldwater, for example, often defended the John Birch Society (although he criticized its founder, Robert H. W. Welch, Jr.). In March 1962, Goldwater hailed as "the wave of the future" the young Americans for Freedom, founded by journalist William F. Buckley, Jr., and others. Despite his identification with these and other rightist groups, Goldwater emphasized that the Republican Party should continue as the main vehicle of conservatism. He warned in May 1962 that President John F. Kennedy's conduct during the steel price controversy the month before proved that Republicans had to win large gains in November "if this country is to be saved from Socialist regimentation."
In the Senate Goldwater often stood with only a small number of colleagues in his opposition to Kennedy administration domestic policy proposals. As measured by Congressional Quarterly, Goldwater favored a smaller federal role in every roll-call vote in the 1961, 1962, and 1963 sessions of Congress. In April 1961, he voted against an increase in the federal minimum wage, which the Senate approved 65-28. He cast negative votes on the administration's 1961 and 1963 wilderness preservation bills, although the Senate twice voted for the proposals by overwhelming margins. With fellow conservative senator John Tower (R-Tex.), Goldwater frequently dissented on the Labor and Public Welfare Committee's recommendations.
Goldwater repeatedly demonstrated his strident anticommunism on foreign policy issues. He joined three Republican colleagues in January 1961 in voting against the confirmation of Chester Bowles as undersecretary of state because of Bowles's positions on disarmament and the recognition of mainland China. During the 1962 congressional elections Goldwater attempted to make the administration's Cuban policy an issue, and on November 5 he claimed in a joint statement with Representative Robert C. Wilson (R-Calif.) that Kennedy had pledged not to invade Cuba, which, in essence, "locked Castro and Communism into Latin America and thrown away the key to their removal." After the naval blockade of Cuba, Goldwater frequently challenged administration claims that its action had forced the Soviet Union to remove its offensive missiles and troops from the island.
During the debate on the Nuclear Test Ban Treaty in September 1963, Goldwater offered an amendment that would have made ratification contingent upon the removal of all Soviet troops and weapons from Cuba. The Senate rejected the Goldwater provision 75-17. Announcing that the test ban agreement would "erode our military strength," Goldwater took the side of those generals who publicly or privately opposed the Treaty of Moscow. He joined 18 other senators in voting against ratification of the agreement on September 24, 1963. In October, 1963, he also opposed a White House proposal to sell wheat to the Soviet Union.
Goldwater's attacks on Kennedy administration measures solidified his command of the Republican right. In November 1961, political organizer F. Clifton White and others established a Draft Goldwater for President Committee, which effectively laid the groundwork for his presidential nomination in 1964. Governor Rockefeller, however, enjoyed an early lead in the public opinion surveys. Goldwater, who loathed the prospect of a rigorous presidential race, came close in 1962 and early 1963 to renouncing a bid for the nomination. After repeated attempts to interest Goldwater in their campaign, White and his group sought an alternative to the Arizona senator. To add to their frustration, Goldwater enjoyed a fleeting personal rapport with Rockefeller. Most party rightists considered the New York governor much too representative of the GOP's liberal Eastern Establishment. His remarriage to a woman 18 years his junior in May 1963 outraged enough party members to cause a sharp decline in his national following. Before his remarriage, Gallup polls of Republican voters found Rockefeller favored over Goldwater 59 percent to 41 percent; polls taken in the early summer, in contrast, showed Goldwater topping his New York rival with 56 percent of the Republican vote.
At the same time that Goldwater's presidential stock rose, the rising tempo of civil rights activities in the South alienated many southerners from the Kennedy administration. Political observers and "Draft Goldwater" strategists claimed that Goldwater would sweep the South in 1964. In September 1963, Time speculated that "against Barry Goldwater, [Kennedy] can only be rated even."
Two factors, however, threatened to thwart the Goldwater strategy. First, the senator's identification with the "radical right" and his votes against measures favored by a majority of his party colleagues (such as the test ban treaty) appeared to place him outside the "political mainstream" of the GOP. Blaming Goldwater for his slide in the pre-primary opinion surveys, Rockefeller urged Republicans in a formal statement on July 14, 1963, to repudiate "well-drilled extremist elements boring within the [Republican] party." Clearly aimed at the Arizona Republican, Rockefeller's statement infuriated Goldwater and ended their briefly cordial association. Second, the senator relied heavily upon ghost writers and hence frequently contradicted himself on major policy issues. L. Brent Bozell, brother-in-law of William F. Buckley, Jr., wrote the entire manuscript for Conscience of a Conservative, which Goldwater at first did not read, choosing instead to have another ghost writer approve it for him. "Oh hell, I have ghosts all over the place," he admitted in an August 1963 interview. Inconsistency or outright political gaffes—such as his advocacy in October 1963 of the sale of the Tennessee Valley Authority—later proved costly in the 1964 campaign.
In the fall of 1963, many analysts rated Goldwater the front-runner for the nomination, and some gave him a chance of an upset in November 1964. The senator showed new interest in a presidential campaign, and both he and Kennedy looked forward to an issue-oriented contest. In 1964, he won the nomination after a bitter pre-convention struggle but lost the election to President Lyndon B. Johnson in a historic landslide. After semiretirement from politics between 1964 and 1968, Goldwater again won election to the Senate in November 1968.
See also: Alger, Bruce; Baker, Robert Gene; Bell, David Elliott; Bowles, Chester; Burke, Arleigh Albert; Case, Clifford Philip; Dirksen, Everett McKinley; Eisenhower, Milton Stover; Foreign Policy for a New Generation; Free Speech Movement (FSM); Goodwin, Richard Naradhof; Hatfield, Mark Odum; Hunt, Haroldson Lafayette; Huntley, Chester Robert; Javits, Jacob Koppel; Johnson, Lyndon Baines; Johnson, Claudia Alta Taylor ("Lady Bird"); Judd, Walter Henry; Kennedy, John Fitzgerald; Kuchel, Thomas Henry; Laird, Melvin Robert; LeMay, Curtis Emerson; Lindsay, John Vliet; Lodge, Henry Cabot; Loeb, William; Miller, William Edward; Nixon, Richard Milhous; Republican Party; Rockefeller, Nelson Aldrich; Romney, George Wilcken; Scranton, William Warren; Thomas, Norman Mattoon; Tower, John Goodwin; Williams, John Bell
Related Articles
---
Culture Wars in America: An Encyclopedia of Issues, Viewpoints, and Voices
Largely credited with spearheading America's shift toward the political right in the late twentieth century, Barry Goldwater was a five-term U.S. se
Encyclopedia of the Vietnam War: A Political, Social, and Military History
Birth Date: January 1, 1909 Death Date: May 29, 1998 U.S. senator from Arizona (1953-1965, 1969-1987) and Republican Party candidate for...
Encyclopedia of U.S. Political History
1909-1998 United States Senator Senator Barry Goldwater was a critical figure in the development of modern American conservatism into a...
See more from Credo