Topic Page: Goa
---
Definition:
Goa
from
Philip's Encyclopedia
State in SW India, on the Arabian Sea; the capital is Panaji. It was ruled by Hindu dynasties until it came under Muslim domination in the 15th century. Captured by the Portuguese in 1510, it became the hub of Portugal's Asian empire. It was annexed by India in 1962 and made a Union territory. In 1987, Goa became a separate state. Products: rice, cashews, spices, pharmaceutical products, footwear, pesticides. Area: 3,702sq km (1,429sq mi). Pop. (2001) 1,344,000.
---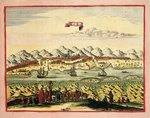 Summary Article: Goa
From The Hutchinson Unabridged Encyclopedia with Atlas and Weather Guide
State on the west coast of India, lying 400 km/250 mi south of Mumbai (formerly Bombay); area 3,702 sq km/1,429 sq mi; population (2001 est) 1,344,000. The capital is Panaji. Tourism is very important to the economy; local industries include clothing, footwear, pesticides, manganese, and fishing nets. Agriculture is based on the cultivation of rice, pulses, cashew nuts, coconuts, and ragi (a cereal). Iron ore is mined in the state, and exported from the port of Marmagoa, while the tropical climate and picturesque Indian Ocean beaches contributed to the rise of Goa as a major tourist resort in the late 20th century.
Goa was captured by the Portuguese in 1510; the inland area was added in the 18th century. Goa was incorporated into India as a Union Territory with Daman and Diu in 1961 and became a state in 1987. The long European period left many legacies, including a large (40%) Christian minority.
Physical Goa is bounded on the east by the Western Ghats, which reach nearly 1,300 m/4,260 ft; the rich lowland soils have a high mineral content. The Mandovi and Zuari rivers share an estuary at Panaji, which has mangrove forests providing habitats for marine birdlife.
Features Notable features are Goa's Portuguese colonial architecture; the baroque church of Bom Jesus (built 1594–1603), with the tomb and shrine of St Francis Xavier, is a World Heritage Site. The Salim Ali bird sanctuary on Chorao Island opposite Panaji.
weblinks
Goa
images
Goa
Related Articles
---
Merriam-Webster's Geographical Dictionary
or Port. Gôa \gō-ə\ 1 or Old Goa. State, India, on W coast; formerly a constituent part of the centrally administered...
See more from Credo