Topic Page: Ginsburg, Ruth Bader

Summary Article: Ginsburg, Ruth Bader
From American Government A to Z: The Supreme Court A to Z
As a student, law professor, advocate, and judge, Ruth Bader Ginsburg (1933-) struggled against the legal profession's prevailing institutional discrimination against women. She surmounted those hurdles for herself and helped chart the litigation strategy that resulted in the Supreme Court's first constitutional rulings limiting sex discrimination in the law. After her appointment to the Court in 1993, she continued to be a strong champion for women's rights, adopted liberal positions in several other areas, but emerged as a voice for judicial restraint in some cases.
Born into a family of modest means in Brooklyn, New York, Ruth Bader was greatly influenced by her mother, Celia, who imparted a love of learning and independence. Celia Bader died of cancer on the eve of her daughter's high school graduation in 1950.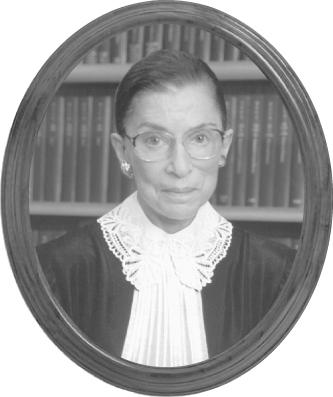 Ruth Bader attended Cornell University, where she graduated first in her class and met her future husband, Martin Ginsburg, who became a tax lawyer and later a law professor at Georgetown University. At Harvard Law School, Ruth Bader Ginsburg made law review, cared for an infant daughter, and then helped her husband complete his studies after he was diagnosed with cancer. He recovered, graduated, and took a job in New York, and she transferred to Columbia for her final year of law school.
Although tied for first place in her graduating class, Ginsburg was unable to obtain a Supreme Court clerkship or job with a top New York law firm. Instead, she got a two-year clerkship with a federal district court judge. She then studied civil procedure in Sweden and began to take an interest in feminist thought.
Ginsburg taught at Rutgers University Law School from 1963 to 1972. She also worked with the New Jersey affiliate of the American Civil Liberties Union (ACLU), where her caseload included early sex discrimination complaints. In 1972 Ginsburg became the first woman to earn a tenured position on the Columbia law faculty. As director of the national ACLU Women's Rights Project, she handled cases that led the Supreme Court to require heightened scrutiny of legal classifications based on sex.
President Jimmy Carter named Ginsburg to the U.S. Court of Appeals in the District of Columbia in 1980. There she earned a reputation as a judicial moderate on a sharply divided court. She was among several candidates President Bill Clinton considered for his first appointment to the Court. Aides said later that Clinton was especially impressed with Ginsburg's life story. She was confirmed by the Senate, 96-3, and sworn in August 10, 1993, as the Court's second female justice and the first Jewish justice since 1969.
Initially, Ginsburg startled observers with her unusually active questioning. Later, she chafed when lawyers confused her with the Court's other female justice, Sandra Day O'Connor, during oral arguments. In her most important early opinion, she wrote the landmark ruling in 1996 ordering that women be admitted to the previously all-male Virginia Military Institute.
Despite generally liberal stands on civil rights, federalism, and church-state issues, Ginsburg sometimes favored law enforcement in criminal cases. Some observers also commented on Ginsburg's preference for deciding cases on procedural grounds rather than broad principles of social justice.
As the Court shifted to the right under Chief Justice John G. Roberts Jr., Ginsburg was frequently in dissent in the highest profile cases. Dissenting from the bench when the Court in 2007 upheld a federal ban on so-called partial birth abortions, Ginsburg said the ruling reflected "hostility" to abortion rights. In another dissent read from the bench two years later, she said that a ruling to back a reverse-discrimination suit by white firefighters in New Haven, Connecticut, ignored the department's history of racial discrimination.
Ginsburg was diagnosed in 2009 with pancreatic cancer, which was treated successfully without Ginsburg's missing a Court session. With Justice John Paul Stevens's retirement in 2010, she became the Court's oldest member. But Ginsburg quashed speculation about her possible retirement by saying that she hoped to serve until 2015, when she would reach the age of eighty-two, the same age as Justice Louis D. Brandeis at his retirement.
مقالات كريدو ذات الصلة
---
Biographical Encyclopedia of the Supreme Court: The Lives and Legal Philosophies of the Justices
Birth: March 15, 1933, Brooklyn, New York. Education: Cornell University, B.A., 1954; attended Harvard University Law School, 1956–1958;...
Encyclopedia of Education Law
In 1993, President Clinton appointed Ruth Bader Ginsburg as the second woman to serve on the U.S. Supreme Court. Ginsburg is best known for her...
Encyclopedia of Abortion in the United States
Ruth Bader Ginsburg was appointed as an associate justice of the United States Supreme Court in 1993. Justice Ginsburg's early opinions have indicat
مشاهدة المزيد من كريدو