Topic Page: geothermal energy
---
Definition: geothermal energy from The Hutchinson Unabridged Encyclopedia with Atlas and Weather Guide
---

Summary Article: Geothermal Energy
From Encyclopedia of Geography
Geothermal energy is the heat contained within Earth that generates geological phenomena on a planetary scale. The term geothermal energy is often used to indicate that part of Earth's heat that can, or could, be recovered and exploited by humans. The presence of volcanoes, hot springs, and other thermal phenomena clearly demonstrates that the interior of Earth is hot: Earth's temperature increases with depth. This heat is continually generated by the decay of the long-lived radioactive isotopes of uranium (238U, 235U), thorium (232Th), and potassium (40K), which are present in Earth, in addition to the primordial energy of planetary accretion. The total heat content of the crust of Earth can be estimated in the order of 5.4 × 1021 MJ (mega-joules). As a comparison, the total world electricity need per year is about 6 × 1013 MJ, that is, 100 million times lower. The thermal energy of Earth is therefore immense, but only a modest fraction can be used by people. Human use is limited to areas in which geological conditions permit a carrier (water in the liquid phase or steam) to "transfer" the heat from deep hot zones to or near the surface, thus giving rise to the geothermal resource.
Geothermal System
A geothermal system can be described schematically as convecting water in the upper crust of Earth, which, in a confined space, transfers heat from a heat source to a heat sink, usually the free surface. A geothermal system is made up of three main elements: a heat source, a reservoir, and a fluid, which is the carrier that transfers the heat (Figure 1). The heat source can be either a very high-temperature (>600°C) magmatic intrusion that has reached relatively shallow depths (5-10 km [kilometers]) or, as in certain low-temperature systems, Earth's normal temperature. The reservoir is a volume of hot, permeable rocks from which the circulating water is generally overlain by a cover of impermeable rocks and connected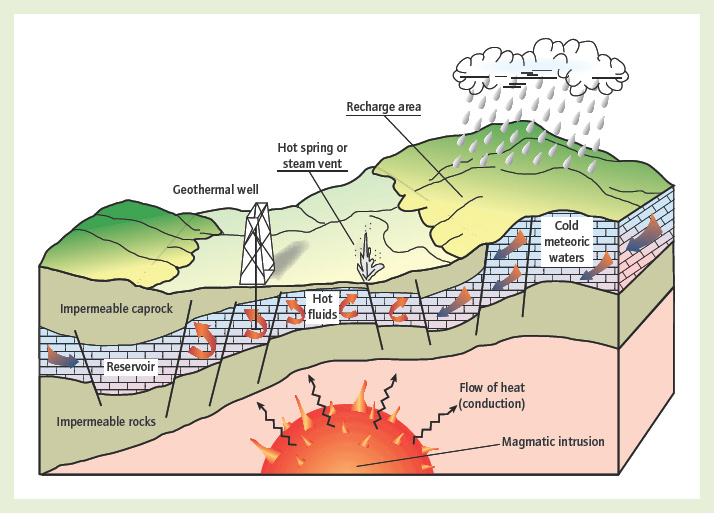 to a superficial recharge area through which the meteoric waters can replace or partly replace the fluids that escape from the reservoir.
Geothermal History
In the early part of the 19th century, geothermal fluids were already being exploited for their energy content. A chemical industry was set up in that period in Italy, in the zone now known as Larderello, to extract boric acid from the hot waters issuing naturally or from specially drilled shallow boreholes. In 1827, Francesco de Larderel developed a system for using the heat of the geothermal fluids in the evaporation process, rather than burning wood from the rapidly depleting forests. Between 1910 and 1940, the low-pressure steam in this area of Tuscany was brought into use to heat the industrial and residential buildings and greenhouses. In 1928, Iceland, another pioneer in the use of geothermal energy, also began exploiting its geothermal fluids for domestic heating.
The first attempt at generating electricity from geothermal steam was made at Larderello in 1904. The success of this experiment indicated the industrial value of geothermal energy. By 1942, the installed capacity had reached 128 MWe (megawatts electrical). The example set by Italy was followed by several countries. The first geothermal wells in Japan were drilled at Beppu in 1919 and in the United States at The Geysers, California, in 1921. In 1958, a small geothermal power plant began operating in New Zealand, in 1959 in Mexico, in 1960 in the United States, and in many other countries in the years to follow.
Present Use of Geothermal Energy
After World War II, many countries were attracted by geothermal energy, considering its economical value: It did not have to be imported, it was available 24 hours per day, it was independent of external weather conditions, and, in many cases, it was the only energy source available locally for the benefit of local populations. Geothermal resources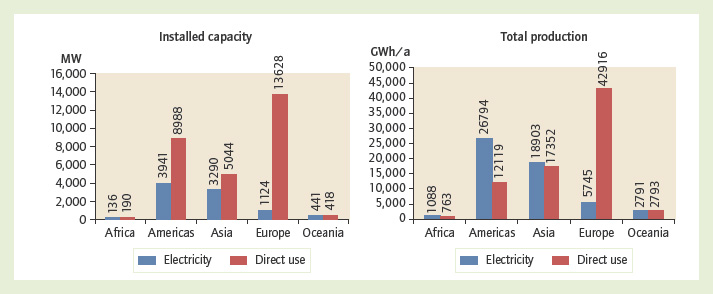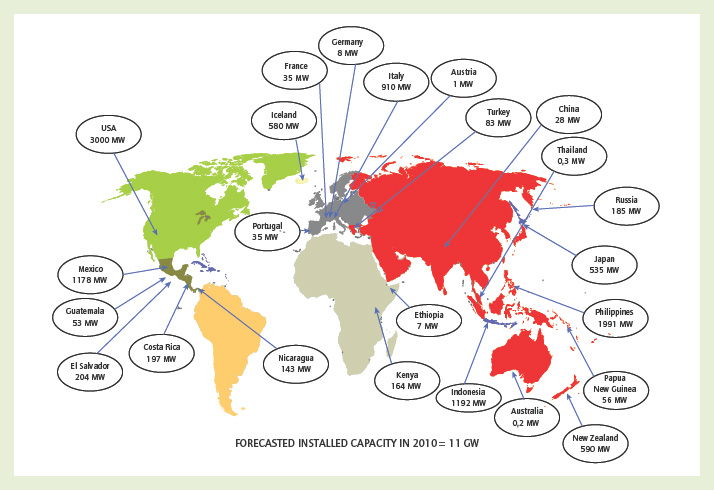 have been identified in 90 countries, and there are quantified records of geothermal use in 72 countries. Summarized information on geothermal use in the individual countries for electricity production and direct use (heating) is available. In 2004, the worldwide use of geothermal energy was about 57 TWh/yr. (terawatt hours per year) of electricity and 76 TWh/yr. for direct use. The installed electric capacity in 2004 was 8,900 MWe. The installed capacity for direct applications in 2004 was 28,300 MWth (megawatts thermal). Figure 2 shows the installed capacity and the geothermal energy in the different continents in 2004. Figure 3 shows the short-term forecasting of the installed capacity for electricity production in 2010 in different countries.
Geothermal Potential
Geothermal energy sources have been considered exploitable, until recently, only in areas where the fluid is found at depths less than 4 km with temperatures above 180°C. This has changed in the past two decades with the development of power plants that can economically use lower temperature resources (down to 100°C) and the emergence of ground source heat pumps using Earth as a heat source for heating or as a heat sink for cooling, depending on the season. This has made it possible to use the heat of Earth for heating and/or cooling, as appropriate.
It is difficult to estimate the overall worldwide potential because of large uncertainties. Nevertheless, it is possible to identify a range of estimations, taking also into consideration the possibility of new technologies, such as permeability enhancements, drilling improvements, enhanced geothermal systems (EGS) technology, low-temperature electricity production, and the use of supercritical fluids. One estimate of the expected geothermal electricity potential is 35-70 GW (gigawatts) to 140 GW (Figure 4).
It is considered possible to produce up to 8.3% of the total world's requirement of electricity with geothermal resources, serving 17% of the world population. Thirty-nine countries (located mostly in Africa, Central/South America, and the Pacific) can potentially obtain 100% of their electricity from geothermal resources.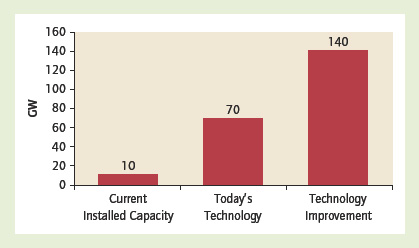 Geothermal Field Classification
Frequently, a distinction is made between water-or liquid-dominated geothermal systems (also called hydrothermal energy) and vapor-dominated or dry steam geothermal systems (including hot, dry rocks). In water-dominated systems, liquid water is the continuous, pressure-controlling fluid phase. These geothermal systems, whose temperatures may range from 100 to 225°C, are the most widely distributed in the world. In vapor-dominated systems, liquid water and vapor normally coexist in the reservoir, with vapor as the continuous, pressure-controlling phase. Geothermal systems of this type, the best known of which are Larderello in Italy and The Geysers in California, are somewhat rare and are high-temperature systems (>300°C).
Direct Use of Geothermal Heat
Electricity generation is the most important form of use of high-temperature geothermal resources (>150°C). The medium-to-low temperature resources (<150°C) are suited to many different types of application.
Space and district heating systems have made great progress in Iceland, where the total capacity of the operating geothermal district heating system had risen to about 1,200 MWth, but they are also widely distributed in the East European countries as well as in the United States, China, Japan, France, and so on.
Space cooling is a feasible option where absorption machines can be adapted to geothermal use. The technology of these machines is well-known, and they are readily available on the market. The absorption cycle is a process that uses heat instead of electricity as the energy source. The refrigeration effect is obtained by using two fluids: (1) a refrigerant, which circulates, evaporates, and condenses, and (2) a secondary fluid or absorbent.
The agricultural applications of geothermal fluids consist of open-field agriculture and greenhouse heating. Thermal water can be used in open-field agriculture to irrigate and heat the soil. The most common application of geothermal energy in agriculture is, however, in greenhouse heating, which has been developed on a large scale in many countries. Greenhouse heating can be accomplished by forced circulation of air in heat exchangers, hot water-circulating pipes or ducts located in or on the floor, or other methods. Exploitation of geothermal heat in greenhouse heating can considerably reduce operating costs, which in some cases account for 35% of the product costs. Aquaculture, which is the controlled breeding of aquatic forms of life, is gaining worldwide importance nowadays. By maintaining an optimum temperature artificially, we can breed more exotic species, improve production, and even, in some cases, double the reproductive cycle.
Conclusion
Geothermal energy is a renewable energy source that has been used economically in many parts of the world for decades. The geothermal exploitation is renewable because of the total reinjection of the cold water after its use, so that only the heat is mined out of the rocks, but it is continuously recharged (directly or indirectly) by Earth's heat flux. A great potential for an extensive increase in worldwide geothermal use has been proven. This is a reliable energy source that serves both direct-use applications and electricity generation. Geothermal energy is independent of weather conditions and has an inherent storage capability, which makes it especially suitable for supplying base load power in an economical way, and can thus be used along with energy sources that are only available intermittently. The renewable energy sources can contribute significantly to the mitigation of climate change and more so if they are used in combination, rather than in competition, with each other.
Geothermal exploitation techniques are being rapidly developed, and knowledge of the reservoirs has improved considerably over the past years. Combined heat and power plants are gaining popularity, improving the overall efficiency of geothermal use. Also, low-temperature power generation with binary plants has opened up the possibility of producing electricity in countries that do not have high-temperature fields. EGS technologies, where heat is extracted from deeper parts of the reservoir than in conventional systems, are under development. If EGS can be proven economical at commercial scales, the development potential of geothermal energy will be limitless in many countries of the world.
See also
Energy Resources, Geothermal Features, Renewable Resources, Volcanoes
Further Readings
World geothermal power generation in the period 2001-2005.

Geothermics

34

:

651-690

., 2005.
World geothermal power generation in 2007

. In

Proceedings of the European Geothermal Congress 2007

, Unterhaching, Germany. Retrieved January 15, 2010, from

http://geoheat.oit.edu/bulletin/bull28-3/art3.pdf

.
(2007, May 30-June 1).
Stories from a heated Earth: Our geothermal heritage.

Sacramento, CA:

Geothermal Resource Council and International Geothermal Association.
, , & (1999).
Geothermal energy

(UNESCO Energy Engineering series). Chichester, UK:

Wiley.
, & (1995).
Direct application of geothermal energy: 2005 worldwide review.

Geothermics

34

:

691-727

., 2005.
; ;
The sustainability of production from geothermal resources.

Geo-Heat Center Quarterly Bulletin

19

(

2

) :

9-12

., 1998.