Topic Page: Garner, John Nance, 1868-1967
---
Definition: Garner, John Nance from Chambers Biographical Dictionary
---
Summary Article: Garner, John Nance
from American Government A to Z: The Presidency A to Z
John Nance Garner (1869–1967) served as vice president during Franklin D. Roosevelt's first two terms. Garner aspired to the presidency, but Roosevelt's decision to seek an unprecedented third term in 1940 cut Garner off from his chance at the nation's highest office.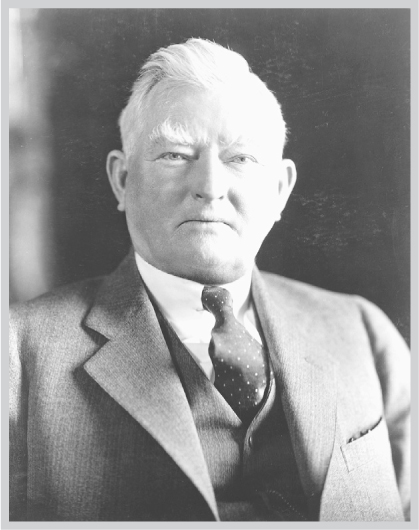 The son of a Confederate soldier, Garner was born and raised in Texas. He enrolled in Vanderbilt University when he was eighteen but dropped out soon afterward when he realized he was not scholastically prepared for college. Instead he studied law under local attorneys and was admitted to the bar in 1890. He opened a practice in Clarksville, Texas, but after two years he relocated to Uvalde, Texas. Through shrewd investing, he gradually acquired thousands of acres of land, three banks, and numerous businesses that made him a millionaire.
Garner served as a judge of Uvalde County and a member of the Texas House of Representatives before winning a seat in the U.S. House in 1902. He served in the House continuously until 1933, becoming minority leader in 1928 and Speaker on December 7, 1931.
In 1932 Garner ran for the Democratic presidential nomination. More than half of the delegates favored Franklin D. Roosevelt, but he could not muster the two-thirds needed for nomination. Garner, who was running a distant third behind Roosevelt and Alfred E. Smith, released his ninety delegates in an effort to end the deadlock that was dividing the party. Garner's move allowed Roosevelt to secure the necessary two-thirds majority. Roosevelt then supported Garner for the vice-presidential nomination. Roosevelt and Garner denied that they had made a swap, but they convinced few political observers. Nevertheless, they were swept into office by a landslide victory over President Herbert C. Hoover and Vice President Charles Curtis.
Garner, a crusty Texan, was known by the nickname "Cactus Jack." He was famous for saying that the office of vice president "isn't worth a pitcher of warm spit"—perhaps especially in contrast to the powers of Speaker of the House. In fact, Garner was important in expanding the importance of the office of the vice presidency, including attending cabinet meetings and traveling abroad on behalf of the president.
As vice president, Garner used his congressional contacts and experience to help push Roosevelt's New Deal legislation through Congress. Roosevelt and Garner were reelected easily in 1936, but during their second term their relationship soured. Garner was alarmed by the enhancement of executive power under Roosevelt and opposed the president's Court-Packing Plan to increase the number of Supreme Court justices in 1937. Garner also believed that deficit spending on Roosevelt's New Deal social programs should be cut back. As a result, the president excluded Garner from many White House meetings.
In December 1939 Garner announced he would run for president in 1940. When Roosevelt announced he would seek a third term, Garner denounced the president's decision. Roosevelt was nominated for a third term by acclamation.
After this disappointment, Garner quit politics and retired to Uvalde. He died on November 7, 1967, two weeks before his ninety-ninth birthday. He lived longer than any other vice president or president.
Related Articles
---
Chambers Dictionary of World History
US politician. He served as a Democratic congressman for Texas (1903–33) and became Speaker of the House in 1931. As Vice President (1933–41)...
American Government A to Z: The Presidency A to Z
Charles Curtis (1860–1936) served one term as vice president under Herbert C. Hoover, from 1929 to 1933. Curtis and Hoover were the first...
Presidential Campaigns, Slogans, Issues, and Platforms: The Complete Encyclopedia
The year 1932 is remarkable in the history of American presidential elections for four principal reasons. First, the outcome of the election of 1932
See more from Credo