Topic Page: Gagarin, Yuri (1934 - 1968)

Summary Article: Gagarin, Yuri (1934–1968)
from Encyclopedia of the Sixties: A Decade of Culture and Counterculture
Yuri Gagarin, a fighter pilot in the Soviet air force, was the first person to fly in space, making a single orbit of the Earth aboard the spacecraft Vostok 1 on April 12, 1961. Gagarin played a variety of supporting roles in the Soviet space program in the next five years, and was killed in a plane crash in 1968 while training for a second spaceflight.
Yuri Alexeyevich Gagarin was born on March 9, 1934, in the village of Klushino, west of Moscow. The son of a carpenter, he graduated from secondary school in 1949 and attended the Lyubertsy Agricultural Machinery School and the Saratov Industrial Technical School. Gagarin joined a student flying club while he was at Saratov, earning his pilot's license and impressing his instructors enough that he was recommended for service in the Air Force. He entered the Orenburg Air Force School in 1955 and, when he graduated in 1957, was offered the chance to stay on as an instructor. Gagarin opted instead for active duty with a front-line squadron and spent the next two years stationed at Murmansk, north of the Arctic Circle. He volunteered for cosmonaut training in 1959, and was one of 20 (all young, all fighter pilots) to be selected.
Like his counterpart Alan Shepard—who would become the second person and the first American in space—Gagarin quickly emerged as a leading contender for the honor of being the first in his group to fly. He was notified of his assignment as pilot of Vostok 1 in late March 1961, and his status was made public on April 8, only four days before his flight. Riding a spacecraft designed to be steered not by the pilot but by controllers on the ground, he spent much of his 1 hour, 48 minute flight observing the Earth from orbit and monitoring his spacecraft's systems and his own reactions to weightlessness. After Vostok 1 reentered Earth's atmosphere, Gagarin—according to plan—ejected and parachuted to safety in a field near Saratov.
Little known outside the Soviet Union before his flight, Gagarin was world famous afterward. He spent much of the succeeding months at state-sponsored public appearances, making it difficult for him to remain an active pilot, much less train for a space mission. He moved into administrative positions as commander of the cosmonaut team (1961–1964) and deputy director of the Cosmonaut Training Center (1964–1966) but dreamed of a second flight. Returning to active service as a cosmonaut in 1966, he was assigned as backup commander for the first flight of the new Soyuz spacecraft (scheduled for 1967) and named to the group of cosmonauts training for lunar flyby missions. Soyuz 1 crashed on landing, however, killing cosmonaut Vladimir Komarov and convincing Soviet officials that Gagarin was too valuable a propaganda asset to risk in the depths of space. Gagarin died on March 27, 1968, in the crash of a two-seat training aircraft that, for reasons still unclear, went out of control a few thousand feet above the ground.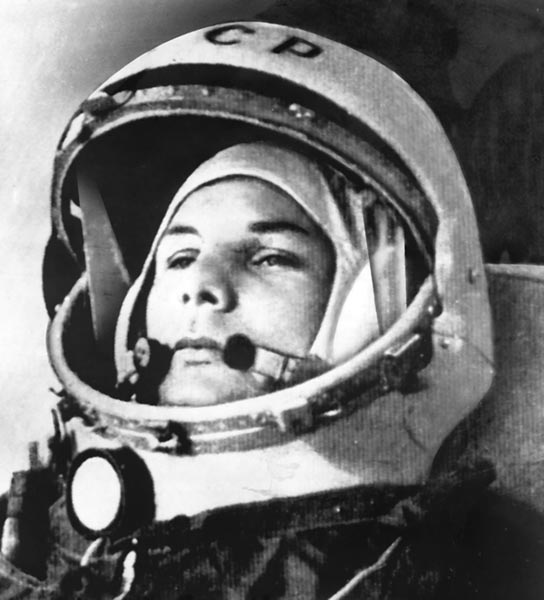 See also Space Race.
Related Articles
---
Great Lives: A Century in Obituaries
First man to fly in space 27 march 1968 Yuri Gagarin, the first man to make a successful flight into space, died in an aircraft crash on...
The Hutchinson Chronology of World History
Subject: births and deaths Yuri Alekseyevich Gagarin, Soviet cosmonaut and the first person to travel in space, born near Gzhatsk, Russia (–1968).
Collins Dictionary of Astronomy
vos -tok A series of six Soviet piloted spacecraft that were able to carry one person into orbit. Vostok 1 was launched on Apr. 12 1961....
See more from Credo