Topic Page: fund-raising
---
Definition:
fund–raising
from
Merriam-Webster's Collegiate(R) Dictionary
(1940) : the organized activity of raising funds (as for an institution or political cause)
---
Summary Article: Fundraising
From Encyclopedia of Public Relations
Fundraising is one of public relations' highest paid specializations and one of the least understood. Practitioners manage relationships between one special type of organization and one special stakeholder group: charitable organizations and their donor publics. Contrary to popular belief, the purpose of fundraising is not to raise money, but to help organizations and donors fulfill mutual philanthropic interests.
A good analogy for understanding fundraising, which also is known as development and can be termed donor relations, is investor relations. Practitioners specializing in investor relations are high paid. They manage relationships between publicly owned corporations (one special type of organization) and investors, or current and potential stockholders (one special stakeholder group). Investor relations specialists do not sell stock in the corporation to generate revenue; rather, their job is to help the corporation retain and attract owners, who invest in the stock market to advance their financial interests. The two parties are interdependent; each needs the other to achieve its goals. Investors are both organizations and individuals, some of whom make major financial commitments and, by virtue of the large percentage of shares they own, hold a great deal of power in the organization-public relationship. Other investors buy only a few shares of stock and have little power individually, although their collective power is substantial. Investor relations specialists use a variety of communication tactics—from interpersonal to controlled media to mass media communication—to build and maintain these relationships.
Just as participation in the stock market is a characteristic of our capitalistic economy, America's tradition of philanthropy pervades our society. Quite simply, donors give money to charitable organizations not because fundraisers persuade them to give, but because giving is a customary, expected, admired, and even legally required behavior in the United States. The job of fundraisers is to retain and attract donors, who traditionally give away money to advance causes that they believe will improve society. Indeed, philanthropy and its facilitation by fundraisers are essential to what is referred to as social capital, which is the bedrock of civil society.
Historical and Organizational Context
Fundraising traces its beginning to the founding of the colonies that became the United States. Discussions of its history usually start with the first solicitation for Harvard College in 1641, which produced the colonies' first public relations brochure. Fundraising was conducted haphazardly by volunteers and untrained managers until the early 1900s, when specialists began to emerge. Institutionalization of the function dates back to just 60 years ago. Although fundraising has spread to almost all countries, its roots are in American democracy, which promotes a nonprofit sector and fosters philanthropy through a favorable tax system.
Fundraisers work for charitable organizations, a special type of nonprofit organization. They should not be confused with people who carry out fund-raising activities for other types of nonprofit organizations, such as political parties or electoral campaign committees. The term fundraising generally is reserved for bringing about philanthropic exchanges, meaning that the transfer of money is not based on quid pro quo (as it is in a marketing exchange) and that the money given meets the criteria of a charitable contribution, as defined by the Internal Revenue Code.
The nonprofit sector consists of tax-exempt organizations that are neither businesses nor government agencies. There are approximately 1.6 million U.S. nonprofit organizations, of which more than 1 million, or 68%, are charitable nonprofit organizations, meaning that gifts to them are deductible from donors' taxable income. Charitable nonprofit organizations come in all shapes and sizes, from local day-care centers and neighborhood churches to major research universities and metropolitan hospitals. Their missions, or the purpose for which they were granted tax exemption, are diverse and represent all aspects of society, including the arts, education, the environment, health, human services, and religion.
The majority of charitable organizations have annual revenues of less than $100,000 and depend on volunteers, such as trustees, to raise philanthropic gifts. Charitable organizations with higher revenues—often millions or even billions of dollars per year—employ fundraisers, either as external consultants or as internal staff. Although no official count exists, projections based on earlier estimates place the number of full-time fundraisers at approximately 150,000.
Donor Publics
As with investors, donors consist of both organizations and individuals. Similarly, some donors make major gifts and hold a great deal of power in the organization-public relationship, whereas others make small annual gifts and hold little power unless they act collectively. The relationship is based on interdependency between the donor, who provides financial resources to carry out the charitable organization's mission, and the charitable organization, which provides the means to carry out the donor's philanthropic wishes.
There basically are three donor publics: individuals, foundations, and corporations. Individuals traditionally give more than 80% of all gift dollars every year. The amount of dollars given by all donors to all charitable organizations in the United States is quite impressive. It also is the envy of all other industrialized countries. For example, in 2011, Americans gave a total of $298 billion, of which 81% came from individuals, 14% came from foundations, and 5% came from corporations, according to Giving USA (2012).
Philanthropy by all types of donor publics, according to philanthropy and nonprofit management scholars, is best explained by the mixed-motive model of giving, which holds that philanthropy reflects neither pure altruism nor pure egoism; it involves mixed motives: to fulfill the donor's interests in self and in a common good, as represented by the mission of the charitable organization receiving the gift.
Furthermore, the American tradition of philanthropy creates an expectation that all individuals should make charitable contributions, according to their means. Wealthy individuals are held to a philanthropic standard that is unusual in the modern world: They are expected to give away most of their wealth before or at the time of their death. The standard was outlined in the late 1880s by legendary philanthropist Andrew Carnegie, who proclaimed, "He who dies rich dies disgraced" (1983, p. 108).
Corporations that give away pretax dollars are admired. Philanthropy is a critical element in demonstrating corporate social responsibility. The theory of corporate contributions as social currency holds that U.S. companies make gifts because senior managers are expected by their peers to contribute corporate dollars. Studies have shown that giving is the norm in many business subcultures, and managers who want to remain in the inner circles have to conform by making appropriate contributions. Finally, foundations, unlike the other donor publics, are required by law to give away each year an amount equal to 5% of their financial assets. Their very purpose is to provide support to charitable organizations through grants. The number of U.S. foundations has increased rapidly during the last two decades and now totals more than 76,600.
Programs
Fundraisers organize their activities into four traditional programs: annual giving, major gifts, planned giving, and capital campaigns. The first two are primary programs; the second two actually are strategies to raise major gifts.
Focusing on the primary programs, annual giving raises lower-level gifts, whereas the major gifts program raises major gifts. Dollar amounts defining the two gift types differ among organizations. For example, universities and hospitals typically define a major gift as a gift of $100,000 or more, but most churches and human services organizations (such as chapters of the American Red Cross) use $10,000 as the dividing point. Contributions and grants from corporations and foundations, respectively, usually are major gifts. Gifts from individuals run the gamut—from pennies placed in collection plates to multimillion-dollar pledges. Most Americans make at least one annual gift each year, but because wealth is not distributed equally in the U.S. capitalistic economy, a minority of individuals—those with the most income and assets—account for most major gifts.
Annual giving often is described as the bread-and-butter program of fundraising because it generates annual income that helps pay the charitable organization's operational expenses. Annual gifts, which typically are less than $100, almost always are unrestricted in purpose, meaning they can be used where most needed as determined by the organization's managers after receipt. In contrast, major gifts almost always are restricted and must be used for the specific purposes for which they were given, determined in advance of receipt. Annual gifts usually are made from donors' income, whereas outright major gifts are made from donors' income and assets, and planned major gifts typically come only from donors' assets. As operational expenses are reoccurring, the annual giving program is repeated each year, unlike the major gifts program and planned giving, which are ongoing, and capital campaigns, which are sporadic.
For most charitable organizations, the major gifts program accounts for the vast majority of dollars raised, and only a relatively few gifts account for most of that money. Approximately 80% of all dollars raised will come from 20% of all gifts—what fundraisers refer to as the principle of proportionate giving. The major gifts program, therefore, is targeted at wealthy individuals, as well as corporations and foundations— but only those that have an expressed interest in the organization and its mission. Virtually every major donor has a long-standing, carefully nurtured relationship with the recipient organization and the people who represent it. In almost all cases, major donors have made previous gifts to the organization. Because they provide most of the dollars raised, major donors have considerable power in affecting the organization's operations—similar to the power held by large institutional investors in publicly owned corporations. Fundraisers seek a balance between protecting organizational autonomy and being accountable to major donors. To help them achieve balance in their boundary role, fundraisers must be skilled negotiators because major gifts usually are restricted—often with multiple conditions—for purposes that may or may not coincide with the organization's self-directed plans.
Colleges, universities, and hospitals attract the largest gifts, followed by arts, culture, and humanities organizations. In 2011, for example, organizations with education and health missions raised $39 billion and $25 billion, respectively, according to Giving USA (2012). Not surprisingly, colleges, universities, and hospitals employ the largest number of fundraisers.
To raise annual gifts, fundraisers primarily use controlled media tactics, specifically, direct mail and special events, to solicit lower-level gifts from a large numbers of individuals. In contrast, fundraisers primarily use interpersonal communication tactics such as face-to-face conversations and personal letters to solicit major gifts from a much smaller number of individuals, corporations, and foundations. Fundraisers increasingly are using Internet channels such as websites and social media to cultivate donors and solicit gifts. Building and maintaining relationships with donors is key to both primary programs, which requires fundraisers to devote a great deal of their time to sharing information and encouraging involvement. The emphasis of their work is on research, cultivation, and stewardship—not solicitation.
ROPES Process
The ROPES process model, drawn from public relations theory, was conceptualized to describe how fundraising is conducted and was tested in field research by Kathleen S. Kelly. Kelly then applied the resulting model to overall public relations practice, which affirmed the common theoretical basis of fundraising and public relations.
ROPES consists of five consecutive steps: research, objectives, programming, evaluation, and stewardship. Fundraising begins with research in three progressive areas: (a) the charitable organization for which practitioners work; (b) the opportunity, or problem, faced by the organization; and (c) the donor publics related to both the organization and the opportunity. The second step is setting specific, measurable objectives that are derived from organizational goals and supported by research. Objectives are not limited to dollar totals. Programming consists of planning and implementing activities designed to bring about the outcomes stated in the objectives. These activities are categorized by the two purposes of cultivation and solicitation. Evaluation monitors programming and later determines if the set objectives were met. Stewardship completes the process and provides an essential loop back to the beginning of fundraising. Four sequential elements are basic to stewardship: reciprocity, responsibility (including responsible gift use), reporting, and relationship nurturing.
Research is deemed the most important step in fundraising, followed by stewardship. The prioritization is logical in that scholarly and practitioner analyses show that donors decide which causes are important to them and that the best prospects for future gifts are current donors. Whether raising annual, major, planned, or campaign gifts, the ROPES theory holds that fundraisers should spend 20% of their time on research, 15% on objectives, 30% on programming (equally divided between planning and implementing), 15% on evaluation, and 20% on stewardship (see Figure 1). Results of field research show that fundraisers generally follow the ROPES process, although they devote less time to research than advocated by the theory.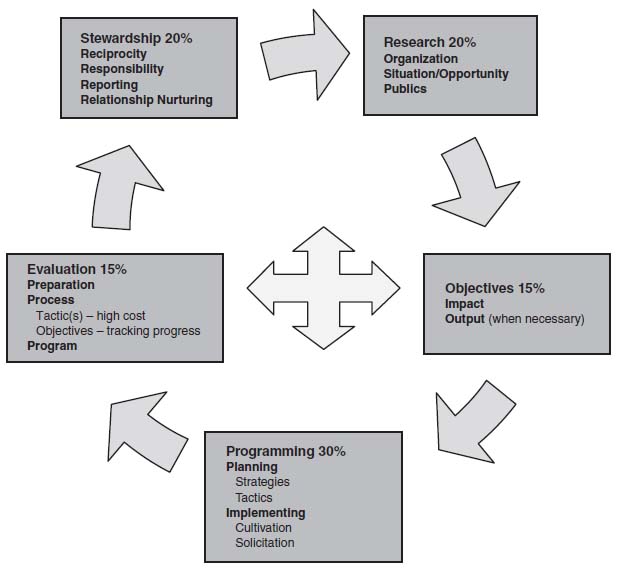 Fundraising lags about four decades behind public relations in establishing itself as a profession. Yet because of high demand and a shortage of trained practitioners, fundraisers command salaries approximately 50% higher than those paid to general public relations practitioners. Scholars and practitioners increasingly are drawing from public relations to build a body of knowledge that informs fundraising practice and education. The effort is commendable given the important role that fundraising plays in the U.S. democratic society.
See also Investor Relations, Nonprofit Organizations, Philanthropy, Public Relations, Stewardship of Large Organizations
Further Readings
Advancing Philanthropy:

http://www.afpnet.org

.
The gospel of wealth

. In

O'Connell, B.

(ed.), America's voluntary spirit (pp.

97-108

). The Foundation Center

New York

. (Original work published 1889).
(1983).
Chronicle of Philanthropy:

http://www.philanthropy.com

Currents:

http://www.case.org

.
Fundraising in the United States: Its role in America's philanthropy

. Transaction

Somerset, NJ

. (Original work published 1965).
(1990).
An urban grants economy revisited: Corporate charitable contributions in the Twin Cities, 1979-81, 1987-89

. Administrative Science Quarterly,

42

,

445-472

. doi:10.2307/2393734.
(1997).
Giving USA Foundation. (2012).

Giving USA 2012: The annual report on philanthropy for the year 2011

. Author

Chicago

.
Effective fund-raising management

. Lawrence Erlbaum

Mahwah, NJ

.
(1998).
Stewardship: The fifth step in the public relations process

. In

R. L. Heath

(ed.), Handbook of public relations (pp.

279-290

) Sage

Thousand Oaks, CA

. doi:10.4135/9781452220727.
(2000).
ROPES: A model of the fund-raising process

. In

J. M. Greenfield

(ed.), The nonprofit handbook: Fundraising (

3

rd ed., pp.

96-116

). Wiley

New York

.
(2001).
Nonprofit nation: A new look at the third America

. Jossey-Bass

San Francisco

.
(2002).
Worth, M. J.

(ed.). (2002).

New strategies for educational fundraising

. American Council on Education and Praeger

Westport, CT

.
Related Articles
---
Nursing Leadership
Philanthropy—whether it takes the form of coalition building, mobilizing volunteers, fund raising, or board work—is steadily gaining in...
The Encyclopedia of Public Choice
Although public choice theorists and other researchers typically dichotomize the economy into the private and public sectors, a large and...
Encyclopedia of Crisis Management
Network for Good is a nonprofit organization formed in 2001 to provide a comprehensive Internet philanthropy portal. The portal aids nonprofits and o
See more from Credo