Topic Page: Battle of Fredericksburg, Fredericksburg, Va., 1862

Summary Article: Fredericksburg, First Battle of
from American Civil War: The Definitive Encyclopedia and Document collection
Event Date: December 13, 1862
Major battle in northern Virginia. Northerners, shocked by General Robert E. Lee's escape following the Battle of Antietam (September 17, 1862), were further upset by Major General George B. McClellan's procrastination in pursuing Lee and by a daring cavalry raid by Major General J. E. B. Stuart into Pennsylvania (October 10–12, 1862).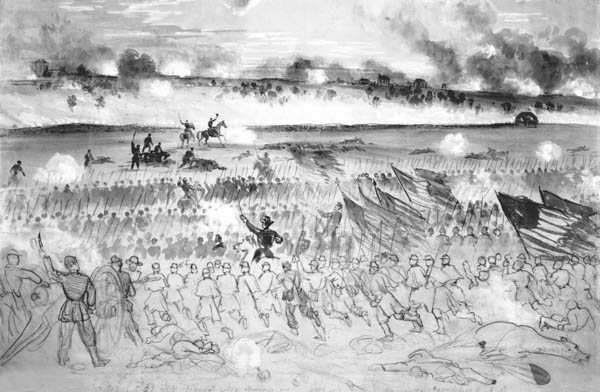 On November 7, President Abraham Lincoln replaced McClellan as commander of the 120,000-man Army of the Potomac with Major General Ambrose E. Burnside. The new army commander wanted to shift his entire force 40 miles east to Fredericksburg and advance from there on the Confederate capital of Richmond. Fredericksburg, then a city of about 5,000 people, is on the Rappahannock River midway between Washington and Richmond, where the river turns suddenly south.
Lincoln favored this so-called covering approach to Richmond because it protected Washington. But he and Union general in chief Major General Henry W. Halleck were concerned that Burnside's plan had the capture of the Confederate capital rather than the destruction of Lee's army as its principal goal. But Burnside succeeded in convincing them, and on November 14 Lincoln approved the plan, providing Burnside moved quickly. Lincoln believed that the plan was doomed unless it could be swiftly executed. On the day he received Lincoln's approval, Burnside, a capable administrator, regrouped his seven corps (three divisions in each) into Right, Center, and Left Grand Divisions of two corps each, commanded respectively by Major Generals Edwin V. Sumner, Joseph Hooker, and William B. Franklin. The remaining corps, under Major General Franz Sigel, became an independent reserve.
The next day, the Army of the Potomac began the march down the north bank of the Rappahannock River to Falmouth. Burnside arrived there on November 19, just ahead of the army's rear guard. Sumner's two corps were in position across the Rappahannock opposite Fredericksburg, and Burnside reported to Washington that "The enemy do not seem to be in force."
Lincoln had wanted speed, and Burnside had given it. But now his army sat in place. Burnside cabled Washington that "As soon as the pontoon trains arrive, the bridge will be built and the command moves over." But Burnside had assigned securing this to a subordinate, and for some reason the word "rush" had been deleted from the request. In retrospect, Burnside should have immediately gotten as many men as possible across the river and then built up a bridgehead; delay gave Lee time to reinforce.
Battle of Fredericksburg (December 13, 1862)

| | Union | Confederacy |
| --- | --- | --- |
| Force strength | 121,000 | 78,500 |
| Killed | 1,284 | 608 |
| Wounded | 9,600 | 4,116 |
| Captured or missing | 1,769 | 653 |
At Fredericksburg, meanwhile, Lee united the two wings of his army, recently reorganized into two corps of about 35,000 men each. Lieutenant General James Longstreet commanded the five divisions of Lee's first corps. Lieutenant General Thomas J. "Stonewall" Jackson commanded the second. Lee also had about 8,000 cavalry and artillery personnel for a total of 78,511 men, supported by 275 guns, remarkably close to Burnside's estimate of 80,000 Confederates. Lee concentrated his entire force except two brigades of cavalry.
The first pontoon bridges did not reach Falmouth until November 25. A concerned Lincoln traveled south with Halleck to meet with Burnside the next day. With surprise now lost, Lincoln characterized Burnside's plan as "somewhat risky" but left it up to Burnside when and how to make his crossing.
Across the river, Lee occupied strong defensive positions. Longstreet's corps held the left, a seven-mile-long line from the Rappahannock River to Massaponax Creek on the right. This included the high ground of Marye's Heights just west of rising open ground beyond Fredericksburg. Marye's Heights had the further advantage of a sunken road and a stone wall at its base. When Longstreet had suggested placing an additional artillery piece in a particular spot, Colonel E. Porter Alexander told him, "General, we cover the ground now so well that we comb it with a fine-tooth comb. A chicken could not live on that field when we open on it." Jackson's corps occupied a longer stretch on the Confederate right, from Massaponax Creek southeast all the way to near Port Royal. Three of his four divisions were at eight-mile intervals from one another, while the last was in reserve near Guinea Station on the rail line to Richmond.
Lee anticipated that Burnside would attempt an attack farther up the Rappahannock but hoped that he would cross at Fredericksburg. This would enable Lee to summon reserves from Jackson's corps and have sufficient numbers both to repulse the Union attack and counterattack and pin Union troops against the river.
Burnside hoped to carry the battle with sheer force of numbers. He had planned to cross farther downstream and then get in behind Lee, forcing him to defend the railroad line. But balloon reconnaissance revealed Confederate defenders there, so Burnside decided to attempt what Lee most desired: an assault at Fredericksburg, where Lee was strongest. Burnside now positioned his 121,492 effectives (in 18 divisions) and 312 artillery pieces; Sigel and the army's reserve were near Manassas. With Jackson's units strung out as much as 20 miles away, Burnside hoped that speed and sheer force of numbers would enable him to carry the day before Confederate reinforcements could arrive.
The Union attack would have two prongs, centered in the Left and Right Grand Divisions commanded by Franklin and Sumner. Hooker detached divisions from the Center Grand Division, two to Franklin and the other four to Sumner, so that the Left and Right Grand Divisions would each have about 60,000 men, including artillery and cavalry. Franklin's job was to take the lower end of the ridge and then sweep northward along it, while the Confederates were held in position by Sumner's attacks.
The Union crossing began before dawn on December 11 when engineers sought to throw six pontoon bridges across the Rappahannock for infantry and cavalry. When the engineers had spanned about half of the 400-foot-wide river, Brigadier General William Barksdale's 1,600-man Mississippi brigade opened up from the west bank, preventing completion of the work. With his plans well behind schedule and Jackson's men probably on the march, Burnside ordered the 147 Union guns posted on Stafford Heights to open up on Fredericksburg. For an hour the ground shook as each of the guns fired a round every two minutes. But the bombardment did not diminish the ardor or effectiveness of the Mississippians, who used the rubble to advantage and continued to shoot down Union troops working on the bridges. Not until the afternoon did the Federals use the pontoons as makeshift assault boats to get across the river. A Michigan regiment was the first to cross; as it cleared out the snipers, six bridges were at last put in place. But it was 7:00 p.m. before the last Union troops were on the other side of the river.
Lee chose not to contest the Union crossing, remaining in his defensive positions. Burnside was also cheered by balloon reports indicating that Jackson's men were still in place. With nothing seemingly lost by the delay and while his troops looted Fredericksburg, Burnside spent all of December 12 positioning his forces and planning the assault.
When fog lifted at noon that day, Lee could see that this was the major Union effort and immediately ordered Jackson's farthest divisions to begin their long march to him. Lee guessed that the Union attack would occur the next day and was determined to inflict as much damage as he could.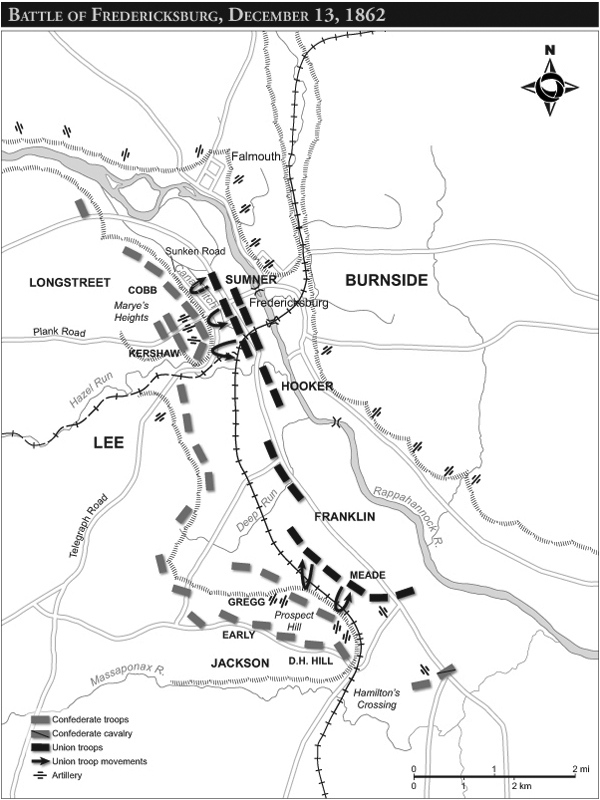 On the morning of December 13, thick fog again shrouded Fredericksburg. Jackson asked permission to attack, which Lee rejected. About 10:00 a.m. the fog began to dissipate, and first the Union guns and then Confederate guns opened up, although Lee ordered his artillery not to return fire until Union troops came within range.
Sumner's assault on the Union right fell on the heart of Lee's defenses on Marye's Heights directly behind the town of Fredericksburg. Here Confederate infantry two ranks deep defended the 400-yard-long 4-foot-high stone wall. They had deepened the sunken road behind the wall, throwing the spill on the townward side to create additional protection. Six hundred yards of open field stretched between this position and the town, now teeming with Union soldiers.
Union forces began their assault on Marye's Heights at noon, and concealed Confederate guns soon opened up, cutting the attackers to pieces. Other Union attempts followed, supported by artillery beyond the river on Stafford Heights. Their commanding elevation and heavier weight of metal enabled the Union guns to rake the Confederate line at will.
Franklin's advance on Jackson's front achieved temporary success at Prospect Hill when Major General George G. Meade's division of 4,500 Pennsylvanians briefly penetrated Confederate lines, threatening to get astride the lower ridge and roll up the defenders; however, Confederate reinforcements then drove the attackers back to their original positions.
Lee now reinforced the defenders at the wall to four ranks deep, where they laid down a rapid and continuous storm of lead. Throughout the afternoon, Burnside sent wave after wave of his infantry to the slaughter. Nightfall brought an end to this, but not before seven Union divisions had dashed themselves against the Confederate line in 14 different charges. No Union soldier ever reached the wall; few got within 50 yards. Expecting the Union assault to be resumed the next day, Lee had his army improve entrenchments. Burnside had expected to oblige Lee, but the usually aggressive Sumner convinced Burnside that this would only lead to further slaughter. On December 15, Burnside requested a truce to retrieve Union dead and those wounded who had managed to survive two days and nights of exposure without treatment. Lee obliged. That night Burnside's troops, under cover of darkness and a heavy thunderstorm, recrossed the Rappahannock River.
The First Battle of Fredericksburg was Lee's most one-sided victory. The Union side suffered 12,653 casualties, as opposed to only 5,377 for the Confederate force. The Confederates also recovered 11,000 Union firearms. On January 25, 1863, Lincoln replaced Burnside as commander of the Army of the Potomac with General Hooker.
See also
Antietam, Battle of; Burnside, Ambrose Everett; Franklin, William Buel; Halleck, Henry Wager; Hooker, Joseph; Jackson, Thomas Jonathan; Lee, Robert Edward; Lincoln, Abraham; Longstreet, James; McClellan, George Brinton; Meade, George Gordon; Sigel, Franz; Stuart, James Ewell Brown; Sumner, Edwin Vose
Further Reading
Gallagher, Gary W.

, ed.

The Fredericksburg Campaign: Decision on the Rappahannock

. University of North Carolina Press

Chapel Hill

, 1995.
Drama on the Rappahannock: The Fredericksburg Campaign

. Military Service Publishing

Harrisburg PA

, 1957.
Fiasco at Fredericksburg

. Pennsylvania State University Press

University Park

, 1961.
Related Articles
---
Chambers Dictionary of World History
In the American Civil War , a fruitless attempt by a Northern army of well over 100,000 to capture the town of Fredericksburg, Virginia, from a...
Encyclopedia of the American Civil War: A Political, Social, and Military History
Union general An ambitious general officer, Joseph Hooker is best known for being the victim of Confederate general Robert E. Lee when the Army...
American Civil War: The Definitive Encyclopedia and Document collection
Birth Date: February 27, 1823 Death Date: March 8, 1903 Union officer. William Buel Franklin was born on February 27, 1823, in York, Pennsylvania. H
See more from Credo