Topic Page: Frankenthaler, Helen, 1928-2011
---
Definition:
Frankenthaler, Helen
from
Philip's Encyclopedia
US painter, sculptor, and graphic artist who provides the link between abstract expressionism and colour-field painting. Her early work shows the influence of Jackson Pollock. She evolved a modified drip technique, staining her unprimed canvases with thinned-down paint. Her seminal work is Mountains and Sea (1952). She was married (1958-71) to Robert Motherwell.
---

Summary Article: Frankenthaler, Helen (1928–)
from Encyclopedia of the Sixties: A Decade of Culture and Counterculture
Helen Frankenthaler is a groundbreaking artist whose paintings and lithographs in both abstract expressionism and color field influenced a great number of artists. She worked on large-scale canvases when she was still unknown and at a time when small and medium-scale works were the strong suit of women and unknown artists. Her work was frequently exhibited with that of male artists at a time when women artists were perceived as minor and peripheral.
Born to Alfred Frankenthaler and Martha (Lowenstein) on December 12, 1928, in New York City, she grew up on the Upper East Side. Her parents were progressive and Jewish; her mother had emigrated from Germany. Her parents recognized her brilliance and potential and encouraged her, as well as her sisters Marjorie and Gloria, by providing the best education and cultural opportunities for her young mind. She attended Horace Mann and Brearley schools. When she was 15, she visited galleries and the Museum of Modern Art because Rufino Tamato (Mexican surrealist painter) was teaching at her high school, the Dalton School. Her sister Marjorie took her around to the museums to see Salvador Dali's melting watches. At Bennington College she studied cubism with Paul Feeley until her graduation in 1949.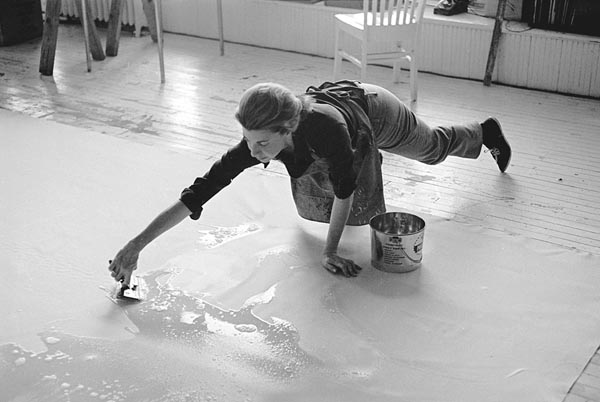 Two years later produced her first iconic work, Mountains at Sea (1952), which built on, but went well beyond, the achievements of Jackson Pollock. Hans Hoffman, Pollock, Willem de Kooning, and surrealism influenced her work. Frankenthaler borrowed automatism from Pollock. She followed her intuition as she approached the canvas. She liked Pollock's ideas and approach but created a technique completely her own in which she rolled large canvas duck onto the floor. She sketched on that scale and experimented until her style developed. Her work is characterized by the word "lyrical." Aesthetically pleasing, harmonious colors and shapes populate her canvases, which are considered organic and flowing. Frankenthaler let the images pour from her fingers, and if she liked what she saw, she considered it successful. She serves as an instrument through which her life, her vision, and her experiences merge into a river of energy that finds voice through her work. She adopted Pollock's technique of pouring diluted pigment onto unprimed canvas, but her lines were more fluid. Her colors pooled together and exhibited notions of drawing without using brushes, pencils, or charcoal. Her experiments with color and canvas inspired and influenced the work of Kenneth Noland and Morris Louis, as well as that of Robert Motherwell, whom she married in 1958.
The Jewish Museum hosted Frankenthaler's first retrospective in 1960. She established a studio in a fisherman's loft at Provincetown, Rhode Island, and created Provincetown I (1961), in which she employed a sponge to strain colors onto the canvas. She preferred the reverse side of the canvases she produced that summer. Frankenthaler rebelled against the decade's convention of returning to a theme or image serially, causing some critics to call her work inconsistent. Patrons asked that she sign the front of the canvas rather than the back since her style was unrecognizable. By 1963, she preferred acrylic paints to oils because the former offered both opacity and sharpness.
The first Post Painterly Abstraction show, produced by Clement Greenburg in 1964, included Frankenthaler's work. He admired and championed her work, as well as that of other artists. Frankenthaler was one of the first artists to collaborate with Tatyana Grosman at Universal Limited Art Editions (ULAE) after the fine-art print publisher was established in 1957. They worked on lithographs until 1966 when ULAE established an intaglio studio.
The Whitney Museum featured her work in a retrospective in 1969. It showcases two decades of her work and traveled to Whitechapel Gallery in London and on to Germany. Skidmore College granted her an honorary degree in 1969; it was the first of many. The Museum of Modern Art in New York City mounted a major retrospective of her work in 1989. Frankenthaler was awarded the National Medal of Arts in 2001. Her accomplishments in the 1960s were remarkable at a time when the art world was male dominated and institutionalized sexism was the norm.
Related Articles
---
Encyclopedia of the Sixties: A Decade of Culture and Counterculture
Helen Frankenthaler is a groundbreaking artist whose paintings and lithographs in both abstract expressionism and color field influenced a great...
Chambers Biographical Dictionary
1928- ♦ US abstract painter Born in New York City, she studied under the Mexican painter Rufino Tamayo and at Bennington College, Vermont. Influenced
The Penguin Biographical Dictionary of Women
Helen Frankenthaler's brilliantly coloured works are fine examples of the style known as action painting, in which paint is poured...
See more from Credo