Topic Page: Fracking
---
Definition:
hydraulic fracturing
from
Hawley's Condensed Chemical Dictionary
A method of enhanced recovery of natural gas and petroleum. An aqueous solution of a water-soluble gum (e.g., guar), in which coarse sand or sintered bauxite is suspended, is introduced through a well bore under extremely high pressure into the rock structure in which the gas or oil is entrained. This creates minute fissures (fractures) in the rock, which are held open by the suspended particles after the liquid has drained off. The hydrocarbon flows through these fissures to the well bore and is evacuated to a pipeline. The sand and bauxite are called "proppants" by petroleum engineers as they prevent the fissures from closing. Sand is used in shallower wells and bauxite in formations over 10,000 ft deep.
See chemical flooding.
---
Summary Article: Fracking
from Climate Change: An Encyclopedia of Science and History
The development of Marcellus shale into natural gas after 2007 relied on a number of new and emerging technologies. In each case, these innovations helped energy companies to transform a well-known geological formation—shale layers deep below Earth's surface—into natural gas that might be harvested and used as a relatively clean alternative to many other fossil fuels. Although this process might appear sensible and straightforward, one of these technologies—hydraulic fracturing—makes harvesting gas from shale deeply controversial.
The debate over hydraulic fracturing (or fracking as it is called) is focused on states currently working to harvest gas from the Marcellus shale formation, which is located primarily in the Mid-Atlantic region of the United States. Although there are a variety of problematic critiques related to fracking, its threat to underground water supplies may be the most acute. Unfortunately, threats to water supplies are an intrinsic portion of the fracking process.
The remarkable ability to frack deep below Earth's surface begins with horizontal drilling. In the late 20th century, most oil and gas wells were drilled as vertical holes down through rock formations such as the Marcellus. Although a vertical gas or oil well could drain an area of about 10 to 40 acres, dense rock such as shale would not release its fluid or gas from a vertical hole drilled through it. Even though the Marcellus shale can be more than 900 feet thick, it does not achieve sufficient profile to release a significant amount of gas. Horizontal drilling creates a hole several thousand feet horizontally across the shale. After horizontal drilling creates such a hole, a hydraulic fracturing job, or frack job, is done on the newly drilled well. These techonologies continue to evolve, and their product is therefore referred to as unconventional natural gas.
After casing or heavy pipe has been run into the newly drilled hole to line it, extremely high-pressure pumps are hooked up, and fluids (mostly water and sand) are forced down into the shale to open cracks and fissures so that more natural gas can flow out of the formation. The fractures allow the gas to seep into the well bore for collection. When the gas is produced in the shale and becomes pressurized, the pressure splits the rock. The Marcellus shale is chock-full of natural fractures, making it easier for gas companies to extract gas. "Fractures are good for business," says one industry scientist. "If you have enough natural fractures, it's much cheaper to drill a production well than if you do not have them."
Hydraulic fracturing is the primary completion process used in the Marcellus shale. It has been the subject of controversy lately, with environmental groups protesting the drilling of new wells in the environmentally sensitive Chesapeake Bay watershed, among other areas. Wells in the Marcellus formation are as deep as 9,000 feet, and the productive zone is far below any water aquifers. A properly cased gas well, lined with thick steel pipe and cemented into place, will ensure a safe frack job. State and federal agencies monitor the process of casing and testing new wells and hydraulic fracturing. The source of contention among environmental groups is the number of chemicals pumped into the formation along with frack water and sand. Up to 50 percent of this fluid may remain in the ground; however, it may take millions of years for any of it to migrate upward to water-bearing zones. If proper safety measures are undertaken, hydraulic fracturing can be a safe means of producing Marcellus shale gas wells.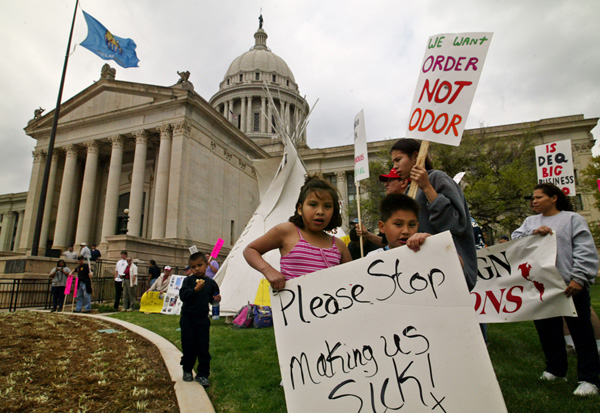 The impact of hydrofracking on surface water and groundwater is cause for great concern. About 5 million gallons of water per well are used to make fracking fluid, a mixture of water, sand, and hundreds of other possible chemicals, including such hazards as benzine, formaldehyde, arsenic, and diesel fuel. Some frack water stays in the ground, and some is returned to the surface.
This flowback accumulates higher concentrations of salts and minerals and sometimes radioactive contamination. Wastewater treatment plants cannot remove many of these pollutants. Some flowback is reused for fracking, but more is stored in huge artificial ponds. Spills occur during water transport and storage. Improperly cased wells leak frack water and methane into the water table, polluting public and private wells. Pennsylvanian waterways drain into the Chesapeake Bay, so gas drilling increases the bay's pollution problems. Storm water erosion carries increased silt loads from dirt roads and drill sites. Minerals from frack water discharged into streams and rivers increase total dissolved solids in the bay.
Some regulations are in place to reduce the problems caused by drilling for shale gas. New laws are being proposed and vigorously debated.
Currently in Pennsylvania, setbacks are required between gas wells and water sources. Drillers must acquire permits, submit plans, post bonds, and notify landowners whose water supply is within 1,000 feet of a gas well. Gas wells must be cased to prevent contamination of the groundwater table. Pennsylvania's Oil and Natural Gas Act prevents local municipalities from regulating drilling activities but allows local zoning of well placement.
In 2010, a bill proposed the repeal of exemptions from clean water and environmental impact regulations allowed to gas drillers by the 2005 Federal Energy Policy Act and required disclosure of frack water chemicals, but the bill died in committee. In 2011, SB 1100 proposed somewhat stiffer requirements to safeguard water sources and surface owners' rights and requires impact fees to mitigate landowner and community problems. The bill imposes no gas revenue tax, contrary to the wishes of most Pennsylvanians.
The history of coal mining shows the long-term costs of shortsighted extraction policies. Pennsylvania alone has 9,000 abandoned mines and acid mine drainage that pollutes 2,500 miles of streams. The projected cleanup cost is $15 billion. Awareness of these consequences can help Pennsylvanians choose better ways to benefit from our newest energy boom.
Related Articles
---
The Macmillan Encyclopedia
A fine-grained sedimentary rock that splits easily along the closely spaced bedding planes as a result of the alignment of the clay mineral...
Science and Politics: An A-to-Z Guide to Issues and Controversies
In February 2011, the New York Times published a story about the risks associated with the technology known as hydraulic fracturing, which is used t
Encyclopedia of White-Collar & Corporate Crime
Tap water in the United States is remarkably safe compared to that in many countries, even other first world nations, yet fear of tap water quality
See more from Credo