Topic Page: Fossey, Dian (1932 - 1985)
---
Definition: Fossey from Merriam-Webster's Collegiate(R) Dictionary
---
Summary Article: Fossey, Dian (1932–85)
From Encyclopedia of Environment and Society
DIAN FOSSEY (1932–85) was born on January 16, 1932 in San Francisco, California. After a brief career in occupational therapy, Fossey pursued an interest in researching mountain gorillas (Gorilla gorilla beringe) in Africa. During the course of two decades, Fossey became one of the world's foremost primatologists specializing in gorilla behavior. Fossey's interest in gorillas was initially inspired by reading The Mountain Gorilla (1963) by zoologist George Schaller, and then during a safari to Africa that same year when she met the renowned paleoanthropologist Dr. Louis Leakey.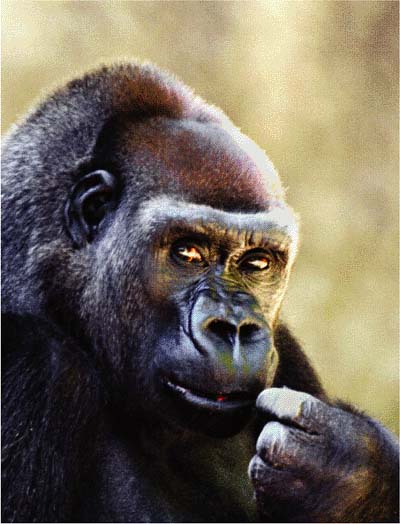 Three years later, Fossey met again with Leakey, and he urged Fossey to follow through on her desire to study gorillas, telling her that long-term studies of the great apes were key to understanding their behavior. With funds that she has raised, as well as additional financial support from Leakey, Fossey returned to Africa in 1966. Fossey first visited Jane Goodall (who was conducting research on chimpanzees) to learn about her research methods, and then made her way to the Democratic Republic of Congo to begin observing mountain gorillas. However, difficult relations between Fossey and local authorities, as well as political unrest, led her to move her study site a few kilometers to the Rwandan side of the Parc des Volcans, a mountain reserve straddling the Congolese, Ugandan, and Rwandan borders.
Once settled in Rwanda, Fossey established the Karisoke Research Center in the Virunga Mountains. Fossey lived at Karisoke for nearly 18 years among the gorillas, eventually earning their complete trust by developing techniques to imitate gorilla behavior. Fossey discovered and publicized the peaceful nature and nurturing family relationships of the gorillas. The research center also brought in other scientists to study different aspects of gorilla biology. Fossey was a proponent of "active conservation," which involved the establishment of antipoaching patrols in an attempt to stop the capture and slaying of gorillas, as well as the preservation of their natural habitat. Fossey preferred this active approach to "theoretical conservation," which included the promotion of tourism and gorilla capture for zoos, both of which she opposed.
FATAL DEDICATION
In January 1970 National Geographic published an article by Fossey about her work with the gorillas. The article's description of her favorite gorilla, Digit, as well as the explanations of the poaching problem, accompanied by a cover photo of Fossey with the gorillas, encouraged a large number of donations from readers. With this money Fossey established the Digit Fund and dedicated her life to saving the gorillas. Also in 1970, Fossey left Karisoke to pursue a doctoral degree in zoology from Cambridge University in England. Her dissertation summarized her work to date with gorillas. Upon completing her degree in 1974, Fossey returned to Africa and took on research volunteers, who extended her work.
On January 1, 1978 Fossey discovered that poachers had killed Digit, which sparked her high-profile campaign against gorilla poaching. In 1980 Fossey returned to the United States, where she taught briefly at Cornell University and also began writing her book Gorillas in the Mist, a popularized version of her research work. This book was published in 1983 and eventually made into a movie by Warner Brothers Pictures in 1988. Saying she preferred gorillas to people, Fossey returned to Karisoke to continue her gorilla research, as well as to her antipoaching activities.
On December 26, 1985, Fossey's body was found in her cabin at the research center. The circumstances of her murder were never solved; however, local authorities believed poachers who were at odds with her anti-poaching efforts murdered Fossey. Another theory, by Farley Mowat, is that Fossey was murdered by somebody who viewed her "active" conservation efforts as an impediment to the potential financial gains to be made through tourists visiting the gorillas. Fossey's work contributed greatly to human understanding of gorilla behavior and their relationship to humans, as well as the threats to their existence. Today, the Dian Fossey Gorilla Fund (formerly the Digit Fund) is continuing to support ongoing efforts to protect gorillas. The government of Rwanda and numerous international organizations are also engaged in protecting the mountain gorillas of Africa.
SEE ALSO:

Goodall, Jane; Primates; Primatology.
BIBLIOGRAPHY
National Geographic (US)

and Palazzo Editions,

2005

).
, No One Loved Gorillas More (
Making Friends With Mountain Gorillas

," National Geographic (

January 1970

).
, "
Houghton and Mifflin Company

,

1983

).
, Gorillas in the Mist (
Warner Books

,

1987

).
, Woman in the Mists: The Story of Dian Fossey and the Mountain Gorillas of Africa (
Related Articles
---
Encyclopedia of Anthropology
Dian Fossey was to gorillas what Jane Goodall is to chimpanzees. Her long-term studies of Mountain Gorillas (Gorilla beringei beringei) in the...
The Penguin Biographical Dictionary of Women
Dian Fossey became famous for her work on the behaviour of the mountain gorillas in Rwanda and Zaïre (now the Democratic...
DK Eyewitness Books: Jungle
Many zoos and conservation organizations enable you to adopt an animal by making a contribution toward its upkeep. For example, through th
See more from Credo