Topic Page: Fossey, Dian (1932 - 1985)
---
Definition: Fossey from Merriam-Webster's Collegiate(R) Dictionary
---

Summary Article: Fossey, Dian
from American Women of Science since 1900
1932–1985
Primatologist, Zoologist, Anthropologist
Education: B.A., occupational therapy, San Jose State College, 1954; Ph.D., Cambridge University, 1976
Professional Experience: occupational therapist, Kosair Crippled Children's Hospital, Louisville, Kentucky, 1955–1966; scientific director, Karisoke Research Centre, Ruhengeri, Rwanda, 1967–1980 and 1983–1985
Concurrent Positions: visiting associate professor, anthropology, Cornell University, 1980–1982
Dian Fossey was the international authority on the mountain gorilla at the time of her death in 1985. One of the unsolved mysteries in science is who murdered her at her research station in Rwanda. Fossey attracted controversy for her work in politically unstable areas and, while several people or groups were suspected, there was only a cursory investigation by the understaffed Rwanda police. One of her associates and several native employees were accused of the crime, but the consensus is that she was targeted by poachers angry over her efforts to protect gorillas. She was buried on the mountain in the graveyard that she had established for her gorillas.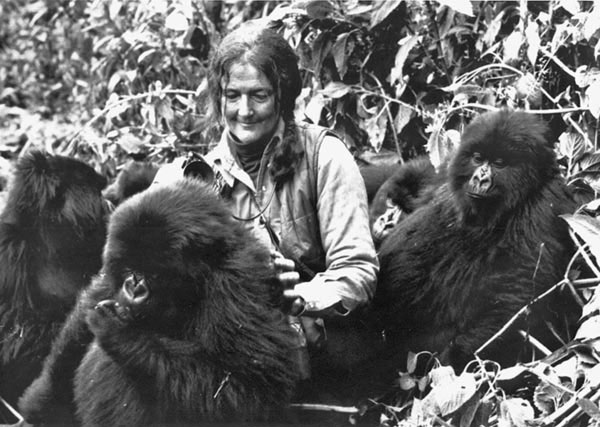 Fossey had a lifelong interest in animals. She enrolled in the preveterinary medicine program at the University of California, Davis, but transferred to San Jose State after two years and earned a degree in occupational therapy. She realized her dream to see the gorillas that the primatologist George Schaller had described in his book, The Mountain Gorilla: Ecology and Behavior (1963), when she took out a three-year bank loan in 1963 for $8,000 to finance a seven-week safari. Her first stop was the Olduvai Gorge in Tanzania to visit renowned archaeologists and anthropologists Louis and Mary Leakey. Fossey also stopped in the Congo (or Zaire) to see the mountain gorillas and returned to the United States to continue her work, pay off the loan, and keep up contacts with Leakey.
Fossey became known as one of "Leakey's Ladies"—along with Jane Goodall and Birute Galdikas—all of whom were mentored by Louis Leakey and conducted research on the three major primate groups—gorillas, chimpanzees, and orangutans, respectively. The three women did not work together (and only met as a group three times over the course of their careers), but collectively changed the way primatologists conduct research by studying animals as individuals with life histories, as humans are studied. Leakey and Fossey were interested in not only sponsoring research on gorillas but also protecting them from further encroachments. Leakey offered Fossey a position with this project in 1966 in Zaire. When civil war broke out in that region, the rebels sought to expel all Westerners, and Fossey was held prisoner for several weeks until she escaped across the border into Uganda. Leakey helped her reestablish a center in Rwanda's Parc National des Volcans, a remote area in a high rain forest. Here Fossey developed a unique research methodology: Rather than observing the animals from a distance, she gradually habituated them to her presence by imitating their sounds and behavior.
Her research was funded by the Leakey Foundation, the Wilkie Foundation, and the National Geographic Society. Leakey arranged for her to attend Cambridge University to complete her doctorate, as her work was attracting international attention. She began training graduate students in 1970 to see her gorillas. She accepted graduate students starting in 1970, and her group prepared a census of the gorilla population in 1981, indicating the number had declined 50% since Schaller's 1963 book that first inspired Fossey. She became increasingly focused on protecting the gorillas and their habitat, making her the enemy of local poachers and farmers. In 1980, she accepted a visiting associate professorship at Cornell University, where she wrote her book Gorillas in the Mist (1983). When she returned to the research station, she continued her war against the poachers and farmers until she was murdered in 1985.
Fossey received the Franklin Burt Award from the National Geographic Society (1973) and the Joseph Wood Krutch Medal from the Humane Society of the United States (1984), and in 1988, her book, Gorillas in the Mist, was made into a feature film starring Sigourney Weaver, now the Honorary Chairperson of the Dian Fossey Gorilla Fund International. There are numerous books about Fossey's life and work.