Topic Page: Fort Ticonderoga
---
Definition: Fort Ticonderoga from The Hutchinson Unabridged Encyclopedia with Atlas and Weather Guide
---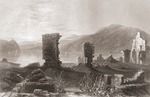 Summary Article: FORT TICONDEROGA, LAKE CHAMPLAIN
from Archaeology in America: An Encyclopedia
Fort Ticonderoga is situated on a cape that extends into Lake Champlain and controls the northern end of Lake George. This strategic location led it to be fortified by the French in 1755. In 1758, Fort Carillon, as it was known, was the site of one of the bloodiest battles of the French and Indian War, when the British army attempted a frontal assault on the French lines. More than 2,000 British troops were killed and wounded, and the British invasion force was repulsed.
In May 1775, during the opening months of the American Revolution, the British-controlled Fort Ticonderoga was taken by colonial revolutionaries led by Ethan Allen and Benedict Arnold. The following year Fort Ticonderoga served as an American stronghold while a fleet of warships was built to repel an impending British invasion. The American fleet under Arnold's command engaged a superior Royal Navy fleet on October 11, 1776, in the American defeat at the Battle of Valcour Island. Control of the lake shifted to the British, with the Americans retreating behind the guns of Fort Ticonderoga. In 1777 General John Burgoyne led a British force that took Fort Ticonderoga and Mount Independence, a fortification built the previous winter on the opposite Vermont shore. Just two months later, Burgoyne and his army were defeated at the Battles of Saratoga, thereby changing the prospects for American success.
After the war, Fort Ticonderoga was left to deteriorate. Eventually the property came into the hands of the Pell family, and in 1909 at the 300th anniversary of Champlain's arrival, the Pell family established Fort Ticonderoga as a privately owned but publicly accessible historic site. Today, the Fort Ticonderoga Museum contains an important collection of eighteenth-century military objects, and its Thompson-Pell Research Center and Library provides scholarly access to a significant collection of books, manuscripts, and objects relating to the French and Indian War and the American Revolution. Archaeological studies have been used in the restoration of parts of the fort, and information from these studies enhances the interpretation of the site and its collections.
Related Articles
---
Chambers Dictionary of World History
A fortress situated between Lake Champlain and Lake George in New York, USA. It was built in 1755 by the French (as Fort Carillon), and during the...
Merriam-Webster's Geographical Dictionary
\tī-kän-də-rō-gə\ Restored fortification, Essex co., NE New York, on N outlet of Lake George and near Lake Champlain; built as Fort...
Bridgeman Images: Peter Newark American Pictures
Artist: English School Location: Private Collection Credit: Plan of the defeat of the American Fleet on Lake Champlain (litho), English School / Pri
See more from Credo