Summary Article: Food Safety
From Encyclopedia of Global Health
Food safety is paramount in today's society as it is vital that individuals trust the food they are consuming, especially as it frequently has been produced quite far from them. A complete approach is essential, so addressing food safety issues along the entire food production chain from production to consumption is crucial. These methods provide efficient, science-based tools to improve food safety, thereby benefiting both public health and economic development.
Although there has been widespread improvement in food safety, the occurrence of foodborne disease remains a significant health issue in both developed and developing countries. Unsafe food has been a public health problem for centuries, addressed by governments and organizations all over the world, still, many food safety problems encountered today are not new.
Estimates show that each year 1.8 million people die as a result of diarrheal diseases and most of these cases can be attributed to contaminated food or water. Many of these foodborne diseases can be prevented through proper food preparation, using simple and effective techniques.
There are more than 200 known diseases transmitted through food, so close monitoring and deployment of food safety procedures is very important, enabling huge reductions in the burden of disease.
Food safety needs to focus on several aspects, including chemical safety, microbiological safety, and radiological safety.
Chemical safety deals with the contamination of food by chemical hazards Contamination may occur through environmental pollution of the air, water and soil, such as the case with toxic metals and dioxins, or through the intentional use of various chemicals, such as pesticides, animal drugs, and other agrochemicals.
When exposure to a chemical in food approach or exceed the acceptable level of intake, maximum levels for chemicals in food may be set, rendering some processing techniques inadequate for the food industry. This is a leading cause of trade problems internationally as it is a economically very competitive, and is broadening the gap between developing and developed countries.
On the other hand, foodborne illness caused by microorganisms is a large and growing public health problem. Most countries with systems for reporting cases of foodborne illness have documented significant increases over the past few decades in the incidence of diseases caused by microorganisms in food, including pathogens such as Salmonella, Campylobacter jejuni and enterohaemorrhagic Escherichia coli, and parasites such as cryptosporidium, cryptospora, trematodes. With globalization and the thorough use of antibiotics, microorganism are travelling faster and creating much more resistances, creating big problems in the control of these diseases.
Recent concerns have arisen concerning radioactivity, which has always been around and exists naturally in the atmosphere, soil, seas, and rivers. It's also created by human activity during energy production and military operations. Inevitably, some of this radiation contaminates food. Being invisible, tasteless, and not mentioned on food labels, it is frequently overlooked, but levels in food are strictly monitored and controlled.
The World Health Organization (WHO) has long been aware of the need to educate food handlers about their responsibilities for food safety. In 2001, after extensive consultation with food safety experts and risk communicators, WHO introduced the Five Keys to Safer Food concept, trying to reach a broader audience. The Five Keys to Safer Food poster incorporates all the messages of the Ten Golden Rules for Safe Food Preparation under simpler headings that are more easily remembered and also provides more details on the reasoning behind the suggested measures. The core messages of the Five Keys to Safer Food are: keep clean; separate raw and cooked; cook thoroughly; keep food at safe temperatures; and use safe water and raw materials.
Addressing the food industry, in 1963 the United Nations, through the Food and Agriculture Organization of the UN (FAO) and WHO, has created the Codex Alimentarius Commission to develop food standards, guidelines and related texts such as codes of practice under the Joint FAO/WHO Food Standards Program. The main purposes of this Program are protecting health of the consumers and ensuring fair trade practices in the food trade, and promoting coordination of all food standards work undertaken by international governmental and nongovernmental organizations.
The Codex Alimentarius, also known as the food code, has become the global reference point for consumers, food producers and processors, national food control agencies and the international food trade. The code has had an enormous impact on the thinking of food producers and processors as well as on the awareness of the end users—the consumers. Its influence extends to every continent, and its contribution to the protection of public health and fair practices in the food trade is immeasurable.
Simply stated, the Codex Alimentarius is a collection of standards, codes of practice, guidelines, and other recommendations. Some of these texts are very general, and some are very specific. Some deal with detailed requirements related to a food or group of foods; others deal with the operation and management of production processes or the operation of government regulatory systems for food safety and consumer protection. One of the techniques most widely spread to ensure food safety is HACCP (Hazard Analysis and Critical Control Point). It was initially developed for the U.S. Space Program and provided a new approach to the food safety requirements the astronauts needed. Instead of focusing on final product sampling and some items concerning manufacturing conditions, this technique focuses on preventing hazards that can cause foodborne illnesses.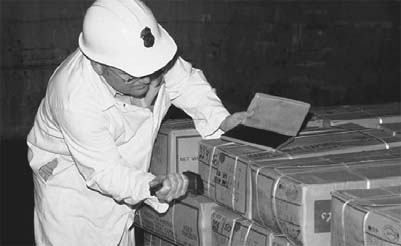 There are seven basic principles involved: (1) analyze hazards; (2) identify critical control points; (3) establish preventive measures with critical limits for each control point; (4) establish procedures to monitor the critical control points; (5) establish corrective actions to be taken when monitoring shows that a critical limit has not been met; (6) establish procedures to verify that the system is working properly; (7) establish effective recordkeeping to document the HACCP system.
In the context of global markets thriving and the growing need for international regulations concerning food safety, HACCP has been adopted by the Codex Alimentarius Commission as the international standard for food safety.
Nowadays, there is a new concern regarding food safety. Modern biotechnology has created a new field of development in the agriculture and food industries by introducing the use of genetically modified organisms (GMOs) in the food production chain. By artificially modifying the genetic characteristics of organisms such as plants, animals, and micro-organisms (bacteria, viruses, etc.), scientists have been able to give them a new property (a plant's resistance to a disease or insect, improvement of a food's quality or nutritional value, increased crop productivity, a plant's tolerance of a herbicide, etc.).
In the late 1990s, there was some dispute over the safety of GMO, originated food, mainly after research by a scientist in Scotland suggested that procedures routinely used in genetic engineering could make plants harmful. The massive controversy that followed, in the aftermath of the bovine spongiform encephalopathy (BSE, commonly known as mad cow disease) scandal, was responsible for a "moratorium" on GMOs and enforcement of very strict regulations.
SEE ALSO:

Center for Food Safety and Applied Nutrition (CFSAN); European Food Safety Authority (EFSA); Food and Agriculture Organization of the United Nations (FAO); Food Contamination/Poisoning; Foodborne Diseases.