Topic Page: Fonda, Jane (1937 - )

Summary Article: Fonda, Jane (1937–)
from Encyclopedia of the Sixties: A Decade of Culture and Counterculture
Jane Fonda is one of the most celebrated American actresses of the 1960s. Her foray into film and politics is emblematic of her generation. From sex symbol to radical activist to fitness entrepreneur, she personifies women's emancipation in an era of sexual revolution and radical politics.
Fonda was born on December 21, 1937, in New York City. She is the eldest child of actor Henry Fonda and socialite Frances Ford Seymour; her brother Peter Fonda (b. 1940) is also an actor. She grew up in New York City, Greenwich, Connecticut, and Los Angeles. Fonda attended the Emma Willard School and Vassar College.
At the beginning of her career, Fonda was known primarily as the daughter of Henry Fonda, an association she struggled to transcend. As a student of renowned acting coach Lee Strasberg, she joined the Actors Studio in New York. She modeled for fashion magazines like Vogue and starred in a wide range of films including Tall Story (1960), Walk on the Wild Side (1962), The Chapman Report (1962), Period of Adjustment (1962), In the Cool of the Day (1963), and Sunday in New York (1963). She also tried her hand at theater in a short-lived drama about a rape victim, There Was a Little Girl (1960), which played for several weeks at the Cort Theater on Broadway.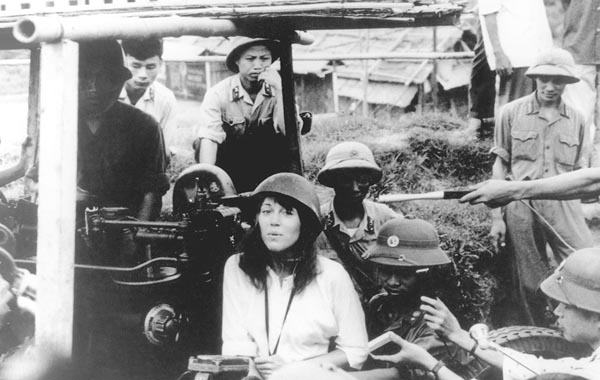 In 1963, director Roger Vadim invited Fonda to star in a remake of La Ronde, a minor movie classic from the 1950s. She declined the offer, being unimpressed with Vadim's Et Dieu … créa la femme (And God Created Woman, 1956). Instead, Fonda accepted a part in René Clément's Les Félins (1964) and moved to Paris where she lived for the next six years. However, she eventually agreed to star in Vadim's remake, becoming his protégé in art house films like La Curée (1966) and the campy science-fiction classic Barbarella (1968). Fonda and Vadim married in Las Vegas in 1966. They have one child together, Vanessa (b. 1968). Other films that Fonda completed in the 1960s include Cat Ballou (1965), The Chase (1966), Any Wednesday (1966), Hurry Sundown (1967), the acclaimed Barefoot in the Park (1967), and Spirits of the Dead (1968).
Fonda was exposed to the intellectual side of the filmmaking industry in Paris. Many of the people she met at this time were associated with the French Communist Party. She developed close friendships with actors Simone Signoret and Yves Montand, members of the intellectual Left. These actors were engagé, committed to activism. Her friendships with Signoret and Montand served to awaken her political consciousness about the war in Vietnam. As political situations intensified around the world, Fonda became increasingly radical. She began to perceive her role in Hollywood differently. She left Vadim and then surprised audiences with her portrayal of a Depression-era marathon dancer in They Shoot Horses, Don't They? (1969). Her performance earned her the first of several Academy Award nominations.
In the 1970s, Fonda took part in public protests on behalf of the feminist movement, diverse human rights causes, and the U.S. involvement in Vietnam. Fonda's July 1972 visit to Hanoi angered many when she made radio broadcasts calling American military and political leaders war criminals and was photographed sitting on top of a North Vietnamese anit-aircraft battery. In 1972, Fonda won an Academy Award for her role as prostitute Bree Daniels in the film Klute (1971). However, her controversial political activities led to her "graylisting" in Hollywood. Fonda nevertheless continued her activism and married Tom Hayden, a liberal antiwar politician, in 1973. In the 1970s she starred in films like Steelyard Blues (1972), Tout va bien (1972), The Doll House (1973), The Blue Bird (1976), Fun with Dick and Jane (1977), Julia (1977), Coming Home (1977), The China Syndrome (1979), Comes a Horseman (1978), California Suite (1978) and The Electric Horseman (1979). She won the Academy Award for Best Actress for her role in Coming Home.
As her acting career prospered with films like 9 to 5 (1980) and On Golden Pond (1981), Fonda transformed her image once more. She embarked on a career as a workout expert. Her fitness videos were best sellers. Films she also starred in during this time include The Dollmaker (1984), Agnes of God (1985), The Morning After (1986), and Stanley & Iris (1990). She married millionaire TV mogul Ted Turner in 1991 and announced her retirement from acting. During the 1990s, Fonda continued to make exercise videos. After her divorce from Turner, she became a Christian and returned to acting with a role in Monster-in-Law (2005). The film was a box-office success. In the same year, she published her autobiography, My Life So Far (2005), which received mostly positive reviews. She made the film Georgia Rule (2007) with Felicity Huffman and Lindsay Lohan. Fonda currently lives in Atlanta, Georgia.
Bibliography
American Decades

. Detroit: Gale Research. CD-ROM. 1998.
Citizen Jane: The Turbulent Life of Jane Fonda

. Holt

New York

, 1990.
.
Leaders from the 1960s: A Biographical Sourcebook of American Activism

. Greenwood

Westport, CT

, 1994.
, ed.
My Life So Far

. Random House

New York

, 2005.
.
"Fonda, Jane Seymour."

In William L. O'Neill and Kenneth T. Jackson, eds. The Scribner Encyclopedia of American Lives Thematic Series: The 1960s.

2

vols. Scribners

New York

, 2003. Reproduced in

Biography Resource Center

. Farmington Hills, Michigan: Gale, 2010. Available at

http://galenet.galegroup.com/servlet/BioRC/

(accessed April 25, 2010).
Jane Fonda: A Biography

. St. Martin's Press

New York

, 1988.
.