Topic Page: Fish, Hamilton (1808 - 1893)
Summary Article: Fish, Hamilton
from American Civil War: The Definitive Encyclopedia and Document collection
Birth Date: August 3, 1808
Death Date: September 7, 1893
American political leader; governor of New York, U.S. senator, and secretary of state. Hamilton Fish was born into a socially prominent family in New York City on August 3, 1808. He was named after family friend Alexander Hamilton. Fish's father, Nicholas Fish, was a Federalist and an important figure in the American Revolutionary War. Hamilton Fish graduated from Columbia College (New York) in 1827 and was admitted to the New York bar in 1830. After briefly working as a lawyer, he was appointed commissioner of deeds for New York City in 1832, a position he held for two years. In 1843 after joining the Whig Party, Fish was elected to the U.S. House of Representatives. He lost his bid for reelection in 1845 and returned to New York. He won the New York gubernatorial election in 1849 and served for one term before being elected to the U.S. Senate in 1851.
While in the Senate, Fish was a member of the Committee on Foreign Relations. During the 1850s following the demise of the Whig Party, Fish joined the Republican Party. He strongly opposed the repeal of the Missouri Compromise of 1820. But Fish took a moderate view of slavery, opposing both abolitionism and the expansion of slavery. Leaving the Senate in 1857, Fish and his family then embarked on an extended European tour. From 1859 until his death, Fish served as the chairman of the Board of Trustees of Columbia University. Returning home in 1860, he actively campaigned for Abraham Lincoln.
During the early years of the Civil War, Fish and other prominent New York City politicians served on the Union Defense Committee, which assisted in the formation of volunteer regiments for the Union Army and the dispersal of relief funds to the families of volunteers. During the war, Lincoln appointed Fish to the commission charged with the exchange of prisoners.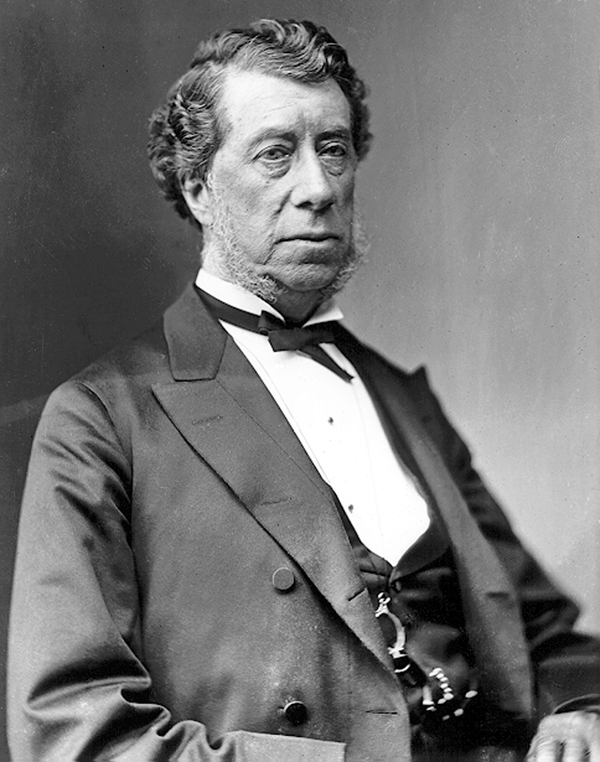 Appointed secretary of state by President Ulysses S. Grant in 1869, Fish held that post in both Grant administrations and was the president's longest-serving cabinet member. Fish replaced Grant's first secretary of state, Elihu Benjamin Washburne, who served for only 12 days before being appointed U.S. ambassador to France. Fish negotiated the Treaty of Washington (1871) with the United Kingdom that resolved American grievances stemming from the Civil War. His diplomatic skills also brought the Virginius Affair, a potentially explosive incident with Spain during the Ten Years' War in Cuba (1868–1878), to a peaceful conclusion in 1873. Within the Department of State, Fish began the process of replacing the spoils system with a merit system.
After leaving government service, Fish returned to practicing law in New York. He died at home in Putnam County, New York, on September 7, 1893.
See also
Abolitionism and the Civil War; Grant, Ulysses Simpson; Lincoln, Abraham; Missouri Compromise; Republican Party; Slavery
Related Articles
---
American Civil War: The Definitive Encyclopedia and Document collection
Birth Date: October 30, 1829 Death Date: April 18, 1888 Republican politician and staunch congressional supporter of President Abraham Lincoln and R
Encyclopedia of the American Civil War: A Political, Social, and Military History
U.S. senator and general James Henry Lane was born 22 June 1814 on the Ohio River either in Boone County, Kentucky or Lawrenceburg, Indiana....
American Civil War: The Definitive Encyclopedia and Document collection
Birth Date: September 8, 1815 Death Date: April 22, 1903 Governor of Minnesota. Alexander Ramsey was born on September 8, 1815, near Harrisburg, Pen
See more from Credo