Topic Page: Figure skating

Summary Article: Figure Skating
From The Multimedia Encyclopedia of Women in Today's World
Ice skating originated in Europe, but American Jackson Haines (1840-75) was the first to combine ice skating with dance in the 1860s. Haines's international style of figure skating became immediately popular in Europe and America by the 1900s. The International Skating Union (ISU) formed in 1892 for men's competition, adding an event for ladies in 1906, pairs in 1908, and ice dancing in 1952. World War I interrupted the advance of figure skating, but the United States Figure Skating Association (USFSA) formed in 1921, fueling the development of ice skating as a competitive sport. Champions like Sonja Henie pioneered professional skating in tours and movies from the 1920s. Each generation of figure skaters has added new elements, increased difficulty levels, and innovation to the artistry and athleticism of the sport.
The center of the sport has shifted several times. European skaters dominated competition prior to the World Wars, after which North American skaters triumphed in the 1950s. In 1961, an American figure skating team and their coaches died in a plane crash while traveling to the World Championships in Prague. Consequently, the Soviet Union dominated figure skating, particularly pairs skating and ice dancing. A Russian team won the gold at every Winter Olympic Games from 1964 until 2006, one of the longest winning streaks in all of sports history. American skaters continue to compete well, but many of skating's rising stars are South Korean, Chinese, and Japanese.
Olympic Skating
Skating has four Olympic disciplines: singles, pair skating, ice dancing, and synchronized skating. Jumping is the most athletic element of figure skating. There are six jumps: salchow, toe loop, loop, flip, lutz, and axel. Elite skaters may use transitional jumps to add difficulty to their programs, and sometimes jumps are performed in combination. Typically, individual female skaters perform triple jumps and double axels, though Midori Ito, Tonya Harding, and Mao Asada have landed triple axels in competition. Individual ladies have only recently consistently performed triple lutzes, and few perform triple-triple combinations. Individual men may complete several triple-triple combinations, with a handful performing quadruple salchows or toe loops.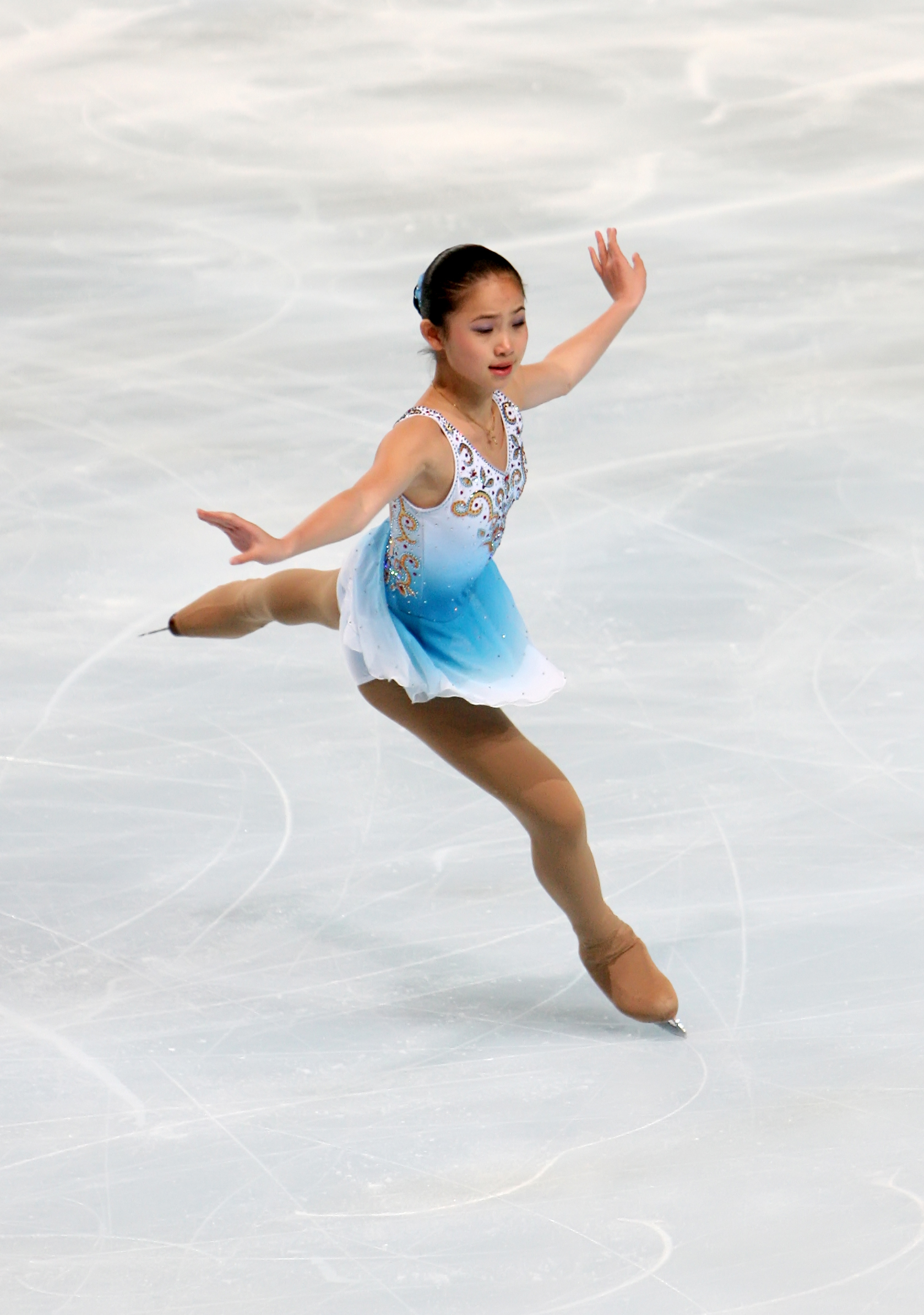 Spins are some of the most difficult elements of figure skating because of the balance and edge control they require. There are three basic spin positions: sit spin, camel spin, and upright spins, though many variations of these basic positions exist. Flying spins begin through a jump and land in a spin. Some spins may transition the outside to the inside edge during the spin, considered a change of edge spin. Spin combinations may transition through several positions and switch spinning directions. Pair skaters can spin side by side, or may hold on to each other, spinning around the same axis.
Footwork, or step, sequences are a series of edge patterns that follow a straight, circular, or three-ring pattern. All four Olympic disciplines require footwork sequences in competition. Many skaters use short footwork sequences to transition between elements.
Perhaps the most famous figure skating element, the spiral, refers to a skater gliding on one foot, the other leg extended above the head. American ladies figure skating competitors are world-renowned for their exceptional spirals, often lifting to an almost perfect splits position. Nancy Kerrigan, Michelle Kwan, and Sasha Cohen are particularly known for their exquisite flexibility and grace.
Skaters may use weights, yoga, plyometrics, and cardio training for off-ice conditioning. A typical training schedule for an elite skater includes several hours of on-and off-ice daily training. Many training rinks have created academies on site for skaters' education. Elite skaters may pay more than $700 per week for training.
Icenetwork.com, an affiliate of the USFSA, has advanced skater training by giving skaters access to videos of all levels of figure skating competition and professional exhibitions, allowing skaters to learn from each other and monitor their competition.
Skating has also advanced significantly because of improved equipment, primarily through the development of lighter and tougher skating boots and blades. Figure skating costumes resemble theatrical costumes, and lightweight, well-designed costumes are preferred. Elite skaters may spend between $700 and $10,000 on their costumes. For training, skaters have adopted specialty fabrics for cold-weather sports that are thin, warm, and sweat resistant.
Judging Competitive Skating
Historically, skaters have been judged by a subjective 6.0 system. After a Franco-Russian collusion in pair skating competition at the 2002 Winter Olympics, the ISU instituted an international judging system (IJS). A technical specialist names each completed element and determines its base value through reviewing elements for correctness. The judges assign a Grade of Execution of plus or minus three points, based on their evaluation of each move. Every judging panel includes one alternate judge in case cheating is suspected.
A recent phenomenon in competitive skating is the multinational competitor. For instance, 2010 Olympic Gold Medalist Kim Yu-Na competes for her native South Korea, but trains in Canada. Many Russian and Canadian skaters train in the United States. The ISU allows pair or dance teams to compete for a country if one team skater is a citizen. Many skaters who cannot find pairs or ice dancing partners domestically recruit internationally or skate for another country to improve their chances of winning.
Skaters may be considered either amateurs or professionals. As long as skaters receive no compensation for their skating, they are amateur and eligible for competition. When skaters choose to become professionals, they may tour with a professional show or become coaches. The historic Ice Capades has been replaced with the Stars on Ice tour, produced by Scott Hamilton and Sandra Bezic, and typically features Olympic medalists and national and world champions. Kristi Yamaguchi, Katarina Witt, Michelle Kwan, Sasha Cohen, and Evan Lysacek are some of the most recent Stars on Ice headliners. There are also dozens of regional ice shows, as well as shows affiliated with amusement parks and cruise lines. Some skaters have toured professionally and later returned to competition, including Michelle Kwan, Todd Eldredge, and Sasha Cohen.
Challenges and Successes for Female Skaters
While the rigorous training schedule for figure skaters keeps them in excellent condition, many female skaters have struggled with body weight. Dorothy Hamil, Elaine Zayak, Rosalyn Sumners, Nicole Bobek, Nancy Kerrigan, and Oksana Baiul have all made public statements about their struggles with body weight, including anorexia, bulimia, and other eating disorders. While figure skaters have no weight requirements, the unspoken rule is that thinner is better, particularly for women. In the early 1990s, many coaches were removed from the USFSA for administering pills that delayed the onset of puberty, keeping their skaters at prepubescent, aerodynamically low body weights. Now, competitors endure mandatory drug screenings that somewhat deter unhealthy dieting habits. Advances in nutritional science have produced performance foods for athletes that provide needed energy and nutrition in a healthy way. However, among young, aspiring skaters, managing body weight remains one of the concerns for those who are serious about the sport, and many girls face pressure to maintain a certain body weight, primarily pressure from coaches, at a very young age.
Women have made an indelible mark upon figure skating. In the 1960s and 1970s, Irina Rodnina transformed the roles of women skaters in pair skating. Kristi Yamaguchi marked the transition from the graceful ladies' skating of Dorothy Hamill and Peggy Fleming into modern, athletic figure skating, combining the best of both styles; she also resembled Sonja Henie in her extended professional figure skating career. Katarina Witt is the only woman to have won two consecutive Olympic gold medals, and Irina Rodnina and Sonja Henie each won three.
Nancy Kerrigan and Tonya Harding made international headlines during the 1994 Winter Olympics. Harding's boyfriend arranged for someone to strike one of Kerrigan's knees with a crow bar in hope of eliminating Harding's competition. The USFSA named Kerrigan, Harding, and Kwan to the 1994 Olympic team. Harding gave a disappointing performance, while Kerrigan gave one of the best in her career, only to place second behind the newcomer Ukranian sensation, Oksana Baiul. The Harding-Kerrigan scandal rocketed competitive figure skating to be one of the top-rated broadcast sports. After the Olympics, Harding was found guilty of conspiring to injure Kerrigan and was banned from the USFSA.
Michelle Kwan, one of the most successful ladies' figure skaters of all time, eventually broke every competitive record for American female skaters, including most national and world titles. Though never a gold medal winner, Kwan's legacy of performance and skating excellence has paved the way for today's ladies to strive to match or top her performance, grace, and athleticism. One innovator is Miki Ondo, who has advanced the athleticism in ladies' figure skating when she was the first woman to land big triple-triple combinations and a quadruple jump. Kim Yu-Na may become the best ladies' figure skater of all time because of her athleticism, impeccable technique, and exquisite performing ability.
See Also:
Kim, Yu-Na, Olympics, Winter, Sports, Women in, Sports Officials, Female.
Further Readings
Figure Skating: A History

. Chicago:

University of Illinois Press

, 2006.
Culture on Ice: Figure Skating and Cultural Meaning

. Middleton, CT:

Wesleyan University Press

, 2003.
Sports Illustrated Figure Skating: Championship Techniques

. New York:

Time

, 1989.
Related Articles
---
Encyclopedia of Sports Medicine
From its historical origins as a mode of transportation, ice skating has developed into figure skating, a popular sport that combines the...
See more from Credo