Summary Article: Fennel
From The Illustrated Cook's Book of Ingredients
Looking like a bulbous celery heart, Florence fennel, or finocchio, is in fact the swollen base of the stem of the plant. It grows best in Mediterranean or mild, temperate climates around the world. The herb fennel and fennel seed do not come from the same plant, although they are close relations.
Buy
Florence fennel is at its best in fall. Look for clean, freshly cut bulbs with the long stems and fronds attached, if possible. Old fennel will look dull with brown patches and the fronds, if any, will be limp.
Store
Bulbs can be kept in a plastic bag in the crisper of the fridge for a week, but will be crispest the day that you buy them.
Eat
Fresh:
Slice or shred for salads. It is great for crudités, too.
Cooked:
Boil or steam whole or in wedges; braise, roast, or sauté; boil thick slices until tender, then grill.
Flavor pairings
Pancetta, parmesan cheese, fish, veal, chicken, dill.
Classic recipe
Fennel gratin.
Florence fennel
With its sweet, warm, anise flavor and crisp texture, fennel makes a tasty salad ingredient. The flavor is subtler when cooked, but the texture remains pleasingly crunchy.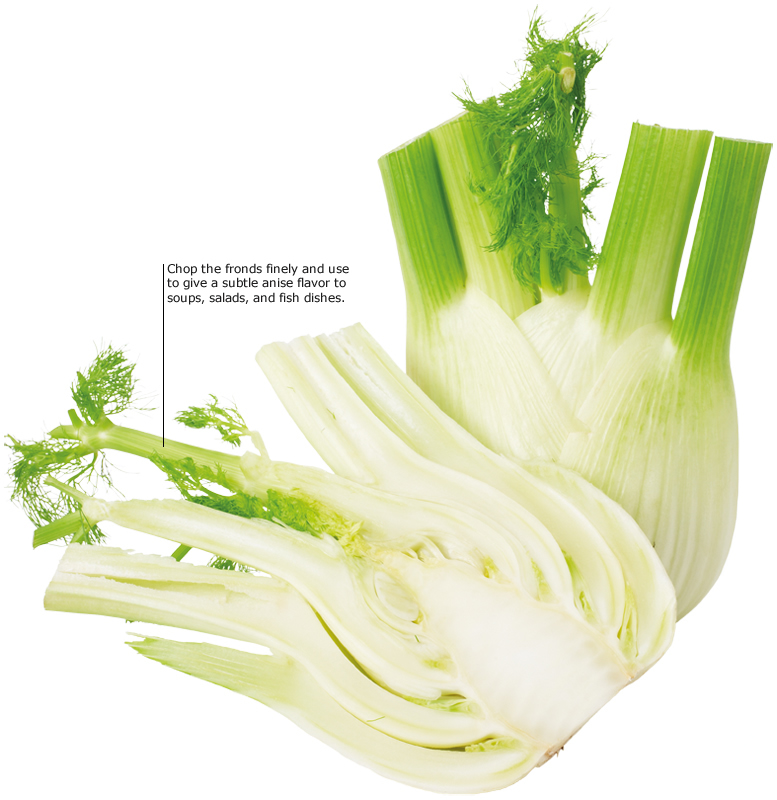 Baby fennel
More tender than the large bulbs of Florence fennel, baby fennel can be eaten whole. It's delicious brushed with oil and grilled on the barbecue.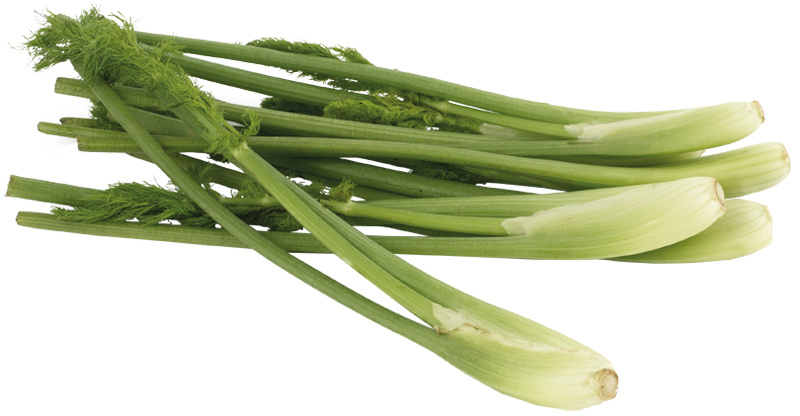 Classic recipe
Fennel Gratin
This rich, creamy topping works perfectly with the subtle anise flavor of fennel.
Serves 4
2 fennel bulbs, trimmed and cut lengthwise into 6 slices or wedges
salt and freshly ground black pepper
1 teaspoon finely chopped fresh rosemary (optional)
1/2 cup heavy cream
1/4 cup freshly grated Parmesan cheese
Preheat the oven to 350°F (180°C). Add the fennel to a pan of salted boiling water and simmer gently for about 5 minutes, until only barely tender. Drain well.

Arrange the fennel in a greased shallow baking dish. Sprinkle with the rosemary, if using, and season with salt and pepper. Pour the cream over the top and sprinkle with half of the Parmesan. Cover the dish with foil and bake for 30 minutes.

Remove the foil. Top with the remaining Parmesan and return to the oven, uncovered, to bake for another 5 minutes, or until the top is lightly browned. Serve hot.