Topic Page: Fawcett, Dame Millicent (1847 - 1929)

Summary Article: Fawcett, Millicent Garrett
from Encyclopedia of Women Social Reformers
Like her contemporary, the disarmingly gentle-faced Josephine Butler, Millicent Garrett Fawcett had a physical delicacy and demeanor that belied the underlying doggedness and resilience that would keep her at the helm of the moderate, constitutional wing of the British suffrage movement for over half a century. Obituary tributes to her "sweet reasonableness" (Oakley 1983, 20) categorized her as the antithesis of the Pankhurst-led militants, and for this reason Fawcett's patient campaigning for women's enfranchisement by legal methods was for long overshadowed by that of the much more voluble and volatile figures in the Women's Social and Political Union (WSPU). Remaining an uncontroversial and, some have said, unemotional figure, Fawcett was lauded as a paragon of the "womanly" campaigner: self-controlled, feminine, dutiful, and patient. She was also, however, a skillful administrator and astute propagandist who never allowed her commitment to what she saw as an overridingly moral cause be undermined by her private doubts about whether women would be enfranchised in her own lifetime. In the event, she lived not only to celebrate women winning the vote in 1918 but to see their voting age reduced from thirty to twenty-one in 1928.
Fawcett was born and grew up in Aldeburgh, on the Suffolk coast, one of ten children of a comfortably off malter, brewer, and ship-owner. She enjoyed a particularly close relationship with her father, Newson Garrett, a notable radical who inspired a sense of social justice in both her and her older sister, Elizabeth Garrett Anderson, who would go on to become the pioneer of women's medicine in Britain. After attending Miss Browning's school in Blackheath, London (1859–1862), Fawcett spent much of her time in London with her elder sisters, Elizabeth and Louise, through whom she met the radical member of Parliament, John Stuart Mill, and her husband Henry Fawcett. At the age of twenty, she married Henry, a Liberal MP and reformer who was a professor of economics at Cambridge University. He had been blinded in a shooting accident in 1858, and much of Millicent's time was taken up with the roles of supportive wife, political secretary, amanuensis, and companion to Henry. As an advocate of women's emancipation, he encouraged her feminist interests.
Through Mill and her friend Clementia Taylor, Fawcett met women of the Langham Place Circle, who were laying the foundations of the British suffrage movement. In 1866, led by Barbara Bodichon, they had collected signatures for a petition on women's franchise that was introduced in Parliament by John Stuart Mill. Fawcett was able to witness the eventual debate on women's suffrage in Parliament in May 1967 from her seat in the visitors' gallery. In July she joined the executive committee of the London National Society for Women's Suffrage and soon overcame her reticence to give her first public speech on suffrage in July 1868, a fact noted in Parliament as disgraceful, coming as it did from the wife of an MP. In 1871 Fawcett had acquired sufficient confidence to conduct a speaking tour of the west of England. During this period, she also endorsed the movement for the Married Women's Property Act (a reaction to widespread disappointment at the issue not being addressed in the provisions of the 1857 Matrimonial Causes Act) and supported Anne Jemima Clough's University Extension scheme at Newnham Hall, Cambridge. Her daughter Philippa would be one of the first women to study at Newnham when it was promoted to a college.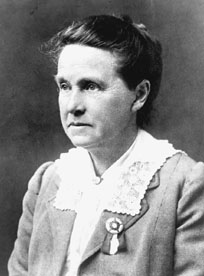 During the 1870s, Fawcett gave strong moral approval to Josephine Butler's campaigns for repeal of the Contagious Diseases Acts. However, she took no part in the public campaign, partly out of her own aversion to discussing sexual matters but also because she feared that doing so would damage her work for suffrage. Nevertheless, she was an unswerving supporter of the social purity campaign and had a genuine concern that legal steps be taken to protect young girls from sexual exploitation. Her husband was also an advocate of social reform in India and introduced her to issues such as child marriage.
In 1878 Fawcett joined the Central Committee of the National Society for Women's Suffrage, but her campaigning for suffrage and the other causes that interested her, particularly outside London, was most effective after her husband's death in 1884. Only thirty-seven when she was widowed, Fawcett turned down the offer of becoming mistress of Girton College at Cambridge University to devote her time to suffrage and the social purity movement. Along with many other reformers, such as Butler and Catherine Booth, she supported W. T. Stead's exposé of the white slave trade. In 1886 she was a founding member of the National Vigilance Association for the Repression of Criminal Vice and Immorality and was elected chair of one of its subcommittees, remaining active in the association until 1926. During the period 1887–1903, Fawcett was sidetracked by the intense debate in Parliament over Irish home rule. She joined the Liberal Unionist group, as a committee member of the Women's Liberal Unionist Association, in opposition to home rule and toured Ireland regularly from 1887 to 1895 in support of the campaign. In 1888 Fawcett finally became a central figure in the suffrage movement when she took control of the Central Committee of the National Society for Women's Suffrage, after a split in the group over its proposed affiliation with women's Liberal associations. Fawcett wanted the suffrage movement to remain nonpartisan and with Lydia Becker defended the Central Committee's position of nonalignment. When Becker died in 1890, Fawcett set about reuniting the suffrage movement. In 1897, she was a leading organizer of a new umbrella coalition, the National Union of Women's Suffrage Societies (NUWSS), and as a member of its parliamentary committee, took on the considerable task of helping to coordinate the propaganda work, tactics, and activities of two London and eighteen provincial suffrage societies throughout Britain over the next twenty-two years. During this time, she accepted the presidency with the adoption of a new NUWSS constitution in 1907 and became an important political figure who consistently offered well-balanced, lucid arguments in support of women's suffrage and who was prepared to stick to patient lobbying to achieve it. As Mary Stocks remarks on Fawcett, "being wholly reasonable herself, she never doubted that reasonable methods would triumph, and her service to women's suffrage was thoughtful, persistent and dogged" (1970, 71).
In 1901, such was Fawcett's acknowledged preeminence in British political life that after Emily Hobhouse's damning unofficial report on the British concentration camps in South Africa during the Boer War had caused a public outcry, she was asked to conduct an official inquiry. She sailed for South Africa at the head of a Ladies Commission of Enquiry and during August and September of that year toured thirty-three camps and inspected the conditions, confirming Hobhouse's conclusions in a detailed and balanced report to Parliament in December 1901.
At the turn of the twentieth century, Fawcett was initially encouraged by the high public profile achieved for women's suffrage by the militant campaigning inaugurated by the Pankhursts through the Women's Social and Political Union (WSPU). She admired their courage and congratulated hunger strikers on their release from prison in December 1906. But, when acts of violence by the WSPU escalated, as a constitutionalist Fawcett became increasingly concerned that these actions would alienate potential supporters of women's franchise among male politicians, and she became estranged from the militant wing. As a conciliator, she was ever ready to make compromises and in 1910 collaborated with journalist Henry Brailsford in framing the Conciliation Bill, which introduced the franchise for single women and widows who were heads of households. But three failed attempts to get the bill through Parliament in 1910–1912, during Liberal prime minister Herbert Asquith's government, disappointed Fawcett deeply, and she was forced to reappraise her long-held views on the nonalignment of the NUWSS. Although she was a long-standing Liberal, she made the pragmatic decision to formally ally the society with the Labour Party in May 1912 because it was the only political party that had declared its open support for female suffrage. This move created dissent in the NUWSS—an organization by that time composed of 411 disparate and self-supporting societies—leading to an exodus of members. Meanwhile, Fawcett oversaw the establishment of the NUWSS's Election Fighting Fund to promote Labour Party candidates in parliamentary by-elections.
Further antipathies in the suffrage movement were kindled by Fawcett's adoption of a "your country needs you" attitude toward the war effort. This came once her and Chrystal MacMillan's official appeal in July 1914 on behalf of British women for the government to seek peace mediation had failed to prevent Britain from entering World War I. Although she had been active in the International Woman Suffrage Alliance since 1904, like many of its members Fawcett left the international stage and concentrated on the national war effort. Her criticism of pacifist suffragists who called for international peace mediation at a meeting at The Hague in 1915 led to a walkout by many pacifist women on her executive committee. But Fawcett, having agreed to suspend her work for suffrage to support wartime propaganda, remained convinced that the crucial role played by women during the war would validate their moral right to suffrage and full citizenship. Behind the scenes, she continued to press for women's enfranchisement to be put before Parliament again as soon as the war was over.
In 1919, after the passage of the Representation of the People Act had given the vote to British women over the age of thirty, Fawcett resigned from the presidency of the NUWSS. She continued to advocate reforms promoting sexual equality and was active in the London and National Society for Women's Service, which strove to open up more professions to women. She also supported the NUWSS, in its new guise as the National Union of Societies for Equal Citizenship (NUSEC) and now led by Eleanor Rathbone, in its continuing battle for the franchise age for women to be lowered from thirty to twenty-one. But her disagreement with Rathbone's advocacy of family allowances and pensions for mothers in 1925 caused Fawcett to resign from NUSEC's board of directors.
Fawcett published many pamphlets on women's rights and suffrage during her long career. Early in her marriage, she assisted her husband in revising his Manual of Political Economy, becoming something of an expert on the subject in the process. In 1870 she published a school textbook, Political Economy for Beginners, that was translated into several languages and remained a standard text until her death. She also wrote two novels and a eulogistic Life of Queen Victoria (1895) and collaborated with E. M. Turner on a 1927 biography of Josephine Butler (Josephine Butler: Her Work and Principles, and Their Meaning for the Twentieth Century). Her own account of the suffrage campaign, The Women's Victory—and After, was published in 1920 and her reminiscences, What I Remember, in 1924. She was made a Dame of the British Empire in 1925.
In 1919 the London Society for Women's Suffrage was renamed the Fawcett Society in support of an ongoing campaign for equal rights and responsibilities for all citizens. It continues to lobby against sexual inequality, focusing on equal opportunities in work and education for women. The Fawcett Library, named in her honor and relocated to newly built premises in October 2001, is the primary repository in Britain of a considerable archive of feminist and suffrage material and is dedicated to continuing to document the changing role of women in society. The Fawcett Library's website is http://www.lgu.ac.uk/fawcett/main.htm. The Fawcett Society's website is http://www.gn.apc.org/fawcett/.
See also Anderson, Elizabeth Garrett; Becker, Lydia; Bodichon, Barbara; Butler, Josephine; Clough, Anne Jemima; Hobhouse, Emily; MacMillan, Chrystal; Pankhurst, Christabel; Pankhurst, Emmeline; Pankhurst, (Estelle) Sylvia; Rathbone, Eleanor.
References and Further Reading
1996

. Banishing the Beast: English Feminism and Sexual Morality, 1885–1914. Harmondsworth:

Penguin

.
.
1992

. Victorian Feminists. Oxford:

Oxford University Press

.
.
1999

. The Women's Suffrage Movement, 1866–1928: A Reference Guide. London:

University College of London Press

.
.
1987

. Prudent Revolutionaries: Portraits of British Feminists between the Wars. Oxford:

Clarendon Press

.
.
1986

. Feminism and Democracy: Women's Suffrage and Reform Politics in Britain, 1900–1918. Cambridge:

Cambridge University Press

.
.
1985

. The Spinster and Her Enemies: Feminism and Sexuality 1880–1930. London:

Pandora

.
.
1983

. "

Millicent Garrett Fawcett: Duty and Determination.

" In , ed., Feminist Theorists: Three Centuries of Women's Intellectual Traditions. London:

Women's Press

.
.
2000

. Votes for Women. London, New York:

Routledge

.
, and eds.
1967

. Women's Suffrage and Party Politics in Britain 1866–1914. London:

Routledge and Kegan Paul

.
.
1986

. Before the Suffragettes: Women's Emancipation in the 1890s. Brighton:

Harvester Press

.
.
1991

. A Different World for Women: The Life of Millicent Garrett Fawcett. Brighton:

Harvester Wheatsheaf

.
.
1970

. My Commonplace Book. London:

Peter Davies

.
.
1931

. Millicent Garrett Fawcett. London:

John Murray

.
.