Topic Page: Facebook (Electronic resource)

Summary Article: Facebook
from Encyclopedia of Social Networks
In the first decade of the 2000s, social network sites (SNS) emerged as one of the dominant means for accessing information and communication online. This has led to simultaneous concerns about the quality of friendships on these sites, as well as the abundance of information stored and how it is accessed. Sociologists and social network analysts have shown that Facebook, as an exemplar SNS, leads to greater social capital and an expanded friend network, but it does so at the expense of privacy and the ability to do granular impression management online.
Facebook is now considered a topic in its own right, as the site has over 500 million active users and is the world's second most popular site after Google. Facebook regularly publishes statistics on this traffic, and it consistently claims that at least half of its user base logs in every day. As a consequence, when an academic says they study social networks, the lay audience is probably more likely to think of Facebook than nodes, edges, name generators, and exponential random graph models (ERGMs).
Facebook's Meteoric Rise
Mark Zuckerberg created a site called Facemash at Harvard in late 2003. In February 2004, it was rebranded as Facebook and was released to selected university communities. The early history of the site remains a contentious issue for Zuckerberg, as it is unclear how much the site was related to another project, the Harvard Connection. The Harvard Connection founders and Zuckerberg settled out of court. Nevertheless, the notoriety of Facebook's early years was the subject of a successful, semifictionalized Hollywood blockbuster, The Social Network.
Facebook was hardly the first social network site. Prior to Facebook, Six Degrees, MySpace, and Friendster all enjoyed substantial popularity. However, Facebook's simple aesthetic, perceived legitimacy, and capacity to scale led to very rapid growth, first among college campuses and then within the wider North American population. In September 2006, the site was available to anyone over 13 with a valid e-mail address.
The basic function of Facebook is to facilitate information sharing between individuals who have indicated that they are mutual friends. This information includes archival material, such as photos and blog posts, as well as real-time material (status updates and a chat window) and information about the future (such as events and birthdays). Because of the comprehensive functions available on this site, Facebook brands itself as a "social utility." Nevertheless, scholars still tend to consider the site an example of a social network site. On a social network site, each person gets his or her own account and then can stipulate which other accounts they want to access. This is an example of what Barry Wellman had previously called "person-to-person" networking, where individuals connect directly to each other, often through personal electronic devices and accounts. This can be contrasted with place-to-place networking, where people associate through shared mutual contexts.
Who Is a Friend?
Facebook, like many other social network sites, use the term friend to indicate a base relationship between two people. One of the most important and challenging insights to be learned from successful social network sites is that it is far better to underspecify than overspecify the meaning of a relation between two individuals. Thus, the term >friend makes more sense than trying to a priori label every role relation and maintain these labels as the relationship grows. While the use of the term friend is sometimes seen as contentious, wherein people may be criticized for having many superficial friends, this is based on the notion that "friend" on an SNS is a direct analog to a friend in a personal network. By contrast, a friend on an SNS implies access control—to be a friend is to be a member of the set of people who have access to friends-only content.
Data from several sources, including the representative, cross-national World Internet Project; the nationally representative Pew Internet and American Life project, and several extensive longitudinal data sets from Michigan State University and Harvard University, confirm that the vast majority of Facebook friends are in fact individuals met or known off-line, rather than people met and known exclusively online. Consequently, Facebook may be providing the first public means to conveniently aggregate the large circle of friends that has heretofore only been estimated by social network researchers. To note, this refers to weak ties known by name who may be beyond the intimate circle of friends typically captured by name generators. Past work using techniques such as the summation method or the network scale-up method have estimated this large circle of acquaintances to be around 300-800 individuals, depending on the methodology. This range corresponds roughly to the network size of the most highly active users on this site, especially younger users who have a penchant for liberally adding Facebook friends.
Friends both online and off-line come from different social circles and make differing demands on an individual. Since all of these individuals may access a person's Facebook profile, the results have been what danah boyd calls the "collapsing of context." One consequence of the collapse of different contexts on these sites is a flood of social information. A need emerges for tools to help stem the tide of information. This need is exacerbated by weekly tabloid press coverage of inappropriate content on Facebook, from celebrity debauchery to everyday people complaining about their boss or school without realizing who is reading the content. Work to solve the issue of collapsed content and information overload tends to be focused on either sorting individuals by tie strength or grouping individuals into clusters of like type. Studies on tie strength have demonstrated that mutual friends, the recentness of communication, and the tone of messages are strong predictors of tie strength. Work on clusters has revealed that strong ties are often brokers between groups and that from an individual's point of view, dense clusters of individuals represent clear social contents such as school or work, family, and professional and organizational associations.
Studying Facebook
Facebook can be a challenging research environment when contrasted with social media services, such as Twitter, that default toward fully public content. Facebook is a site built around restricted access to other people's profiles. This has not prevented analysis in general, but it has made research on the site inconvenient and made it difficult to assess the global structure. Much of the early work on Facebook was conducted by individuals who had the means to collect a data dump of the site directly from Facebook. At least three of these data sets are known to exist.
The first of these studies, conducted by Scott Golder, Dennis Wilkinson, and Bernardo Huberman, demonstrated clear rhythms of messaging on the site. In particular, they note that individuals tended to message people in the same university early in the evening and individuals at other locations later in the evening. This suggests that the site is multipurpose, and that instead of destroying distance, it transforms distance vis-à-vis different emergent interaction rhythms associated with spatial proximity.
The second set, collected by Amanda Traud and colleagues, was used to show how university-wide clustering has markedly different properties depending on the school. While some schools show the most clustering by residence, others cluster more by year or subject. They suggest that this clustering has face validity based on how different schools arrange their programs. One of the outcomes of this work is to suggest that the structural patterns at a single school may not generalize to the student population at large.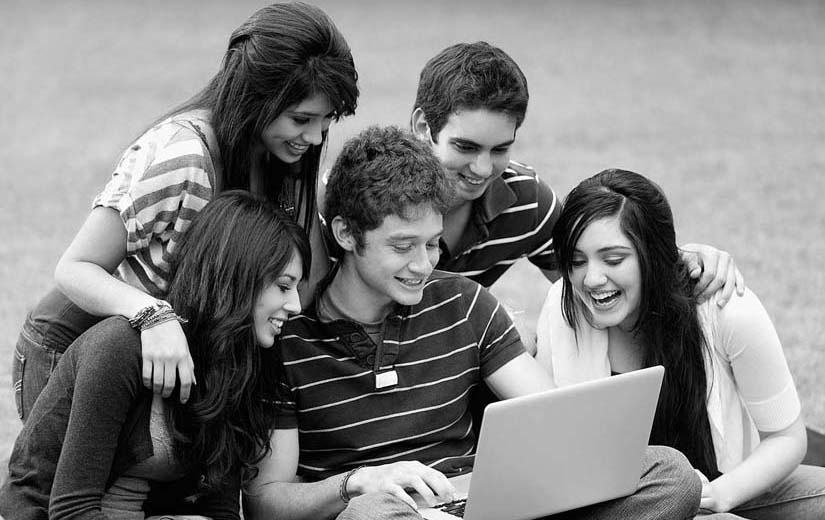 Finally, the most ambitious data set was collected by Kevin Lewis and colleagues at Harvard. This data, known as the "Taste, Ties, and Time" data, collected friendship data along with other measures from the individuals themselves, such as location in the dormitory and personal attributes. They also coded photos as a proxy of strong tie relations. Two papers that came out of this work demonstrate a significant homophily in the data set and that privacy settings are difficult to predict.
In addition to work on network data that depends on material with limited access, there has been significant work based on observations of Facebook users. Nicole Ellison, Cliff Lampe, and Charles Steinfeld published longitudinal work on the site indicating that participation in Facebook is associated with not only more social capital than nonparticipation among students but also increased social capital over time. That is, they suggest that the site is, overall, a positive force for social cohesion and well-being.
Finally, there is the matter of questionable data. Pete Warden, a former Apple engineer, collected the friendship lists of the 210 million individuals (approximately 50 percent) who set their access to public. This network was set to be released to the public in March 2010, but the release was prevented by Facebook.
There presently exist a few tools for creating a visual map of one's personal network on Facebook. The most publicly popular is Friendwheel, a fast tool that maps an individual's friends in a circular layout. It tweaks the layout order somewhat to reflect the network's underlying clustering. It makes no guarantees about completeness and performs very little analysis. Academics consequently tend to use the Facebook application NameGenWeb or ORA's Facebook add-on to capture a more complete network in a standard social network format.
Presently, there are many ways for researchers to explore Facebook, as well as many outstanding research questions and practical challenges surrounding the site. While there is consensus that Facebook networks cluster into coherent groups, it is unclear how to make use of these emergent clusters. The site continually offers new means for individuals to tweak privacy settings, but it is unclear what sort of cognitive network model individuals use when interacting with the site and how to best leverage this model. Edge strength on the site follows a heavy tailed distribution, but it is not clear whether this makes a difference for models. Similarly, Facebook represents the gamut of relationships, from superficial, fleeting acquaintances to most cherished, strong ties. Yet it is unclear how effectively the site represents these differences and, perhaps more importantly, what role the site has in shaping these relationships. These issues make Facebook an interesting and rapidly evolving, albeit complex, research environment.
See Also:
College Students Communities, MySpace, Network Clusters and Communities, Network Visualization, Networks, Privacy in, Personal Network Analysis, Random Graph Models, Telephones to Smart Phones, Tie Strength, Trust and Networks, Twitter.
Further Readings
"Social Network Sites: Definition, History, and Scholarship."

Journal of Computer-Mediated Communication,

v.13/1

.
;
"Predicting Tie Strength With Social Media."

In Human Factors in Computing Systems Conference, April 4-9, 2009, Boston. New York:

ACM Press

, 2009.
, , and .
"Rhythms of Social Interaction: Messaging Within a Massive Online Network."

In Proceedings of the Third Communities and Technologies Conference 2007, June 28-30, 2007, Michigan State University, edited by

William Steinfield, Charles

. London:

Springer

, 2007.
, , and .
"Visualizing and Interpreting Facebook Networks."

In Analyzing Social Media Networks With NodeXL, edited by

Hansen, Derek

,

Smith, Marc A.

, and

Shneiderman, Ben

. New York:

Morgan Kaufman

, 2011.
.
"Taste, Ties and Time: A New Social Network Data Set Using Facebook.com."

Social Networks,

v.30/4

.
et al.
"Social Capital, Self-Esteem, and Use of Online Social Network Sites: A Longitudinal Analysis."

Journal of Applied Developmental Psychology,

v.29/6

.
; ;
"Comparing Community Structure to Characteristics in Online Collegiate Social Networks"

(2008). arxiv.org/abs/0809.0690 (Accessed January 2011).
, , , and .
"Physical Place and Cyber Place: The Rise of Personalized Networking."

International Journal of Urban and Regional Research,

v.25

.
Related Articles
---
Encyclopedia of Social Media and Politics
Facebook is the most popular social network in the world, ranked as the second-most visited Web site on Alexa.com (behind Google.com) and registerin
Encyclopedia of Sports Management and Marketing
Facebook is perhaps the most visible and ubiquitous of the Web 2.0 applications that have made their way from Internet isolation to pop culture...
Encyclopedia of Gender in Media
Online social networks and face-to-face social networks form for similar reasons: like-minded individuals associate for mutual gain and the...
See more from Credo