Topic Page: Exxon Valdez Oil Spill, Alaska, 1989
---
Definition:
Valdez
from
Dictionary of Energy
Environment. (Exxon Valdez) a huge oil tanker that ran aground on Alaska's Bligh Reef in 1989 and spilled an estimated 10.8 million gallons of crude oil, fouling the waters of Prince William Sound and eventually affecting more than 1000 miles of beach in south-central Alaska. This spill caused widespread environmental damage, which according to a recent study continues to this day. The cleanup effort cost Exxon $2.5 billion.
---

Summary Article: Exxon Valdez Spill
from Encyclopedia of the U.S. Government and the Environment: History, Policy, and Politics
It was just after midnight on March 24, 1989, when having strayed more than one and one-half miles outside of the normal shipping lanes, the oil tanker Exxon Valdez ran aground on Bligh Reef in Prince William Sound, Alaska (Paine et al., 1996; Schneider, 1989). The impact ruptured eight of its eleven cargo tanks, spilling some 36,000 metric tons of crude oil into the ecologically rich marine environment (Kurtz, 2004; Paine et al., 1996). By volume, it was the largest spill in U.S. history, and quickly became one of the costliest and most highly publicized environmental tragedies ever. The Valdez incident served as a major focusing event, heightening public awareness of the toxic effects of oil, the need for more stringent regulation of industry activities, and for increased preparedness on the part of state and federal regulatory bodies. In so doing, it provided the impetus for the passage of the Oil Pollution Act of 1990, a major piece of federal environmental legislation that fundamentally altered the way in which industry and government prevent, prepare for, respond to, and mitigate the effects of oil spill (Lee and Bridgen, 2002).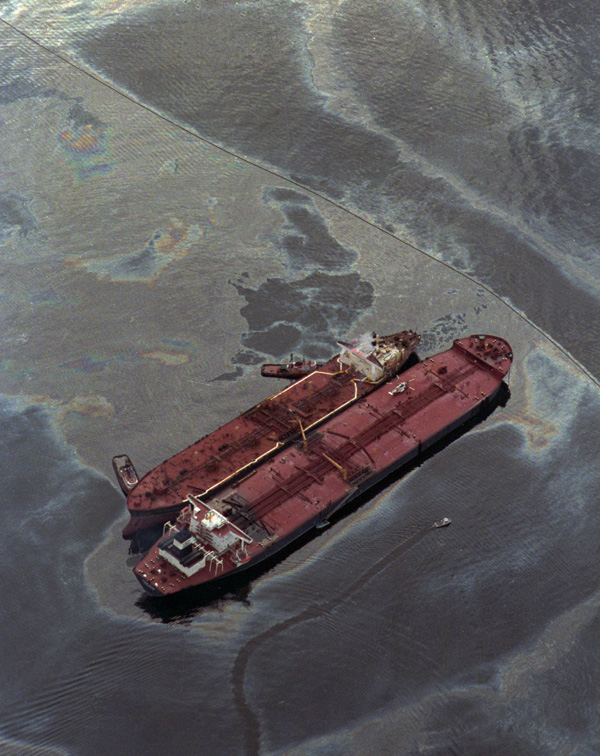 Congressional efforts aimed at creating legislation specifically to address petroleum releases into the environment began in the 1970s. At the time of the Valdez spill, however, none had successfully passed both houses, due in part to the oil-friendly attitudes of many influential legislators, as well as the fact that the ongoing energy crisis discouraged any actions that could prove burdensome to the oil industry (Kurtz, 2004). At the time of the incident, therefore, oil spills were regulated under a number of existing federal laws, most important of which was the Clean Water Act (Lee and Bridgen, 2002.).
At the time of the spill, industry was required to create contingency plans outlining response strategies in the event of a release, yet they were created with the assumptions that only a few thousand gallons would be spilled, and that any incident would occur during daylight hours in calm seas. Verification of plans' effectiveness through drills and exercises was also not required (Herz, 1989; Schneider, 1989). Further limiting response capabilities in place at the time, the 20-member team of emergency responders that had been stationed in the port of Valdez was disbanded by industry in the early 1980s, and the maintenance of emergency equipment had been allowed to lapse (Schneider, 1989).
Unprepared for a release of this magnitude, Valdez's approved contingency plan was ignored entirely, and cleanup did not begin until more than 13 hours after the initial impact (Mathews, 1989). Response efforts were hampered, first by poor weather conditions, then by bitter disagreements between industry and regulatory officials as to how best to mitigate the oil's effects (Heller, 1989). Equipment was slow in coming and in short supply (Mathews, 1989; Schneider, 1989). Booms were used in select areas to protect salmon hatcheries; oiled sea birds and mammals were recovered and attempts made to clean and rehabilitate them; heated and high-pressure hoses were used to clean oiled beaches; and a small amount of the spill was disposed of through burning.
As the days passed, much of the oil reached land, eventually impacting some 1,750 km of coastline, as far as 750 km from the original spill site. All told, Exxon employed some 1,500 boats and 12,000 people in response-related activities. Ironically, these efforts resulting in the removal of 10 to 14 percent of the oil spilled, while using more than 40 times that amount to operate vehicles and other equipment (Paine et al., 1996). Exxon reports spending nearly $12 billion1 to settle third-party suits, pay for cleanup, and fund the restoration of damaged natural resources.
Despite these efforts, oil claimed the lives of thousands of sea mammals and birds, as well as countless marine species, including important commercial species such as larval salmon and herring. Lighter oil fractions likely vaporized within 10 days of the event; however, heavier components can take years to degrade (Paine et al., 1996), and the spill's impacts are still perceptible to this day.
Clearly, the Exxon Valdez spill was a major environmental tragedy born out of human negligence, but the spill also called attention to the need for stricter environmental regulation and led to the passage of the Oil Pollution Act of 1990 (OPA90). By superseding all other legislation in place at the time, OPA90 created a comprehensive and effective means of regulating the activities of the oil industry, as well as preparing for, responding to, and mitigating the effects of oil spills (Lee and Bridgen, 2002; Ramseur, 2008).
See also Exxon Shipping Company v. Baker (2008); Oil Pollution Act of 1990; Santa Barbara Oil Spill, 1969
References
"Alaska Cleanup Continues as Bill Mounts: Spill Response Called Too Little, Too Late."

St. Petersburg Times, August 19, 1989.
.
"Exxon's Faile Promises; Test the Cleanup Plans Before the Spills."

Washington Post, April 5, 1989.
.
"Coastal Oil Pollution: Spills, Crisis, and Policy Change."

Review of Policy Research

21

(

2

) (2004):

201-219

.
The Natural Resource Damage Assessment Deskbook: A Legal and Technical Analysis

. Washington DC: Environmental Law Institute, 2002.
, and P. J. Bridgen.
"Spill Contingency Plan Flawed, Pipeline Official Says: Strategy for Quick Response Could not Be Applied to a 'Real-World' Situation."

Washington Post, May 20, 1989.
.
"Trouble on Oiled Waters: Lessons from the Exxon Valdez Spill."

Annual Review of Ecological Systems

27

(1996):

197-235

.
, et al.
"Oil Spills in U.S. Coastal Waters: Background, Governance, and Issues for Congress."

Congressional Research Reports, RL-33705,

http://opencrs.com/document/RL33705/

.
2008.
"Under Oil's Powerful Spell, Alaska Was Off Guard."

New York Times, April 2, 1989.
.