Topic Page: Estrada, Joseph (1937 - )
Summary Article: Estrada, Joseph
From Encyclopedia of Social Media and Politics
Joseph Estrada was the 13th president of the Philippines who was ousted among allegations of corruption in 2001. Social media was used to coordinate large protests that demanded that the president be held accountable for his crimes and that local media accurately report on the presidents' crimes and trial. The social media–driven protests led to the ousting of President Estrada.
On May 11, 1998, in the second set of general elections since Philippine democracy was restored in 1986, 28 million voters went to the polls to choose a president, a vice president, 12 senators, over 200 members of the House of Representatives, and more than 17,000 local officials. Despite being called a complete circus, it was the freest, fairest, and least violent election in Philippine history. Joseph Estrada won the presidency by campaigning to the lower classes with promises to narrow the widening income gap between the rich and poor. Estrada, who previously served as vice president of the country, won the election with 40 percent of the vote in a field of 11 candidates. Unlike most of his opponents, Estrada did not possess any legal or military expertise, nor did he speak fluent English. The Robin Hood roles he played in his 33-year-long career as a film star enhanced his image as a companion of the underprivileged. He served as president from 1998 until 2001.
In October 2000, Luis "Chavit" Singson, the governor of a province in the Philippines and a close friend of the president, alleged that he had given Estrada 400 million Philippine pesos (more than $9 million) as a payoff from an illegal numbers game commonly played in the Philippines, as well as 180 million Philippine pesos (more than $4 million) in a scandal involving the cover-up of Singson's alleged misuse of millions of pesos from public funds. The allegations against Estrada resulted in an impeachment suit brought against him, in which he pled "not guilty."
On the evening of January 16, 2001, the impeachment court, composed primarily of senators, decided not to accept new evidence that would incriminate the president on charges of receiving millions in payoffs. That decision by the Senate confirmed what many Filipinos were afraid of—that the judges were leaning toward acquitting Estrada. Within an hour after the court had adjourned that night, citizens flooded the streets in protest, demanding Estrada's resignation. By midnight, thousands of citizens had gathered on a large road called Edsa (an acronym derived from Epifanio de los Santos Avenue, a major highway connecting five cities in metro Manila) to protest the Senate vote. Edsa was the site of the 1986 "people power" revolt against then-dictator Ferdinand Marcos. The protests lasted January 17–20, 2001, ending after Estrada was forced to resign when the Supreme Court declared that the seat of the president was vacant.
Estrada maintained that he never resigned, but the new government created a special court and arrested him in April 2001. Filipino supporters of Estrada marched on Edsa, demanding his release and reinstatement. However, this time mobile phones and social media brought protesters together. Short messaging service (SMS) messages were the key element in mobilizing protesters and keeping them informed. Although traditional media such as newspapers, radio, and television stations were covering the events, they could not keep up with the speed in which information traveled from person-to-person via SMS. Nor were the traditional forms of media as interactive as SMS, which has the ability to link individual users to each other and present real time information about when and where the protests were occurring.
In addition to the SMS messages, the Internet was a key element used in the protests. Web sites and e-mail groups were set up, and organizers used these to reach agreements on issues and mobilize people to attend the rallies. Protesters continuously posted updates on the Web sites so that citizens who were unable to participate or were abroad were able to be involved and up-to-date. In addition to disseminating information, the Internet was home to virtual rallies. According to Sheila Coronel, it is estimated that as many as 70 million messages were sent during the weeklong protest, and it has been referred to as a "multimedia revolt."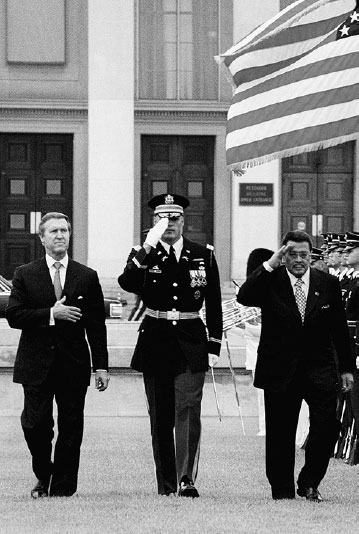 With the help of SMS and the Internet to rally participants, protesters eventually made their way to the presidential palace, where police and the military responded with force. Violence erupted and many protesters were badly injured and arrested, including some politicians, before the protests came to an end. The uprising came to be known as EDSA III, but did not result in the release of Estrada. Instead, he was put on trial at a special appellate court called the Sandiganbayan. After a lengthy trial lasting from 2001 until 2007, Estrada was found not guilty of perjury, but guilty of plunder. He was sentenced to reclusión perpetua (a replacement for the death penalty, synonymous with life imprisonment). All of the co-accused were acquitted. Later in 2007, Estrada was pardoned by President Gloria Macapagal-Arroyo and released after almost seven years in prison.
After being pardoned, Estrada made a statement to the Filipino people explaining that he was once again willing and able to help improve the lives of citizens, especially the lower class. He admitted that he had made errors while in office, but again declared that he was innocent of any corruption. He then began touring the country, thanking people for their support and distributing food, medicine, and clothing. In the 2004 Global Transparency Report, Estrada was listed 10th on the list of the World's All-Time Most Corrupt Leaders in the World. However, that seemed to have little impact on public perception of Estrada, who in May 2013 was elected mayor of Manila.
See Also: Actors and Social Media in Politics; Asia; Indonesia; International Unrest and Revolution
Further Readings
New Media Played a Role in the People's Uprising.

" Nieman Reports (2002).
. "
The Philippines in 2001: High Drama, a New President, and Setting the Stage for Recovery.

" Asian Survey, v.

42

/

1

(2002). doi:10.1525/as.2002.42.1.141.
"
The Return of 'People Power' in the Philippines.

" Journal of Democracy, v.

12

/

2

(2001). doi:10.1353/jod.2001.0029.
"
Parties and Accountability in the Philippines.

" Journal of Democracy, v.

10

/

1

(1999). doi:10.1353/jod.1999.0013.
"