Topic Page: Emergency medical services

Summary Article: Emergency Medical Care
From Encyclopedia of Crisis Management
Emergency medical care is typically defined as medical services provided by pre-hospital care providers such as first responders, emergency medical technicians, and paramedics. Most people identify emergency medical services as the ambulance service; however, emergency medical care may also be provided by the fire department or law enforcement until an ambulance arrives.
Service Levels
Emergency medical care is provided at three levels. These include the basic level, advanced level, and critical care level. Basic emergency medical care is provided by emergency medical technicians (EMTs). This care may include assisting with emergency childbirth, splinting fractures, using bandages and dressings to stop bleeding, assisting with some medications, and securing patients involved in motor vehicle accidents. Basic emergency medical technicians may also use specialized tools, such as the Jaws of Life, to remove accident victims involved in accidents. Basic EMTs may also perform cardiopulmonary resuscitation (CPR) and the Heimlich maneuver to assisting choking victims.
Advanced emergency medical technicians (AEMT) and paramedics (formerly known as EMT-P, now just paramedic) provide advanced-level emergency medical care, including administering medications, intubation, and using electrocardiograms and interpretation of the information. Advanced EMTs are not licensed to perform the same level of advanced services as paramedics and are limited in their scope of practice. For instance, AEMTs can only assist with a limited amount of medications administered intravenously, such as glucose (similar to sugar water) and Lactated Ringer's (used to clot the blood). Comparably, paramedics are allowed to provide medications that AEMTs are not allowed to provide.
Paramedics may use a host of medications to assist the sick and injured, such as controlled substances for pain (e.g., morphine) or epinephrine for persons experiencing a heart attack or allergic reaction. Paramedics may insert breathing tubes into the airway to assist with breathing, use intravenous fluids, and use advanced electrocardiogram equipment that basic and advanced emergency medical technicians are not allowed to use. Paramedics typically perform their tasks under the authority of a physician medical director.
Emergency medical services (EMS) are required by state and federal laws to operate using various medical algorithms or preset directions. These algorithms allow EMS crews to provide patient care without a physician actually being on board the ambulance or next to the pre-hospital care provider. However, most EMS crews are required to contact a physician via radio or phone while providing care or soon after.
EMS agencies and private companies may employ basic EMTs, advanced EMTs, paramedics, or a combination of all three. Many communities provide tiered emergency medical services whereby all emergency calls are coded, or divided into the type of emergency. For instance, a person with a fractured arm may receive an ambulance staffed with basic EMTs, but a female giving birth may receive an ambulance staffed by advanced EMTs. However, a person experiencing a heart attack or life-threatening emergency will typically have an ambulance dispatched that is staffed only by paramedics. In tiered emergency medical service systems, the closest ambulance is dispatched first so that the patient receives some care until a paramedic ambulance can arrive. Ambulances staffed by basic or advanced EMTs may provide initial transportation and meet a paramedic ambulance en route to the hospital. This method of treatment and transportation ensures that the patient receives both immediate care and advanced care within a matter of minutes.
History
Emergency medical care can trace its roots all the way back to 1500 b.c.e., when local citizens were documented assisting travelers in need of medical attention. These local citizens would receive notification of injured travelers and respond by cleaning and bandaging their wounds, splinting fractures, and assisting them with temporary shelter until their wounds healed. Later, the Roman Empire used chariots and physicians to retrieve injured soldiers and provide care for them. However, French ruler Napoleon is credited with creating the first system of field care to include triage, treatment, and transportation all in one. Moreover, Napoleon's army also had standing protocols so that all physicians, nurses, and field providers offered the same emergency medical care no matter which part of the world they were in. Emergency medical care continued to develop as the United States entered the Civil War and both Union and Confederate armies created field battle aid stations where soldiers and sailors could be transported for emergency care. Other countries, such as the United Kingdom, Belgium, and Germany, continued to develop their own emergency medical services during this time as well. Private and municipal ambulance services begin to operate in major cities throughout the world in 1865 in cities such as Cincinnati, New York, and London.
The first documented introduction of cardiopulmonary resuscitation (CPR) can be traced to 1960. It was during this time that mobile intensive care units were introduced in Belfast, Ireland; Los Angeles, California; and Columbus, Ohio. Soon after, these same cities began to train emergency medical technicians and paramedics to provide care in the field under the direction of physicians. However, major conflicts such as the war in Vietnam led to new methods of providing field triage and care for soldiers that were quickly picked up by fire departments and ambulance services throughout the world.
The U.S. Department of Transportation's National Highway Traffic Safety Administration (DOT NHTSA) became responsible for all emergency medical services (EMS) training and oversight after the passage of the Highway Safety Act of 1966. This act gave the department authority over EMS because the majority of EMS calls received were secondary to motor vehicle collisions (MVCs) along the nation's highways and interstates. The act created a core training curriculum for emergency medical technicians, including response to these MVCs. The curriculum has been updated several times since 1966, with the most recent changes occurring in 1984 and again in the late 1990s. Aside from the National Highway Traffic Safety Administration, the National Association of Emergency Medical Technicians (NAEMT) has been instrumental in encouraging change within emergency medical services. Moreover, the NAEMT sponsors the National Registry of Emergency Medical Technicians (NREMT), which is the highest level of national EMT and paramedic certification available in the United States, Canada, and other developed nations.
Current Efforts
Major scientific advancements have continued to change the face of emergency medical care. These innovations include the use of advanced airway adjuncts, better medications, and highly advanced equipment such as the 12-lead electrocardiogram monitor and the pulse oximeter. In addition, ambulances are now equipped with advanced radio communication systems, computers, and other patient-care equipment. Emergency medical technicians and paramedics are now allowed to use advanced medications and protocols to provide better care for their patients. This includes new drugs to treat heart attacks (myocardial infarctions), drug overdoses, and strokes (cerebral vascular accidents). Paramedics are also allowed to treat patients for pain such as would occur secondary to a motor vehicle accident (MVA). In many states, EMTs and paramedics are allowed to staff hospital emergency departments, clinics, and outpatient surgery centers. Several larger states have recently moved from certification for EMTs and paramedics to licensure. This ensures that pre-hospital care providers receive a higher level of education than was previously required. Another aspect of emergency medical care is the emergency medical dispatcher (EMD). These professionals are trained to receive emergency calls, dispatch help, and provide emergency instructions to the person calling for help.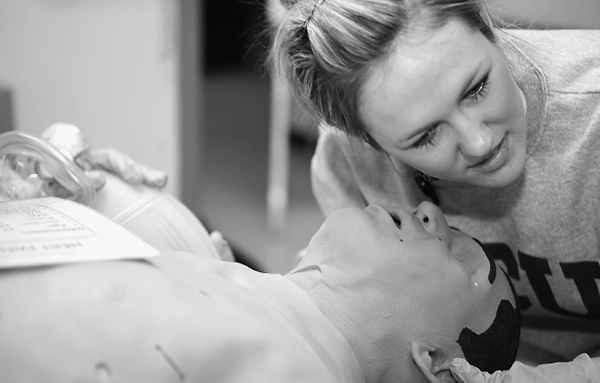 Future Efforts
Changes in emergency medical care include further integration of ambulance- and fire-based EMS into the public health community. These efforts include assisting with identification and modification of illnesses and management of those illnesses along with physicians, nurses, and other allied health professionals. Additional efforts include better integration with public safety agencies such as fire, police, emergency management, and homeland security, especially with regard to communications, research, and prevention. Conversely, public education, clinical care, physician medical direction, and improvement in training systems are being explored for the future. EMS agencies are also researching future improvements in patient care technology by beta testing new Web-based treatment between the ambulance and the physician at the hospital. This technology allows the physician to work with the paramedic to assess the patient via live video camera and then direct patient care before the ambulance arrives at the hospital. Similar systems are currently being explored for paramedics working on offshore drilling rigs and in remote villages.
One major concern for future efforts is the continued lack of funding for emergency medical care. Because many of the agencies providing emergency medical care are either volunteer service, fire-based response, or ambulances, or they are municipal-owned/third-service systems, a further reduction in budgets threatens to reduce these future efforts. Some communities have eliminated municipally owned emergency medical care agencies and instead have contracted with private companies to provide their emergency medical care and ambulance transportation needs. Although this move may save communities money in the short term, it may do little to support future efforts to provide first-class emergency medical care. Because these private emergency medical care companies are fee based, they may face similar budgetary constraints because they are not supported with public tax subsidies; they are paid only if they transport patients. These private companies are in business to make money and, like other businesses, they require payment for services rendered within a few days of the ambulance transport. This is a major concern in smaller communities that require an ambulance for emergencies but receive only a handful of emergency calls per month.
Private emergency medical care companies must find other ways to remain in business, including providing nonemergency transportation to and from long-term care facilities that often offer higher reimbursement for service than emergency medical calls provide. These concerns must be addressed by government agencies, communities, and nongovernmental groups before EMS can advance into the future. This may be difficult to do with private companies unless the company is well positioned to invest additional capital into these future advancements. Fortunately, local, state, and federal grants are often available to assist public and private emergency medical care agencies with updating both equipment and training for future advancements. This is especially the case since the terrorist attacks of 9/11, when so many emergency medical care agencies responded to provide assistance to the sick and injured.
Although many communities contract with private companies, they often remain involved in major operational decisions and medical oversight. Communities will often form emergency medical care committees and may involve local physicians, the fire chief, the mayor, or other community leaders. These committees ensure that the best emergency medical care remains available no matter if it is a public or private organization providing this care. Private companies are also providing fire service in many communities. These companies are often responsible for medical first response and may be dispatched to medical calls along with an ambulance. Because fire departments are often geographically located throughout communities, they are typically much closer to calls for help. A fire apparatus with personnel trained in emergency medical care will respond and provide care until an ambulance arrives. These crews are often staffed with emergency medical technicians, advanced emergency medical technicians, and paramedics. In some communities, all of the emergency medical care is provided by the local fire department, including all ambulance transportation.
See Also
Crisis, Definition of
Crisis Communication
Documentation
Emergency, Definition of
Emergency Responders
Evacuation
Exercises
Health and Medical Response Scenarios
Mutual Aid and Assistance
Preparedness
Response
Search and Rescue
Training
Uncertainty
Further Readings
First Responder: Emergency Medical Care

.

8

th ed. Upper Saddle River, NJ:

Prentice Hall

, 2011.
; ; ; .

Paramedic Care: Principles & Practice

. Vol.

2

,

4

th ed. Upper Saddle River, NJ:

Prentice Hall

, 2012.
; ; .

Emergency Care of the Sick and Injured

.

11

th ed. Upper Saddle River, NJ:

Prentice Hall

, 2011.
; ; ; ; ; .
U.S. Department of Transportation.

Emergency Medical Technician-Basic: National Standard Curriculum

. Washington, DC:

U.S. Government Printing Office

, 2006.
Related Articles
---
Encyclopedia of Crisis Management
The first organized efforts to perform emergency medicine were undertaken during the French Revolution, thanks to the contributions of a French surge
Encyclopedia of Trauma
Emergency service workers, such as police officers, firefighters, and ambulance workers, are regularly exposed to trauma as part of their job. They
Encyclopedia of Human Services & Diversity
Emergency medical care within the United States and most Western societies is a medical specialty that provides treatment for individuals who suffer
See more from Credo