Topic Page: Eiffel Tower (Paris, France)
---
Definition:
Eiffel Tower
from
The Columbia Encyclopedia
structure designed by A. G. Eiffel and erected in the Champ-de-Mars for the Paris exposition of 1889. The tower is 984 ft (300 m) high and consists of an iron framework supported on four masonry piers, from which rise four columns uniting to form one shaft. Three platforms at different heights (the intermediate platform just above the junction of the columns is 644 ft/196 m high) are reached by stairs and elevators. On the top of the tower are a meteorological station, a wireless station, and a television transmission antenna.
---

Summary Article: Eiffel Tower
From Eye Witness Travel Guide: Paris
Originally built to impress visitors to the 1889 Universal Exhibition, the Eiffel Tower (Tour Eiffel) was meant to be a temporary addition to the Paris skyline. Designed by the engineer Gustave Eiffel, it was fiercely decried by 19th-century aesthetes. The author Guy de Maupassant lunched there to avoid seeing it. The world's tallest building until 1931, when New York's Empire State Building was completed, the tower is now the symbol of Paris. Freshly painted every 7 years, with a light show that plays every night on the hour, the Tour Eiffel has never looked better.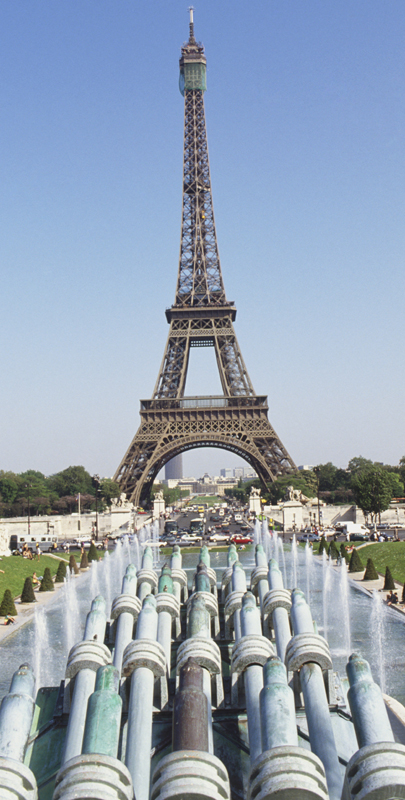 Visitors' checklist
Champ de Mars.

Tel

08 92 70 12 39

Metro station

Bir Hakeim.

Bus route

42, 69, 72, 82, 87 to Champ de Mars.

Regional railway station

Champ de Mars.

Batobus boarding point

Tour Eiffel.

Parking

on site.

Open

Sep–mid-Jun: 9.30am–11.45pm daily (6.30pm for stairs); mid-Jun–Aug: 9am–0.45am (last adm 45 mins before, last lift to top 1 hr 15 mins before).

Admission charge

Photography

Wheelchair access

limited.

Restaurant

Shop

Films.
Related Articles
---
Key Buildings from Prehistory to the Present
The Eiffel Tower was the tallest building in the world when it was constructed in Paris for the Universal Exposition of 1889. Although it was origin
Bridgeman Images: Stapleton Collection
Artist: French Photographer, (19th century) Location: Private Collection Credit: Pavillion of Monaco, with base of the Eiffel Tower in the backgroun
Bridgeman Images: Stapleton Collection
Artist: French Photographer, (19th century) Location: Private Collection Credit: The Gas Pavilion seen through the base of the Eiffel Tower, Paris E
See more from Credo