Topic Page: Earhart, Amelia (1897 - 1937)
Summary Article: Earhart, Amelia Mary (1897–1937)
from The Great Depression and the New Deal: A Thematic Encyclopedia
A pioneering aviator, Amelia Earhart became a symbol of both women's growing independence and the rising prominence and importance of the airplane in American life.
Born in Atchison, Kansas on July 24, 1897, Amelia Mary Earhart was an independent child and something of a daredevil, even from an early age. Her parents, Edwin Earhart (a lawyer) and Amy Otis Earhart, struggled financially for the first years of Earhart's life, relying greatly on Earhart's maternal grandparents for support. Contributing to these financial problems was Edwin's alcoholism, resulting in a divorce for the couple in 1924. Earhart and her younger sister spent a great deal of their childhoods with their maternal grandparents, who were strict, conservative people and attempted to restrain Earhart's tomboyish ways. Her parents' financial problems compelled Earhart to begin working at young age and encouraged her desire for independence. During World War I, she worked as a Red Cross nurse in Toronto, Canada. After the war ended, Earhart moved to New York, where she attended Columbia University, earning a degree in nursing.
Sometime before 1921, Earhart flew as a passenger in an airplane for the first time, probably at a local air show. In January 1921, she met Neta Snook, a woman pilot, and began taking flying lessons from her. In 1922, Earhart bought her first plane, a yellow Kinner Canary biplane, and quickly set about breaking her first record. She was the first woman to fly higher than 14,000 feet. Although Earhart continued to work as a nurse, she was fascinated by flying. After Charles Lindbergh completed the first solo flight across the Atlantic on May 20–21, 1927, she became even more dedicated to aviation. In 1928, Captain H. H. Railey asked her to join a publicity flight across the Atlantic, making her the first woman to make the flight, although she would only be a passenger. She accepted, and the flight on June 17–18, 1928, propelled her to stardom. Although her duties during the flight were limited to keeping the flight log, in the public's mind, she had become the female version of Lindbergh and the most famous woman aviator in the world.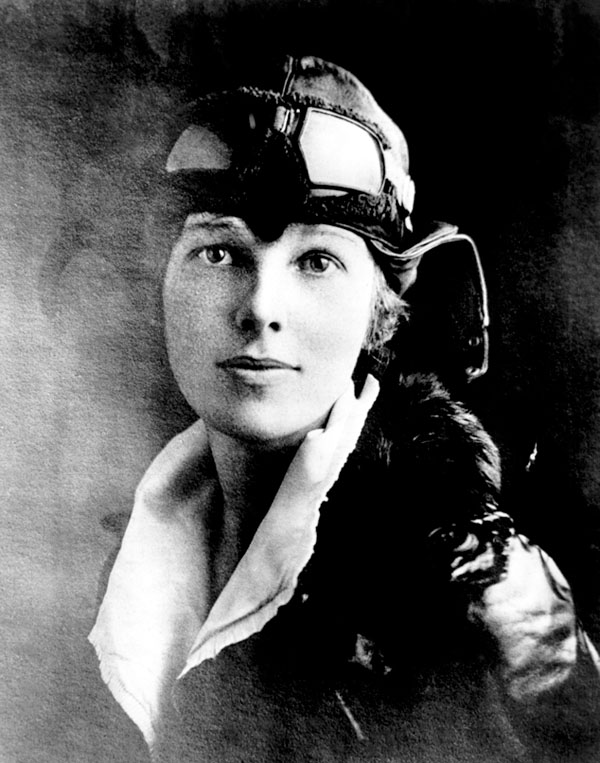 After her Atlantic flight, Earhart devoted herself full time to aviation, leaving her nursing position. She served as the aviation editor for Cosmopolitan magazine and published a book about her transatlantic flight, 20 Hrs., 40 Min., in 1928. She also found work as a consultant and promoter for several early airline companies. With her publisher husband, George P. Putnam (whom she had married in 1931), Earhart embarked on a series of promotional flights, most notably the Women's Air Derby in 1929 (a race from Santa Monica, California to Cleveland, Ohio). She continued to break records, setting a women's speed record of 181 miles per hour in 1929 and an altitude record of 18,451 feet in 1931. She also served as a founder and president of the Ninety-Nines, a club for woman pilots. In 1932, exactly five years after Lindbergh's historic flight, Earhart became the first woman to fly solo across the Atlantic. In her single-engine Lockheed Vega, she flew from Newfoundland to Ireland in the record-breaking time of 14 hours and 56 minutes. This adventure brought her more fame and honors. Later that same year, she published another book about flying, The Fun of It. In 1935, Earhart set her sights on even greater glory. She became the first person to complete solo flights from Hawaii to California (which covered more distance than her Atlantic flight had) and from Los Angeles to Mexico City and to make nonstop flights between Mexico City and Newark, New Jersey. For her pioneering aviation efforts, she received the Distinguished Flying Cross at a joint session of Congress and met President Franklin D. Roosevelt at the White House. She also began serving as a career counselor for women students at Purdue University.
In 1937, Earhart concentrated all of her energy on completing a round-the-world flight. In 1924, a group of army pilots had completed a series of such flights, but they had taken a circuitous route that had allowed them to remain close to land. Earhart planned to follow the much more dangerous equatorial route, which would cover more than 29,000 miles. She hoped to discover the effects of distance flying on humans, particularly looking at levels of fatigue and the impact of diet. She recognized that such a trip would be impossible to complete alone, so hired a navigator, Fred Noonan, to accompany her. Public interest in the trip was tremendous, with Earhart's husband Putnam handling all of the publicity and fund-raising. With financial help from Purdue University, Earhart had a twin-engine Lockheed Electra plane specially built for the trip. The Electra was considered extremely advanced for its time. Earhart and Noonan set out from Oakland, California on March 17, heading west for Hawaii, but after completing this first leg of the trip, the plane crashed upon takeoff from Hawaii. The passengers were uninjured, but the plane required extensive repairs, forcing Earhart to postpone the entire trip. On June 1, Earhart and Noonan set out again, this time traveling east from Oakland to Miami, Florida. By June 30, they reached New Guinea, having nearly completed their journey and traveling over the Caribbean, South America, Africa, India, the Dutch East Indies, and Australia (a trip covering 22,000 miles). This next leg of the trip was the most dangerous and would require expert navigation and flying. From New Guinea, the flight was scheduled to go to Howland Island, a tiny island near the equator that was not much more than an airstrip. The trip from New Guinea was more than 2,500 miles over the Pacific Ocean, with no landmarks to guide them. Earhart and Noonan left New Guinea in mid-morning on July 1 and disappeared, never reaching Howland Island. The last radio contact made with Earhart was at 8:44 a.m. on July 2. Earhart stated that overcast weather conditions and strong winds had contributed to them missing Howland Island and they were running out of fuel. The U.S. Navy made an extensive search for Earhart and the plane that ultimately covered more than 25,000 miles in the Pacific, but no trace of the plane or its crew was ever found. Since her disappearance, theories as to her fate have abounded, including speculation that she had secretly been flying a surveillance mission for the U.S. government and was then captured by the Japanese. Most experts agree, however, that the most likely theory is that her plane crashed into the Pacific after running out of fuel, killing both her and Noonan.
References and Further Reading
The Roaring 20: The First Cross-Country Air Race for Women.

National Geographic

Washington, DC

.
. 2006
East to the Dawn: The Life of Amelia Earhart.

Addison-Wesley

Reading, MA

.
. 1997
Amelia Earhart: Flying Solo.

Sterling

New York

.
. 2007
Amelia Earhart: legendary aviator.

Minneapolis, MN.: Compass Point Books.
. 2007
American Women of Flight: Pilots and Pioneers.

Enslow Publishers

Berkeley Heights, NJ

.
2003
Unsolved: What Really Happened to Amelia Earhart?

Enslow

Berkeley Heights, NJ

.
. 2006