Topic Page: E-commerce
---
Definition: e–commerce from Merriam-Webster's Collegiate(R) Dictionary
---

Summary Article: E-Commerce
From Encyclopedia of New Venture Management
E-commerce is the buying and selling of products through electronic services, especially over the Internet. Originally, "electronic commerce" was used to refer simply to the electronic facilitation of funds transfer, such as through an electronic funds transfer, which was introduced in the 1970s. Various methods and protocols at the time allowed businesses to send invoices, purchase orders, and similar documentation electronically. Dedicated electronic systems were soon introduced for airline and hotel reservations, car financing (systems used at dealerships), and business-to-business shopping and ordering.
The increased popularity of credit cards in the 1980s and the increased availability of the Internet in the 1990s—especially following the introduction of Web browsers—led to e-commerce as we know it today, which nearly always refers to shopping and purchasing conducted through the Internet. Pizza Hut offered online ordering of pizza through its Website as early as 1994, the same year Netscape released its first Web browser. That same year, SSL encryption was introduced to make transactions secure.
Secure transactions are key to e-commerce and continue to be of concern. Although most theft of credit card numbers still occurs in person, even in the 21st century—either through physical theft of the credit card or when the numbers are collected by an unscrupulous employee—there is genuine cause for concern over the transmission of credit card numbers, banking information, and other pertinent information over the Internet, particularly as wireless Internet usage in public places becomes more common and the average consumer may not know how to safeguard against information theft on his own initiative. The benefit of cash has always been that it is anonymous; no one can use cash to identify the payer and use that person's credit by assuming that person's identity. The opposite is true for those who pay using critical private information, which occurs when one writes a check, transfers funds electronically, or uses a credit card.
SSL encryption stands for secure sockets layer, and it and its successor, transport layer security (TLS), are used to encrypt information as it passes through the Internet—not only in Web browsing but also in e-mail, instant messaging, and voice-over intellectual property (IP). As in other cryptographic protocols, a handshake procedure between the client software and the server establishes the server's credentials through a digital certificate containing its name, the trusted certificate authority issuing the certificate, and the server's public encryption key; the credentials are validated with the certificate authority, and a random number is generated in order to produce session keys used for the encrypted session. This encryption helps protect against eavesdropping while ensuring that the encrypted information is going to the server it is actually supposed to go to. Users have proven to be remarkably lax in their personal online security—even those who are well informed about risks often make mistakes such as using the same password on all sites, using impractical passwords, maintaining public social networking profiles that reveal password hint answers, opening e-mail attachments from unknown senders, and failing to use firewalls and to secure their wireless routers. The burden of ensuring a minimum level of security has fallen to the software; without it, privacy breaches would be more common, and the public faith in e-commerce would diminish.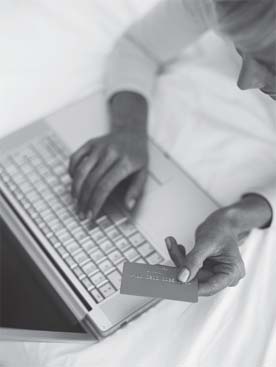 http://Amazon.com launched in 1995, as did eBay and a flurry of online stores. Many failed in the dot-com bust around 1999-2001, but Amazon and eBay have together transformed the world of commerce. By 1998, it was even possible to buy stamps online, which could be downloaded and printed out, and in 2010, online retail sales in the United States totaled about $173 billion.
Amazon
Amazon launched as an online bookstore, but today virtually anything can be purchased there, either through Amazon itself or through one of the Amazon Marketplace vendors, which range from full-fledged businesses (even vendors with their own online stores, such as igourmet.com>, which maintains Amazon Marketplace accounts so that its offerings will turn up in Amazon searches). Amazon's own offerings include books, music, movies, software, video games and consoles, consumer electronics, kitchen and household appliances, toys, tools, gourmet food, jewelry and watches, health and personal care items, clothes, scientific supplies, and groceries. Still, the store has not abandoned its roots: Its Kindle, an electronic book reader, was the best-selling Christmas gift of 2010.
Selection has always been Amazon's strength. Amazon can offer many more books than a brick-and-mortar bookstore can, and finding a specific book does not require hunting through aisles or depend on the correct categorization and shelving of books. Whereas many companies died quickly when the dot-com bubble burst, Amazon's business plan did not anticipate turning a profit for its first four or five years (in fact, it took seven years from its incorporation and six years from the opening of its virtual doors to the public). Whereas shareholders complained about this slow growth after Amazon went public and initial profits were extremely modest, when they finally did appear, they proved substantial, and the company has lasted more than a decade longer than its dot-com littermates. It has also been persistent in acquiring other dot-com companies, including music retailer CD Now, the Internet Movie Database, the Mobipocket e-book software company, the print-on-demand BookSurge company, audiobook vendor Audible.com, AbeBooks, the online shoe store Zappos, and cult online vendor Woot.com.
Through its partnerships, Amazon operates the retail Websites for Target, Timex, Marks and Spencer, Lacoste, and Sears Canada, and the company has a growing number of enterprise clients for which it provides a multichannel platform. Profits have continued to grow, and Amazon's stock entered the S&P 100 index in 2008. In 2010, its market capitalization was higher than Barnes and Noble, Best Buy, Target, Costco, and Home Depot. It operates warehouses and fulfillment centers throughout the United States, as well as in Canada, the United Kingdom, France, Germany, China, and Japan.
One of Amazon's innovations has been Amazon Prime, an extension of the typical customer loyalty program. For an annual fee—$79 a year in 2011—customers get free two-day shipping for any eligible product (which includes nearly every product sold by Amazon itself, but not its partners or Amazon Marketplace) and overnight shipping for $3.99 per item. Although this program offers a significant savings in shipping, Amazon already offers free "super saver" shipping for orders over $25, so what Amazon Prime helps encourage is impulse shopping. Preordered items like books, DVDs, and CDs can be shipped before their street dates in order to arrive on the day of release. Customers can take advantage of sales to order cheap books, movies, and albums without searching for other items to bring their orders up to $25, and receive their items quickly—and will most likely order more items overall as a result of the added convenience they have paid for. A late 2010 Wall Street Journal article reported that Amazon had a plan to add free streaming movies to the Amazon Prime membership, putting it in competition with Netflix's streaming-only membership plan. Amazon's plans also included an expansion of its grocery section, originally limited to shelf-stable items (often by the case), to include grocery delivery of fresh, frozen, and perishable items within specific metropolitan areas.
One of the reasons for Amazon's popularity is the increasing perception by customers that anything available for purchase may be purchased there; it has long since graduated from its identity as a bookstore. In reality, it is much like a mall or enormous department store, allowing customers to buy from a vast array of different businesses with a single checkout transaction regardless of the number of businesses products are purchased from. It accomplishes this not only through its partnerships with specific vendors—including a large number of online stores—but also through Amazon Marketplace and third-party sellers. Amazon collects a fee but operates all of the e-commerce infrastructure and transactions. In addition, third-party sellers benefit from being listed in such a well-trod shopping space. Small businesses can easily jump onto the e-commerce bandwagon by creating a relationship with Amazon.
PayPal
The e-commerce site PayPal originated with the merger between Confinity, a Palm Pilot payment and cryptography company, and X.com, an Internet financial services company. PayPal enabled online payments through bank account transfers or credit card payments from registered users, which allowed anyone to pay anyone else on the Internet without needing to have a merchant account to process credit cards and without needing to worry about sending cash through the mail or having a check bounce. PayPal thus had a number of uses—musicians running their own Web pages could sell CDs and merchandise using it, personal debts could be repaid with it, start-up Internet businesses could use it, and so on—that enabled it to be much more successful than the eBay-only Billpoint, its most prominent competitor. In 2002, eBay acquired PayPal for $1.5 billion. Originally, eBay auctions could be paid for through a variety of means. Since its acquisition of PayPal, eBay has required that PayPal be offered as a payment option on all of its listings in the United States, and PayPal has become the standard method.
PayPal can be exceptionally useful for small ventures selling their products or services online, because customers need not give their financial information to the vendor, which may make them more confident in transacting business online. Merchant accounts, which are necessary if more than $500 is to be transferred out of the PayPal account in a given month (whether by check payment to the venture or by bank transfer), cost an additional fee but are generally cheaper than the cost of processing credit cards and reduce the business's risk exposure.
Woot
A specialized Internet retailer that is a perfect role model for a small e-commerce business, Dallas-based Woot opened in 2004 and has attracted a devoted cult following. Woot's model is simple: With special exceptions, every day from midnight until midnight the site sells one item. The item is offered at what is often a significant discount, and if it sells out, nothing else is sold until the following day. Often the items being sold are computer or electronics items, and the sales model means that defective items cannot be returned (a refund is given instead) and that customer service cannot be provided for any products. Shipping costs a flat $5.00.
The aforementioned special exception is a Woot-Off, in which every time a product sells out, it is replaced within minutes by a new product, which continues for one to four days. Woot-Offs are never announced ahead of time, and Woot never announces which product it will be selling in the future, so the community that follows Woot refreshes the site often (or uses software to monitor it), waiting for the next deal, often even purchasing the current deal simply to advance the Woot-Off to the next item. Most Woot-Offs at some point include among their items the "bag of crap" (BOC), an assortment of undisclosed items for a small flat fee. Often the BOC items are of little to no value and include novelty items and accessories such as key-chain fobs, but on rare occasions a BOC includes a disproportionately expensive item such as a laptop computer or a high-definition television. For this reason, when a bag of crap goes up for sale, it sells out so quickly that the site inevitably becomes overloaded—and for that reason, in turn, buying a bag of crap (even if it contains nothing worthwhile) has become a necessary rite for all true members of the Woot community.
Woot's niche is undoubtedly not yet fully filled; there is ample room for similar businesses, particularly catering to specific types of customers.
Retail Services
A number of retail services are offered through e-commerce companies. Pizza Hut enabled online ordering early on; many other restaurants now do the same, and in large cities an intermediary third party may offer a site that takes orders for food delivery and passes them on to the restaurant, which relieves restaurants from having to operate their own Websites. This allows for more participation by mom-and-pop restaurants that lack the infrastructure and labor resources to maintain an online presence.
In addition to food ordering—including grocery orders in large cities—there are many online flower delivery businesses, online travel agencies, online ticket vendors for sports and other events, and video rental outlets such as Blockbuster and Netflix. Netflix, an online DVD rental service, has been so successful that it has threatened the viability of brick-and-mortar DVD rental outlets.
Advantages
The advantages of e-commerce are, for some businesses, that the physical site is no longer important. Depending on the nature of the business, it may be operated in an office park, in a garage, or in the homes of a telecommuter while the inventory sits in a rented warehouse. For other businesses, e-commerce offers the chance to expand the business (particularly if online ordering and shipping are available) far beyond the local customer base or better serve customers (as with online delivery of local goods).
Overhead costs can be significantly lowered when a physical storefront is not necessary, and fewer on-site employees are needed. Furthermore, e-commerce is ideal for niche businesses that cannot expect to drum up enough business locally or that are part-time endeavors for the owner.
See also
Advertising, Agility and Rapid Response, Distribution, Entrepreneurs in Technology, Initial Public Offering
Further Readings
"Building Entrepreneurial E-Commerce Competitive Advantage: A Blending of Theory and Practice."

Advances in Competitiveness Research.
;
Tribes.

New York:

Portfolio

, 2008.
"Leveraging the E in Entrepreneurship: Test of an Integrative Model of E-Commerce New Venture Growth."

International Journal of Technology Management.
;
"E-Commerce New Venture Performance: How Funding Impacts Culture."

Internet Research.
Small Business Management.

Stamford, CT:

South-Western College

, 2008.
; ; and
"E-Commerce and Agricultural Commodity Markets: E-Commerce and Entrepreneurship in Agricultural Markets."

American Journal of Agricultural Economics.
"An E-Commerce Process Model: Perspectives From E-Commerce Entrepreneurs."

Journal of Electronic Commerce in Organizations.
; ;
"E-Business: An Outsourcing Solution for Small Businesses."

International Journal of Management and Enterprise Development.
;