Topic Page: Doré, Gustave (1832 - 1883)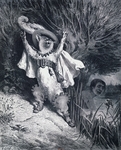 Summary Article: Doré, Gustave (1832 - 1883)
From The Bloomsbury Guide to Art
He was born in Strasbourg but travelled to Paris in 1847 where he established a reputation as a lithographer and illustrator on the Journal pour Rire (1848-51). He also exhibited drawings at the Salon. His first important book illustrations were for Balzac's Contes Drolatiques (1848). He also established a new large format of illustration, which became extremely popular (e.g. Wandering Jew, 1856). He visited London in 1869, making a series of drawings of the capital which were engraved and published with Douglas Jerrold as London, A Pilgrimage (1872), and influenced later artists like van Gogh (e.g. Doré's Newgate Exercise Yard, 1872). He is best known for his illustrative wood engravings particularly of fantastic and grotesque subjects with seething masses of people and a Baroque sense of drama (e.g. Dante's Inferno, 1861; Don Quixote, 1862). He was prolific, employing over 40 woodcutters and often producing his work rapidly. During the 1870s he also turned to painting and sculpture (e.g. Dumas Monument, Paris, 1883) but much of it was over-ambitious and pretentious.
Bibliography
Richardson, J., Gustave Doré: A Biography, London, 1980; Gustave Doré, exh. cat., Strasbourg, 1983
Related Articles
---
The Thames & Hudson Dictionary of Art and Artists
French graphic artist, painter and sculptor. He visited London for a period, and for a time there was a Doré Gallery there...
See more from Credo