Topic Page: Dillinger, John, 1903-1934
---
Definition:
Dillinger, John
from
Chambers Biographical Dictionary
1903-34
US gangster
Born in Indianapolis, Indiana, he was convicted of attempted robbery in 1923 and imprisoned for ten years. On his parole in 1933 he and his gang began a series of violent bank robberies, terrorizing his native state of Indiana and neighbouring states. Designated "public enemy number one" by the FBI, he was held responsible for 16 killings. After escaping from Crown Point county jail, where he was being held on a murder charge, he was betrayed by his girfriend's landlady and shot dead by FBI agents while leaving a theatre in Chicago.
---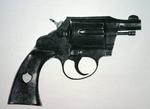 Summary Article: Dillinger, John
From The Social History of Crime and Punishment in America
American outlaw John Dillinger (1903–34) was a controversial bank robber and desperado during the 1930s Depression. His uncanny ability to escape the clutches of the law—while apparently demonstrating coolness under fire, ingenuity, defiance, and an unfailing sense of humor—won him many admirers, especially among those who had become economic victims of untrustworthy banks. On the other hand, most law enforcement officials regarded Dillinger as a bloodthirsty criminal with no redeeming qualities. Dillinger's sudden death and alleged betrayal by a mysterious woman have only enhanced his legendary mystique.
Dillinger was born June 22, 1903, in Indianapolis, Indiana, into a respectable, but not wealthy, family. His father worked as a grocer and his mother died when he was 3. Dillinger dropped out of school after the eighth grade and held a series of unskilled jobs before enlisting in the navy at the age of 20. However, military discipline did not suit Dillinger well; after several instances of desertion and disobeying orders, he was dishonorably discharged and returned home to Indiana. There, he married a local farm girl, Beryl Hovious, in 1924 but also befriended Edward Singleton, an older man with a criminal record. Dillinger and Singleton were arrested for forcibly robbing a grocery store. Pleading guilty to the crime, Dillinger received a harsh 10–20-year sentence and served nearly nine years in Indiana state prison before he was paroled in 1933.
If Dillinger was not a hardened criminal before entering prison, he emerged as one afterward by most accounts. His wife had divorced him in 1929, and an ex-convict was unlikely to find steady employment in the midst of the Great Depression. Like other 1930s outlaws already at large—such as Clyde Barrow, Bonnie Parker, Charles "Pretty Boy" Floyd, and the Barker gang—Dillinger and his criminal accomplices embarked on a series of bank robberies throughout the Midwest, frequently moving from one heist to another in stolen cars, and often seizing weapons and ammunition from police stations.
Although Dillinger's crime rampage in 1933–34 lasted only 14 months, it captured the imagination of an economically depressed populace. Many of Dillinger's criminal exploits seemed almost too bold and daring to be true. For instance, after he was captured in Arizona and transferred to prison in Indiana, he somehow escaped five weeks later, perhaps by using a fake gun. In the following month, while vacationing in a northern Wisconsin tourist lodge, Dillinger and his gang escaped unharmed despite being surprised by more than a dozen agents of the Federal Bureau of Investigation (FBI). Two months later, when Attorney General Homer Cummings announced a $10,000 reward for Dillinger's capture, many newspapers labeled him "Public Enemy Number One." The national hunt for Dillinger ended on July 22, 1934, when he was shot and killed by FBI agents as he was leaving a Chicago movie theater in the company of a woman who supposedly had betrayed him to federal authorities.
Nevertheless, Dillinger's demise at age 31—like the untimely death of several other youthful folk heroes—has seemed to confirm his reputation as a cunning and charming Robin Hood-like rogue who stole from rich banks but not from poor people. Stories continued to circulate of how Dillinger had written a letter to Henry Ford, thanking the automaker for producing such fast getaway vehicles, or how he had brazenly returned to his family's farm in Indiana to enjoy a Sunday dinner of fried chicken even while being hunted by the FBI.
In subsequent years, several forms of popular culture have further enhanced Dillinger's reputation. Ballads and popular songs have praised the outlaw's courage and cleverness. Lawrence Tierney, Nick Adams, Warren Oates, Robert Conrad, Martin Sheen, and Johnny Depp have all portrayed Dillinger sympathetically in Hollywood feature films. A street gang in Washington, D.C., called itself the Young Dillingers. A mathrock band from New Jersey became known as the Dillinger Escape Plan. Delmar Arnaud, a singer of West Coast Gangsta Rap, adopted Daz Dillinger as his stage name.
Finally, several long-standing legends claim that Dillinger had the last laugh on his pursuers by planning for another man, closely resembling the fugitive, to be killed in his place in Chicago by the FBI. According to this theory, the real Dillinger escaped to Hollywood, California, and did not disclose his fake death until he wrote a letter to an Indianapolis newspaper 25 years later.
See Also: Bonnie and Clyde; Cummings, Homer; Federal Bureau of Investigation; Floyd, Charles Arthur; Great Depression; Hoover, J. Edgar; Nelson, "Baby Face."
Related Articles
---
DK Eyewitness Books: Crime and Detection
In 1933, at the age of 31, John Dillinger had already spent nine years in prison for theft. On his release, he formed a gang and became a
Bridgeman Images: Peter Newark American Pictures
Artist: American School, (20th century) Location: Private Collection Credit: The revolver carried by Melvin Purvis when he shot dead John Dillinger
DK Eyewitness Books: Crime and Detection
Police officers ambush and kill Bonnie Parker (b. 1910) and Clyde Barrow (b. 1909), an infamous pair of U.S. bank robbers.
See more from Credo