Topic Page: Dietary Supplements
---
Definition:
dietary supplement
from
Webster's New World Medical Dictionary
A substance that can be added to the diet, usually in pill, liquid, or powder form, ostensibly to promote health. Dietary supplements range from natural weight-gain concoctions used by body-builders, to joint pain relievers, vitamins, herbs, minerals, and salts that claim health benefits. Many dietary supplements are harmless when taken as directed, and the health benefits of some have been substantiated. Dietary supplements can interact with prescription medications, and some are not suitable for people with certain medical conditions.
---
Summary Article: Dietary Supplements
From The Gale Encyclopedia of Senior Health
Definition
Dietary supplements are products designed to ensure that a person gets adequate amounts of essential nutrients or to help promote optimal health and performance, especially for a person who does not consume a variety of foods. Dietary supplements are not intended to be used to treat, mitigate, prevent, or cure disease. Dietary supplements include not only vitamins and minerals but also such substances as herbals, botanicals, amino acids, enzymes, and animal extracts. Dietary supplements can come in pill, capsule, powder, siftgel, gelcap, tablet, or liquid forms. Dietary supplements can be purchased without a prescription through retail outlets, including grocery stores and drugstores, general merchandise retailers, and natural food and specialty health and nutrition stores. Many dietary supplements can also be purchased online through the Internet. Supplements must have a "supplement facts" label on the product to differentiate supplements from food products or over-the-counter (OTC) drugs.
Description
Nutritional needs of persons change after the age of 50. These needs should be met by making informed food choices and eating a wide variety of foods, but in some cases, supplements and fortified foods may be needed to obtain appropriate amounts of nutrients. Older adults may not eat three meals a day or may have a restricted diet (for example, not eating meat, milk or milk product or sufficient fruits and vegetables), resulting in malnutrition. It may be a benefit to use vitamin, mineral, or other dietary supplements to ward off side effects of poor nutrition. The selection of appropriate supplements should be made in cooperation with a healthcare provider or registered dietitian. Dietary supplements should never be taken in doses higher than recommended.
Manufacturers of dietary supplements are allowed to make claims concerning the health, nutritional content, and structure/function of the supplements according to the following limitations:
health claims that describe a relationship between a dietary supplement ingredient and reducing risk of a disease or health-related condition

nutrient content claims referring to the percentage of Daily Value (DV) of the nutrient that the supplement provides

a structure/function claim describing how a product may affect the organs or systems of the body but without mention of a specific disease
Vitamin supplements provide extra micronutrients needed by the body for growth, digestion, and nerve function; for metabolism of carbohydrates, fats, and proteins to provide energy; and for cellular repair. Vitamins are recommended for persons who may not be getting sufficient amounts from their diet. Examples of supplements that may be recommended by the U.S.government for persons over the age of 50 include vitamin B in its crystalline form (as found in fortified breakfast cereals or in supplements) and vitamin D from vitamin D–fortified foods and/or supplements (as older adults may not get sufficient exposure to sunlight). Other common vitamin supplements include vitamin A, vitamin C, and vitamin E.
Mineral supplements provide micronutrients that are found in bones and teeth. Minerals aid in creating new cells and enzymes, distributing fluids, controlling nerve impulses, and carrying oxygen to cells and carbon dioxide from cells. Examples of mineral supplements include calcium, copper, iron, magnesium, selenium, and zinc. Senior citizens may need extra calcium as they age, to maintain strong bones and reduce bone loss.
Herbs, also referred to as botanicals, have been used for centuries as healing therapies. The World Health Organization has estimated that 80% of the world's population still uses herbs as medical therapies. Herbal supplements are usually considered to have medicinal value. Herbal supplements are manufactured as extracts of fresh or dried products, tablets, capsules, powders, teas, roots, or leaves. They consist of a group of chemicals or a single chemical isolated from a plant and are used to maintain or improve health in a specific part or organ of the body. The best supplements will contain standardized extracts, ensuring consistency from batch to batch. The use of single herb supplements rather than a combination of herbs will allow a person to evaluate better whether a particular herb is effective. Examples of herbal supplements include black cohosh, suggested for malaise, gynecological conditions, kidney disorders, rheumatism, and hives; echinacea, suggested for upper respiratory conditions; ginger, suggested for nausea, arthritis, osteoarthritis, and joint and muscle pain; and saw palmetto, suggested for bladder and kidney functioning. Before using herbal supplements, especially if a person is taking other medications, the patient's physician should be consulted.
A consumer of dietary supplements should attempt to learn as much about supplements as possible. Answers to the following questions may help to evaluate the quality of a specific supplement:
Is it an established brand?

What is the specific herbal information, including Latin name?

What type of fillers are used?

Is there customer service information available, including toll-free phone number and/or website?

What are the recommendations for use? How much and how often?

What is the amount per serving and percent Daily Value (if established) of the supplement?

Are there additives (especially allergens) present in the formulation?

Are there any warnings for use?

What is the lot number?

What is the expiration date?

What are the storage instructions?
There are several independent organizations that offer seals of approval that may be displayed on certain dietary supplement products. These seals indicate that the supplement has passed the organization's quality tests for potency and the presence of contaminants, providing assurance that the product was properly manufactured, that it contains the ingredients listed on the label, and that it does not contain harmful levels of contaminants. However, the approval does not mean that the product is safe or effective. Examples of organizations that test dietary supplements are ConsumerLab.com and U.S. Pharmacopeia.
The U.S. National Institutes of Health (NIH) have developed a series of vitamin and mineral fact sheets that provide scientifically sound and reliable information about dietary supplements. These fact sheets are available online. Information on dietary supplements is also available from MedlinePlus, a service of the U.S. National Library of Medicine and NIH. The Office of Dietary Supplements at the NIH has two databases available that provide information concerning research projects pertaining to dietary supplements: the CARDS Database (Computer Access to Research on Dietary Supplements) and the IBIDS Database (International Bibliographic Information on Dietary Supplements). Both databases can be accessed from the Office of Dietary Supplements website. The National Center for Complementary and Integrative Health provides information on supplements at their website.
The U.S. National Library of Medicine maintains the Dietary Supplements Labels Database with information concerning ingredients in more than 2,000 brands of dietary supplements. Information is also provided on the health benefits claimed by the manufacturers. Information on warnings and recalls from the U.S. Food and Drug Administration (FDA) related to specific ingredients and supplement brands are also available.
Recommended dosage
Combined intake from supplements as well as from fortified foods such as certain cereals and drinks could result in health problems by exceeding safe levels of the active ingredients. A person who chooses to use dietary supplements should become informed on safe dosages.
Precautions
Scientific evidence to support the benefits of some dietary supplements (especially vitamins and minerals) is well established for certain health conditions, while benefits for other types of supplements need further study. The use of supplements in the United States is regulated by the FDA. The FDA does not analyze the contents of dietary supplements, but supplement manufacturers must meet the requirements of the the
U.S. FDA Good Manufacturing Practices (GMP) for food, which specifies conditions under which products must be prepared, packed, and stored. Unlike for drug approvals, research studies using human subjects are not necessary before a supplement is marketed. It is the responsibility of the manufacturers and distributors to ensure that their products are safe and that their label claims are accurate and truthful. If the FDA finds a supplement to be unsafe once it is on the market, then the FDA can take action against the manufacturer and/or distributor by issuing a warning or requiring that the product be removed from the marketplace.
Also, unlike for drugs, the manufacturer does not have to prove that the supplement is effective. The manufacturer may say that a product addresses a nutrient deficiency, supports health, or reduces the risk of developing a health problem. However, if the manufacturer does make a claim, it must also include the following statement: "This statement has not been evaluated by the Food and Drug Administration. This product is not intended to diagnose, treat, cure, or prevent any disease."
Consumers should be careful in believing that even if a supplement does not help, it will not be harmful. Many ingredients in dietary supplements can be very strong-acting chemicals and may be harmful when consumed over long periods of time or in conjunction with other supplements or medications. Some supplements are known to be toxic, such as chapparal (linked to liver damage) and yohimbe (a sexual stimulant linked to heart and respiratory problems). The words natural or herbal do not necessarily mean that a supplement is safe. Many dietary supplements can be expensive, so it is important to consult with a physician, nurse, dietitian, pharmacist, or healthcare giver before purchasing supplements, especially when combining them with other supplements or medicines.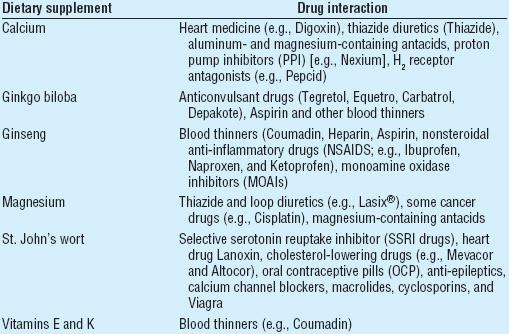 Consumers of dietary supplements should also be careful in evaluating claims of health benefits (that is, buyer beware). Accurate health advice is based on longterm research and not on a single study or anecdotal evidence. If something sounds too good to be true, it probably is. Examples of exaggerated statements include those that claim that the supplement is a cure-all, quick fix, or miraculous product or that it can treat diseases; those that claim the product is totally safe or definitely has no side effects; those that use overly impressive terminology; and those that express that there is only limited availability and advanced payment is required.
If there are concerns about a supplement, consumers are advised to check with the manufacturer to find out if there is information available to support claims for the product as well as information on safety or effectiveness of the product ingredients. The manufacturer can also provide information on adverse reports from consumers who have used the product. If persons have adverse effects from the use of dietary supplements, they should stop taking the supplement and they or their healthcare provider or their caregiver should report these effects to the FDA's MedWatch program at 1-800-FDA-1088 or online at http://www.fda.gov/Safety/MedWatch/.
Side effects
In some cases, dietary supplements may have unwanted or unexpected side effects, especially if taken before surgery or with other dietary supplements. Filler ingredients in supplements may also result in side effects, especially if the product contains common allergens, such as wheat, corn, or milk.
Interactions
Although certain dietary supplements may be helpful for older people, they may also not be beneficial. Taking a combination of supplements with prescribed medications may result in harmful and even life-threatening conditions. For example, warfarin (a prescription medicine), ginkgo biloba (an herbal supplement), aspirin (an OTC drug), and vitamin E (a vitamin supplement) all can result in thinning of the blood. Taking any of these products together can increase the potential for internal bleeding or stroke. Taking St. John's wort can result in potential adverse effects by reducing the effectiveness of prescription medications for heart disease, depression, seizures, certain cancers, or HIV.
Dietary supplements may also have adverse effects before, during, and after surgery by interacting with prescription medications, resulting in change of heart rate, blood pressure, or bleeding. The physician may request that the patient stop taking dietary supplements two to three weeks before surgery to avoid potentially harmful supplement and drug interactions.
Caregiver concerns
The caregiver of an elderly person should be aware of the types and amounts of supplements the person is taking and work with healthcare providers to make sure that the supplements are appropriate and will not result in adverse effects when used in combination with other supplements or with other medications, both OTC and prescribed.
See also Calcium; Diet; Diet and lifestyle; Diet and mental health; Dietary assessment; Dietary intake and nutrition status; Nutrition and healthy aging; Nutritional supplements; Vitamin B12, Vitamin C; Vitamin D; Vitamin E; Vitamin K; Vitamins.
Resources
BOOKS
Dietary Supplements and Health

. John Wiley and Sons

Hoboken NJ

, 2007.
and Jamie Goode-Novartis Foundation.
Dietary Supplements

.

4

th ed. Pharmaceutical Press

Chicago

, 2012.
PDR for Nonprescription Drugs 2013 (Physician's Desk Reference for Nonprescription Drugs, Dietary Supplements, & Herbs

).

34

th ed. PDR Network

Montvale NJ

, 2013.
Solve It with Supplements: The Best Herbal and Nutritional Supplements to Help Prevent and Heal More than 100 Common Health Problems

. Rodale Books

Emmaus PA

, 2007.
; .
What You Must Know about Vitamins, Minerals, Herbs, & More: Choosing the Nutrients That Are Right for You

. Square One Publishers

Garden City Park NY

, 2008.
.
The Health Professional's Guide to Dietary Supplements

. Lippincott Williams & Wilkins

Philadelphia

, 2007.
; .
PERIODICALS
Physical Activity and Nutrition Program for Seniors (PANS): Protocol of a Randomized Controlled Trial

." Journal of the American Dietetic Association

107

, no.

8

(2007):

1322-32

.
, et al. "
WEBSITES
U.S. Food and Drug Administration (FDA). "

Dietary Supplements

."

http://www.fda.gov/Food/DietarySupplements/default.htm

(accessed January 2, 2015).
ORGANIZATIONS
Office of Dietary Supplements, National Institutes of Health, Suite 3B01, 6100 Executive Boulevard Bethesda MD 20892, (301) 435-2920, Fax: (301) 480-1845, ods@nih.gov,

http://ods.od.nih.gov

.
Office of Nutrition, Labeling, and Dietary Supplements, Center for Food Safety and Applied Nutrition, Food and Drug Administration, 5100 Paint Branch Parkway College Park MD 20740, (240) 402-2373, Fax: (301) 436-2639,

http://www.fda.gov

.
相关 Credo 文章
---
Nutrition for Life: A No Fad, Non-Nonsense Approach to Eating Well and Reaching Your Healthy Weight
Vitamin and mineral supplements can improve your health. Public interest in vitamins and minerals for health has never been higher. Evi
Cambridge World History of Food
Food: A substance (of natural origin) ingested to maintain life and growth. Diet: The habitual pattern of consumption of food and drink. ...
The Gale Encyclopedia of Fitness
Definition Nutritional supplements are substances designed to supplement an individual's diet to provide nutrients such as vitamins and minerals
查看来自 Credo 的更多信息