Topic Page: Dee, Ruby, 1922-2014

Summary Article: Dee, Ruby
From Encyclopedia of African American Actresses in Film and Television
Born in Cleveland, Ohio, October 27, 1924.
While Ruby Dee has had a long and distinguished life in film and theater, any career overview is incomplete without mention of her husband and collaborator, the late Ossie Davis. They were married for 56 years (he passed away on February 4, 2005 at age 87, still very much active at the time). They had three children: blues musician Guy Davis, and daughters Nora Day and Hasna Muhammad.
Dee has been a great civil rights activist, as an individual and with her husband. They wrote an autobiography (With Ossie and Ruby: In This Life Together,1998) in which they discussed their political activism, along with marriage and relationship issues. They were awarded the American National Medal of the Arts in 1995 from the National Endowment of the Arts in Washington, D.C., and were the recipients of Kennedy Center Honors in 2004. They were jointly presented the Academy of Television Arts and Sciences Silver Circle Award in 1994. In 2000, they were given the Screen Actors Guild Life Achievement Award. They are inductees into the Theater Hall of Fame, as well as the NAACP Hall of Fame. In addition, Dee has been inducted into both the Black Filmmakers Hall of Fame (1975) and the Theater Hall of Fame (1988).
Dee was born Ruby Ann Wallace. Her father, Marshall Edward Wallace, was a porter and a waiter on the Pennsylvania Railroad; her biological mother abandoned the family and ran off with another man; her stepmother, Emma Wallace, was a schoolteacher. The family moved to Harlem when Ruby was a baby. Dee attended Hunter College but was asked to leave when her activities with the American Negro Theater (where she met Ossie Davis) took up too much of her time and energy. But she stayed the course and did receive a bachelor's degree from Hunter in 1945. Then she worked briefly as a translator for an import company. Her first husband was Frank Dee; they were briefly married and divorced in 1945.
By this time, Dee had already made her Broadway debut, a walk-on as a native in South Pacific (1943). In 1946, she appeared in Jeb with Ossie Davis. Her breakthrough role was in the national tour of Anna Lucasta, also with Ossie Davis (1946-47). They fell in love on the tour and were married in 1948. Other early Broadway appearances include A Long Way from Home (1948) and The Smile of the World (1949).
Dee's career in the theater is highlighted by her role as Ruth Younger in Lorraine Hansberry's A Raisin in the Sun, often deemed the landmark black play (1959; with the film version, also with Dee, in 1961). Raisin is about a Southside Chicago family's struggle for survival. Conflicts arise when the mother receives a check for $10,000 from her husband's life insurance, and the family considers moving to a larger house in a white suburb. Raisin depicts contemporary civil rights in microcosm, but it doesn't let us forget that these are real people individuals with personal issues.
Other theatrical highlights in the Dee canon include Purlie Victorious (1961), written and directed by Ossie Davis, and Athol Fugard's Boesman and Lena (1970) with James Earl Jones, for which she won the Obie Award. As Kate in The Taming of the Shrew (1965) and Cordelia in King Lear, she became the first black woman to play major roles at the American Shakespeare Festival. She won a Drama Desk Award for her role as a woman in an interracial marriage in Alice Childress' play Wedding Band (1972), presented by the New York Shakespeare Public Theater, which she reprised for TV; and an Ace Award for her performance in Eugene O'Neill's Long Day's Journey Into Night (presented as a 1983 TV production). She also appeared in Checkmates (1988), with Denzel Washington and Paul Winfield; Two Hah Hahs and a Homeboy (1995), with her husband and son; and St. Lucy's Eyes (2001), as an old woman about to perform an illegal abortion on a 17-year-old girl.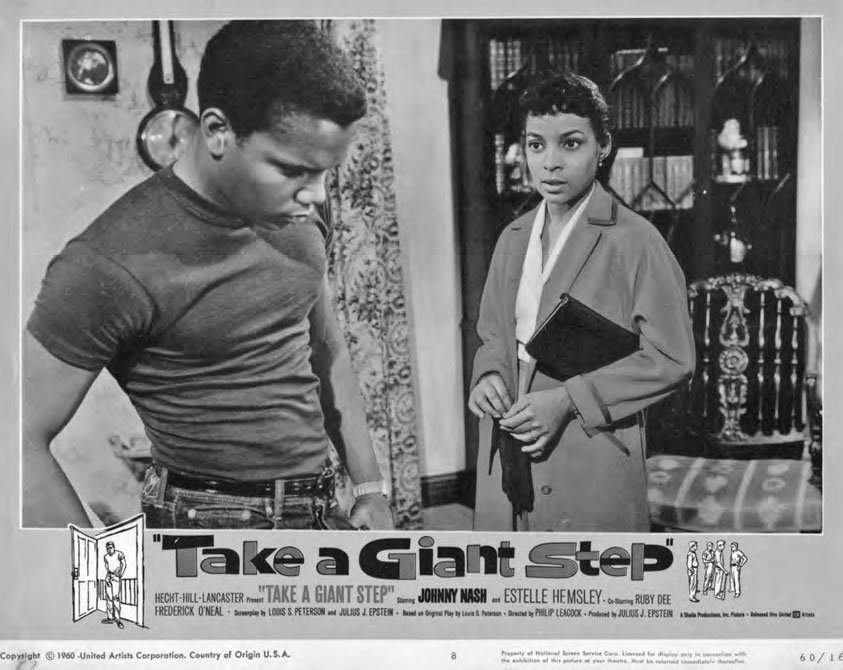 Of special note is the play Dee wrote called Zora Is My Name! (seen as a PBS-TV presentation in 1989; released on DVD in 2007), portraying groundbreaking black novelist and folklorist Zora Neale Hurston. She was Amanda Winfield in the The Glass Menagerie in Washington, D.C. (1989). She wrote the play Two-Bit Gardens (1979), which was later revised and presented as Take It from the Top this was also her stage directing debut.
During the 1950s Ruby Dee appeared in such socially conscious films as The Jackie Robinson Story (1950), Go, Man, Go! (1954), Edge of the City (1957), and the underrated and little seen Take a Giant Step (1959). Her 1960s big screen appearances showed no let-up in social commitment or in her desire to choose interesting, challenging roles. Gone Are the Days (Purlie Victorious; 1963) was a wry satirical look at black social politics. The Incident (1967) details the reactions of various subway car passengers to a sociopathic fellow rider. The film version of Jean Genet's The Balcony (1963) features what may be Ruby Dee's greatest screen performance. Although her screen time is limited, her role as a prostitute "acting out" for her clients in a courtroom scene manages to be both erotic and heartbreaking. The film, with its "we are all prostitutes" message, provides a key opportunity to see how great an actress Dee is.
She made her screenwriting debut as co-author of Uptight! (1968), a remake of John Ford's The Informer (1935) from a contemporary African American perspective. It was buried in the plethora of blaxploitation films released that year and did not do well. She has been nominated for eight Emmy Awards, winning twice. She earned her first Emmy nomination for a guest appearance on East Side/West Side (1963), the landmark (if short-lived) social drama starring George C.
Scott. Another Emmy went to her performance in the Hallmark Hall of Fame production Decoration Day (1990). She shared a Grammy Award for Best Spoken Word Album (With Ossie and Ruby: In This Life Together) in 2007 with husband Ossie Davis (who was awarded posthumously).
She won a Literary Guild Award in recognition of her plays, poems and children's stories. Her popular book My One Good Nerve: Rhythms, Rhymes, Reasons (1986) became a successful one-woman show (as My One Good Nerve: A Visit with Ruby Dee). Even radio has been a part of her all-encompassing career. The Ossie Davis and Ruby Dee Story Hour ran in nationwide syndication from 1974 to 1978. Dee has survived breast cancer for 30 years and continues to be an active artist, spokeswoman, and role model. She established the Ruby Dee Scholarship in Dramatic Art for talented young black women.
Feature Films including Video and TV Movies:
That Man of Mine (1947), What a Guy (1948), The Fight Never Ends (1949), The Jackie Robinson Story (1950), No Way Out (uncredited; 1950), The Tall Target (1951), The Jackie Robinson Story (1950), Go, Man, Go! (1954), The Great American Pastime (uncredited; 1956), Edge of the City (1957), Virgin Island (1958), St. Louis Blues (1958), Take a Giant Step (1959), A Raisin in the Sun (1961), The Balcony (1963), Gone Are the Days! (1963), The Incident (1967), Uptight! (also co-producer and screenplay; 1968), Deadlock (TV; 1969), King: A Filmed Record… Montgomery to Memphis (narrator; 1970), The Sheriff (TV; 1971), Buck and the Preacher (1972), Black Girl (1972), Wattstax (1973), Chelsea D.H.O. (TV; 1973), It's Good to Be Alive (TV; 1974), Cool Red (1976), I Know Why the Caged Bird Sings (TV; 1979), The Torture of Mothers (1980), All God's Children (TV; 1980), Cat People (1982), Go Tell It on the Mountain (TV; 1985), Lincoln (TV; 1988), Do the Right Thing (1989), Love at Large (1990), The Court Martial of Jackie Robinson (TV; 1990), Decoration Day (TV; 1990), Jungle Fever (1991), Jazztime Tale (1992), The Ernest Green Story (TV; 1993), Cop and a Half (1993), Whitewash (TV; 1994), Homeward Bound (TV; 1994), Tuesday Morning Ride (1995), Just Cause (1995), Mr. and Mrs. Loving (TV; 1996), Captive Heart: The James Mink Story (TV; 1996), A Simple Wish (1997), The Wall (TV; 1998), Passing Glory (TV; 1999), Baby Geniuses (1999), Having Our Say (TV; 1999), A Storm in Summer (TV; 2000), Finding Buck McHenry (TV;2000), Freedom Never Dies: The Legacy of Harry T. Moore (TV; 2001), The Feast of All Saints (TV; 2001), Taking Back Our Town (TV; 2001), Baby of the Family (2002), Dream Street (2005), Their Eyes were Watching God (TV; 2005), Number Two (2006), The Way Back Home (2006), Clarksdale (2007), Steamroom (2007), Flying Over Purgatory (2007), American Gangster (2007), Seven Pounds (2008), Red and Blue Marbles (2009), The Perfect Age of Rock 'n' Roll (2009).
TV:
Play of the Week ("Black Monday," "Seven Times Monday," 1960-61), Frontiers of Faith ("The Bitter Cup," 1961), The DuPont Show of the Week ("The Beauty of a Woman," 1962), Alcoa Premiere ("Impact of an Execution," 1963), The Nurses ("Express Stop from Lenox Avenue," 1963), The Fugitive ("Decision in the Ring," 1963), The Great Adventure ("Go Down, Moses," 1963), East Side/West Side ("No Hiding Place," 1963), The Defenders ("The Sworn Twelve," 1965), Armchair Theatre ("Neighbors," 1966), The Guiding Light (recurring role, replacing Cicely Tyson; 1967), The Merv Griffin Show (1968), Peyton Place (various episodes; 1968-69), To Be Young, Gifted and Black (1972), The CBS Festival of Lively Arts for Young People (1972), Tenafly ("The Window That Wasn't," 1973), Wedding Band (1974), Police Woman ("Target Black," 1975), Lorraine Hansberry: The Black Experience in the Creation of Drama (1975), America at the Movies (1976), Roots: The Next Generations (miniseries; 1979), Ossie and Ruby! (co-host; 1980-81), American Playhouse ("Zora Is My Name!" 1981), Great Performances (1982), Long Day's Journey into Night (1982), The Atlanta Child Murders (miniseries; 1985), Spenser: For Hire ("Personal Demons," 1987), Windmills of the Gods (miniseries; 1988), Making Do the Right Thing (1989), 22nd NAACP Image Awards (1990), China Beach ("Skylark," 1990), The Golden Girls ("Wham, Bam, Thank You, Mammy," 1990), Color Adjustment (narrator; 1992), Reading Rainbow (2 episodes, 1984 and 1992), Middle Ages (1992), Evening Shade ("They Can't Take That Away from Me," 1993), The Stand (miniseries; 1994), American Masters (narrator; 1995), Stories from the Edge (1996), Sports on the Silver Screen (1997), A Time to Dance: The Life and Work of Norma Canner (narrator; 1998), Porgy and Bess: An American Voice (narrator; 1998), Small Steps, Big Strides: The Black Experience in Hollywood (1998), The Directors (1998), Promised Land ("Baptism of Fire," 1998), The Unfinished Journey (narrator; 1999), Little Bill (voice of Alice the Great; 1999), Cosby ("Ol' Betsy," 1999), Touched by an Angel ("The Christmas Gift," 1999), Intimate Portrait: Rosa Parks (2001), 7th Annual Screen Actors Guild Awards (2001), Christianity: The First 2000 Years (2001), Inside TV Land: African Americans in Television (2002), Hughes' Dream Harlem (2002), Unchained Memories: Readings from the Slave Narratives (2003), 2003 Trumpet Awards, Beah: A Black Woman Speaks (2003), Russell Simmons Presents Def Poetry (2004), The Kennedy Center Honors: A Celebration of the Performing Arts (2004), The History Makers (2005), Character Studies (2005), The Black Movie Awards (2005-06), An Evening of Stars: Tribute to Stevie Wonder (2006), Legends Ball (2006).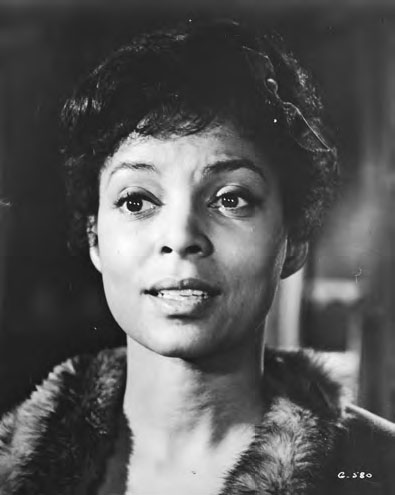 Related Articles
---
African American Almanac
Actress Ruby Dee was born Ruby Ann Wallace in Cleveland, Ohio, on October 27, 1924, but grew up in Harlem, New York, and attended Hunter Colle
Encyclopedia of African American Actresses in Film and Television
Born in Cleveland, Ohio, October 27, 1924. While Ruby Dee has had a long and distinguished life in film and theater, any career overview is incomple
See more from Credo