Topic Page: De la Renta, Oscar
---
Definition:
de La Renta, Oscar
from
The Columbia Encyclopedia
(Óscar Arístides de la Renta Fiallo)(dӘ lӘ räN'tӘ, rĕn'tӘ), 1932–2014, Dominican-American fashion designer, b. Santo Domingo, Dominican Republic. He studied in Madrid and began a career in fashion with Balenciaga. Moving to France in the 1960s, he worked for Lanvin before leaving for the United States. He designed for Elizabeth Arden in New York and later established his own firm that produced romantic and opulent clothes. In 1971 he became an American citizen. From 1993 to 2002 he was the head designer at Balmain, becoming the first American to lead a Paris couturier. De la Renta was known for his luxurious clothes, especially evening wear, which were favored by a clientele primarily comprised of socialites and film stars. His designs encompassed everything from bathing suits to wedding dresses, furs, perfumes, and linens.
---
Summary Article: de la Renta, Oscar
From World of Art: The Thames & Hudson Dictionary of Fashion and Fashion Designers
Born in Santo Domingo, Dominican Republic. De la Renta studied at the University of Santo Domingo and the Academia de San Fernando in Madrid, Spain. Although he intended to become an abstract painter, he took the first step towards a career in fashion when he designed a gown for the debutante daughter of the US ambassador to Spain which was featured on the cover of Life. Shortly after, de la Renta joined BALENCIAGA's couture house in Madrid. In 1961 he went to Paris as an assistant to Antonio del CASTILLO at the house of Lanvin-Castillo. Two years later he moved to Elizabeth Arden's couture and ready-to-wear salon in New York. In 1965, de la Renta moved to Jane Derby and on her retirement that same year he established his own business. During the 1960s he swiftly developed a reputation as a designer of extravagant, opulent, yet tasteful clothes. He created a variety of theme collections based on fashions of the belle époque, abstract art prints, orientally inspired evening clothes, and exotic flamenco dresses. His 1967 GYPSY collection attracted a great deal of attention. Over the following years de la Renta established himself as a couture and ready-to-wear designer of positive, vibrant dresses, coats, suits and daywear, created with a bold yet controlled use of colour. He is famous for his eveningwear: COCKTAIL DRESSES and formal gowns, many of which are elaborately trimmed with embroidery, frills and ruffles.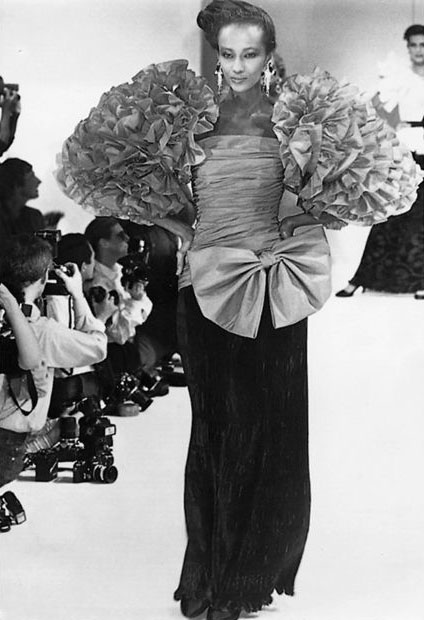 Related Articles
---
Chambers Biographical Dictionary
1932- ♦ US fashion designer He was born in Santo Domingo, in the Dominican Republic. After studying art there and in Madrid, he worked at Cristóbal B
Spanish Law Dictionary, Peter Collin Publishing
declaración f de la renta ...
Collins Spanish Dictionary
[ADJ] 1 a [distribución, división] fair b [precio] reasonable c [reparto] fair, equitable frm • trato equitativo fair deal, square deal • un reparto
See more from Credo