Topic Page: Curtis, Benjamin (1809 - 1874)
Summary Article: Curtis, Benjamin R.
from American Government A to Z: The Supreme Court A to Z
Benjamin Robbins Curtis (1809-1874), an ardent New England abolitionist, angrily clashed with the Supreme Court's pro-slavery majority in the Dred Scott case and other controversies. The acrimony, combined with Curtis's discontent with the justices' low salaries, led him to resign in 1857 after only six years on the Court.
Born in Watertown, Massachusetts, Curtis was the son of a Massachusetts ship captain who died on a voyage abroad while Curtis was still a child. His mother then raised Curtis with help from his half-uncle, George Ticknor, a Harvard professor. Curtis graduated from Harvard College in 1829 and Harvard Law School in 1832. He was the first Supreme Court justice to graduate from law school.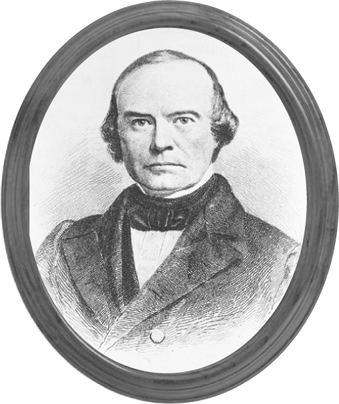 Curtis set up a law practice in Northfield, Massachusetts, but in 1834 he moved to Boston to join the law practice of a distant cousin. Following his election to the Massachusetts House in 1849, Curtis became a strong supporter of Daniel Webster. Webster grew unpopular with most Massachusetts abolitionists about this time when he sought a compromise on the slavery issue. Curtis, however, stood by him. Webster, as secretary of state under President Millard Fillmore, returned the favor in 1851 by recommending Curtis as the successor to the late Justice Levi Woodbury. Fillmore, eager to name a Whig to counter the dominance of southern Democrats on the Court, nominated Curtis in December 1851; the Senate confirmed him by voice vote later that month.
On the Court, Curtis specialized in admiralty law and commercial issues. His enforcement of the federal Fugitive Slave Act while riding circuit brought him criticism in the North despite his anti-slavery views. Then in the Dred Scott case (scott v. sandford, 1857), he provoked the anger of Chief Justice Roger B. Taney by publishing his dissenting opinion before the other justices had released theirs. Curtis denied any breach of judicial etiquette, but he resigned six months later, on September 1, 1857.
Curtis returned to his successful law practice in Boston. He frequently appeared before the Supreme Court to argue on behalf of his clients. In 1868 he served as President Andrew Johnson's chief counsel during the impeachment proceedings. A grateful Johnson offered Curtis the job of attorney general, but he declined. Curtis died in 1874.
Related Articles
---
American Civil War: The Definitive Encyclopedia and Document collection
Birth Date: November 4, 1809 Death Date: September 15, 1874 Lawyer and U.S. Supreme Court justice. Benjamin Robbins Curtis was born on November 4, 1
Biographical Encyclopedia of the Supreme Court: The Lives and Legal Philosophies of the Justices
Birth: November 4, 1809, Watertown, Massachusetts. Education: Harvard College, graduated 1829 with highest honors; Harvard Law School,...
See more from Credo