Topic Page: Cozumel Island (Mexico)

Summary Article: COZUMEL
From Encyclopedias of the Natural World: Encyclopedia of Islands
Cozumel (~478 km2) is the largest island in the Mexican Caribbean Sea, a site of historical and cultural significance, a popular international resort, and an area of global biodiversity conservation priority. It is located 17.5 km off the northeast coast of the Yucatán Peninsula (20°16'18.2" to 20°35'32.8" N; 86°43'23.3" to 87°01'31.1" W). It is an oceanic island of coralline origin, which is separated from the mainland by the 400-m-deep Cozumel Channel. Maximum altitude is just over 10 m. The weather is humid tropical, with mean annual temperature of 25.5 °C and mean annual rainfall of 1505 mm.
HISTORY AND ARCHAEOLOGY
The name Cozumel derives from the Maya Cuzamil (cuzam, swallow, and luumil, land), meaning land of swallows. Cozumel was occupied by the ancient Maya at least since 300 BC. It was an important post in the maritime commercial routes of the Maya. It was also an important pilgrimage site, which was visited to adore the moon goddess Ixchel, patroness of childbirth, weaving, sorcery, and medicine. Juan de Grijalva arrived to the island in 1518, making it one of the first sites where the Spaniards landed in what is today Mexico. Hernán Cortés and his crew disembarked in 1519, and from there they continued their journey in the conquest of Mexico. The population declined subsequently, mainly as a result of disease. With the exception of brief British and French pirate incursions or occasional fishermen camps, the island remained virtually uninhabited for most of the next three centuries. People fleeing from the Yucatán Caste War recolonized Cozumel in 1847.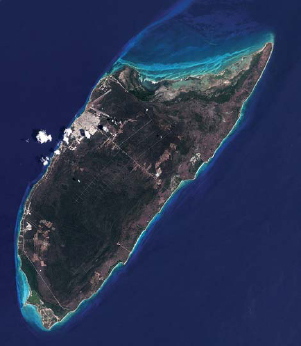 San Gervasio is the main Maya archaeological site on the island. There are remains of sacbé, Maya roads, which connected San Gervasio with other areas on the island. Maya buildings distributed along the eastern coast are believed to have been used to aid navigation. In addition, there are numerous scattered remains of nonceremonial structures throughout the island.
Endemic Animals (Species and Subspecies) from Cozumel Island

Threat Category

Class/Family

Species or Subspecies

Common Name

Sizea

IUCNb

NOMc

aRefers to known or suspected dwarfi sm (D) or gigantism (G).

b Threat category according to the World Conservation Union (IUCN). NI: Not included; CR: Critically Endangered; NT: Near Threatened.

cOffi cial Mexican List of Threatened Species (NOM). NI: Not included; P: [in danger of extinction]; A: [threatened]; Pr: [subject to special protection].

dClass Eumalacostraca.

eClass Malacostraca.

fClass Actinopterygii.

Crustaceans

Agostocaridiaed

Agostocaris bozania

Cave shrimp

NI

NI

Alpheidaed

Yagerocaris cozumel

Cave shrimp

NI

NI

Hadziidaee

Bahadzia setodactylus

Cave amphipod

NI

NI

Fish

Batrachoididaef

Sanopus splendidus

Splendid toadfish

VU

NI

Reptiles

Teiidae

Aspidoscelis cozumela

Cozumel whiptail lizard

NI

NI

Mammals

Didelphidae

Didelphis marsupialis cozumela

Cozumel opposum

NI

NI

Muridae

Peromyscus leucopus cozumelae

Cozumel white-footed mouse

G

NI

A

Reithrodontomys spectabilis

Cozumel harvest mouse

G

EN

A

Oryzomys couesi cozumelae

Cozumel rice rat

G

NI

A

Procyonidae

Nasua nelsom

Dwarf coati

D

EN

A

Procyon pygmaeus

Pygmy raccoon

D

EN

P

Tayassuidae

Pecari tajacu nanus

Pygmy collared peccary

D

NI

P

Birds

Cracidae

Crax rubra griscomi

Cozumel curassow

D

NT

P

Accipitridae

Buteo magnirostris gracilis

Cozumel roadside hawk

NI

NI

Trochilidae

Chlorostilbon forficatus

Cozumel emerald

NI

NI

Picidae

Melanerpes aurifrons leei

Cozumel golden-fronted woodpecker

NI

NI

Melanerpes pygmaeus pygmaeus

Cozumel woodpecker

D

NI

NI

Tyrannidae

Attila spadiceus cozumelae

Cozumel bright-rumped attila

NI

Pr

Myiarchus yucatanensis lanyoni

Cozumel flycatcher

NI

NI

Myiarchus tyrannulus cozumelae

Cozumel brown-crested flycatcher

NI

NI

Vireonidae

Vireo bairdi

Cozumel vireo

NI

Pr

Cyclarhis gujanensis insularis

Cozumel rufous-browed peppershrike

NI

Pr

Troglodytidae

Troglodytes beani (= Troglodytes aedon beani)

Cozumel house wren

NI

Pr

Sylviidae

Polioptila caerulea cozumelae

Cozumel blue-gray gnatcatcher

NI

NI

Mimidae

Toxostoma guttatum

Cozumel thrasher

D

CR

P

Melanoptila glabrirostris cozumelana

Cozumel black catbird

NT

NI

Parulidae

Dendroica petechia rufivertex

Cozumel yellow warbler

NI

NI

Thraupidae

Spindalis zena benedicti

Cozumel western spindalis

NI

NI

Piranga roseogularis cozumelae

Cozumel rose-throated tanager

NI

NI

Emberizidae

Tiaris olivaceus intermedius

Cozumel yellow-faced grassquit

NI

NI

Cardinalidae

Cardinalis cardinalis saturata

Cozumel northern cardinal

NI

NI
POPULATION AND ECONOMY
Cozumel is a municipality of the state of Quintana Roo. Population (2000) is 60,091, with an annual growth rate of 3%, mainly as a result of immigration. The main town on the island is San Miguel de Cozumel (or simply Cozumel), where the majority of the population lives. The only other town on the island is El Cedral.
During the first half of the twentieth century, the main economic activities were agriculture (coconut palm oil, pineapple, henequén), chicle extraction, and fisheries. Since i960, Cozumel has experienced an economic boom, mainly as a result of a thriving tourism industry attracted by the natural beauty of the island. As a consequence, the aforesaid economic activities lost their past importance. Cozumel is the main port for cruise ships in the Caribbean, receiving some 3 million ship visitors a year. It is also a popular destination for scuba diving. Large numbers of tourists arrive from the adjacent mainland for day visits. The international airport receives flights from numerous cities in North America and Europe.
BIOLOGY AND CONSERVATION
Cozumel is part of the vast and remarkable Mesoamerican Reef System, second in magnitude only to the Australian Great Barrier Reef. In addition, it has the only coralline algal microatolls, or algal ridge systems, in the western Caribbean.
There are significant coastal lagoons on all flanks of the island, but especially in the north and south (Fig. 1). Because of its karst character, there are no rivers or other superficial bodies of freshwater on the island, with the exception of cenotes and seasonal ponds. These water bodies are crucial for wildlife. Most water for domestic consumption is extracted from underground sources in the central area of the island.
In 2000, roughly 90% of the island was covered with natural vegetation. The dominant vegetation on the island is semi-evergreen tropical forest, also with important areas of subdeciduous tropical forest, chit palm forest, halophilus sand dune vegetation, mangroves, and other wetlands. Despite representing only 10% of the area of the state of Quintana Roo, it is estimated that the island holds 40% of the total flora of the state. Cozumel is an important center of species endemism. It is the Mexican island with the largest number of endemic animal taxa (species and subspecies), with at least 31 (Table 1). Endemic crustaceans are found only in a few cenotes, ecological islands within the island. Several of the endemic vertebrates present dwarfism or gigantism. Many of the endemic vertebrates and other native species, although not necessarily included on international or national lists of threatened species, are critically endangered. One rodent (Peromyscus leucopus cozumelae) is extinct, and several of the endemic vertebrates (e.g., Toxostoma guttatum, Nasua nelsoni, Procyon pygmaeus, Reithrodontomys spectabilis) are on the verge of extinction. The main threat is introduced species (Boa constrictor, feral dogs and cats, and house mice and rats). Another threat is the expansion and broadening of the road system, which has fragmented natural vegetation on the island into southwestern and northeastern segments and has affected critical wildlife habitats. The introduction of continental generic counterparts of the endemic vertebrates, usually for pets, is also a problem because they could become sources of genetic introgres- sion. Other threats are parasite and disease spillover from exotic animals, capturing of live wildlife for pets, and to a lesser degree hunting.
Hurricanes are the main natural disturbance. During the twentieth century, at least one hurricane hit the island every decade. The most recent ones were Gilbert (1988; Level 5 in the Saffir-Simpson scale), Roxanne (1995; Level 3), Emily (2005; Level 4) and Wilma (2005; Level 4). There are synergistic effects of natural and anthropogenic disturbance affecting the biota and society of the island.
There are currently two protected areas: Parque Nacional Arrecifes de Cozumel (11,988 ha), which is also a Ramsar site, and Refugio Estatal de Flora y Fauna de Laguna Colombia (1114 ha). There are initiatives to create new protected areas, but vast areas of great conservation importance still remain unprotected.
SEE ALSO THE FOLLOWING ARTICLES
Archaeology / Hurricanes and Typhoons / Introduced Species / Oceanic Islands / Reef Ecology and Conservation / Vegetation
FURTHER READING
Historia de Cozumel

. Mexico City:

Consejo Nacional para la Cultura y las Artes

.
, and . 1991.

The status of dwarf carnivores on Cozumel Island, Mexico

. Biodiversity and Conservation

13

:

317-331

.
, , , , and . 2004.

Cozumel: late Maya settlement pat-terns

. New York:

Academic Press

.
, and . 1984.
IUCN (World Conservation Union). 2007.

2007 IUCN Red List of Threatened Species

.

http://www.iucnredlist.org/

.

Distribution, abundance, and habitat use of introduced Boa constrictor threatening the native biota of Cozumel Island, Mexico

. Biodiversity and Conservation

16

:

1183-1195

.
, , and . 2007.

Hydrogeochemical and biological characteristics of cenotes in the Yucatan Peninsula (SE Mexico)

.

467

:

215-228

.
, , , , , , , , , and . 2002.
SEMARNAT (Secretaría de Medio Ambiente y Recursos Naturales). 2002.

NOM-059-ECOL-2001, Protección Ambiental, especies nativas de México de flora y fauna silvestres—categorías de riesgo y especificaciones para su inclusión, exclusión o cambio—lista de especies en riesgo

. Diario Oficial de la Federación, (6 de marzo):

95-190

.

The Caribbean's western-most algal ridges in Cozumel, Mexico

. Coral Reefs

22

:

27-28

.
, , and . 2003.

Las plantas de Cozumel: guía botánico-turística de la Isla Cozumel, Quintana Roo

. México City:

Instituto de Biología, Universidad Nacional Autónoma de México

.
, , , and . 1993.

Unexpected high levels of genetic variability and the population structure of an island endemic rodent (Oryzomys couesi cozumelae)

. Biological Conservation

137

:

210-222

.
, , , and . 2007.
Related Articles
---
The Encyclopedia of Tourism and Recreation in Marine Environments
Cozumel, located 19 km off the coast of the Yucatan Peninsula, Mexico, is the largest island in the Mexican Caribbean , measuring 46 km long...
See more from Credo