Topic Page: Comstock Lode
---
Definition:
Comstock Lode
from
Brewer's Dictionary of Irish Phrase and Fable
A rich silver deposit found in June 1859 at Washoe, USA, in what was then the Nevada Territory, by two Irishmen, Peter O'Riley and Patrick McLaughlin. They sold it to a mining company for $300. The mines were named after a local shepherd. President Lincoln was later to say that the lode saved the credit of the Union during the Civil War. By 1898 most of the diggings had been exhausted.
---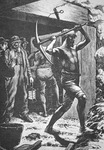 Summary Article: Comstock Lode
From The Columbia Encyclopedia
richest known U.S. silver deposit, W Nevada, on Mt. Davidson in the Virginia Range. It is said to have been discovered in 1857 by Ethan Allen Grosh and Hosea Ballou Grosh, sons of a Pennsylvania minister and veterans of the California gold fields who died under tragic circumstances before their claims were recorded. Henry T. P. Comstock, known as Old Pancake, was a sheepherder and prospector who took possession of the brothers' cabin and tried to find their old sites. He and others searching for gold laid claim to sections of the Comstock (1859) but soon sold them for insignificant sums. The lode did not become really profitable until its bluish sand was assayed as silver. News of the discovery then spread rapidly, attracting promoters and traders as well as miners, and the lode was the scene of feverish activity. Among early arrivals was William Morris Stewart, who later became one of Nevada's first senators. Camps and trading posts in the area became important supply centers, and Virginia City, a mining camp on the mountain, was for several decades the "capital" of the lode and a center of fabulous luxury. Great fortunes were made by the "silver kings," John W. Mackay, James Graham Fair, James C. Flood, and William S. O'Brien, and by Adolph Sutro, George Hearst, and Eilley Orrum Bowers. Silver determined the economy and development of Nevada until exhaustion of the mines by wasteful methods of mining and the demonetization of silver started a decline in the 1870s. By 1898 the Comstock was virtually abandoned.
Related Articles
---
Gale Encyclopedia of U.S. Economic History
The Comstock Lode was the richest silver mine in the United States. Located at Mount Davidson in western Nevada, about 16 miles (26 kilometers) sout
See more from Credo