Topic Page: Colfax, Schuyler, 1823-1885
---
Definition: Colfax, Schuyler from Chambers Biographical Dictionary
---
Summary Article: Colfax, Schuyler
From American Government A to Z: The Presidency A to Z
Schuyler Colfax (1823–1885) was Ulysses S. Grant's first vice president, serving from 1869 to 1873. During Colfax's rise in government he became known as the "Smiler" and "Great Joiner" for his propensity to join any organization that would accept him. Abraham Lincoln had called Colfax a "friendly rascal." Events would show, however, that Colfax was not just an opportunistic politician but a corrupt one.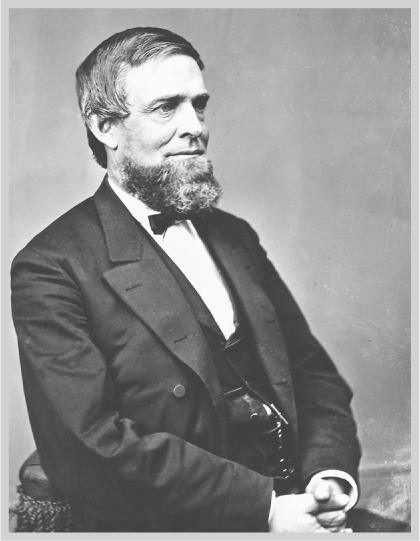 Colfax began working as a newspaper reporter at age sixteen. In 1845 he became part owner of the South Bend Free Press. He changed its name to the St. Joseph Valley Register and used it to support Whig candidates. Colfax ran unsuccessfully for the U.S. House of Representatives in 1851. When the Republican Party was formed, he became a member and helped build a Republican organization in Indiana. In 1855 he finally was elected to the House, where he served for the next fourteen years until he became vice president in 1869. During his last five and a half years in the House, he held the office of Speaker.
At the 1868 Republican national convention Colfax emerged from a crowd of favorite-son candidates to receive the vice-presidential nomination. Republican presidential nominee Ulysses S. Grant and Colfax easily defeated Democrats Horatio Seymour and Francis P. Blair Jr. 214–80 in the Electoral College. Like most nineteenth-century vice presidents, Colfax did not play a significant role in his running mate's administration.
A September 1872 newspaper exposé implicated Colfax in a bribery scandal. In 1867 Congress had provided funds for the construction of the Union Pacific Railroad. The director of the railroad, Oakes Ames, a Republican House member from Massachusetts, set up a holding company, Crédit Mobilier of America, in which he deposited millions of dollars appropriated for the railroad. He proceeded to bribe other members of Congress not to expose his corruption and to support legislation favorable to the railroad. While Speaker of the House, Colfax had taken a bribe of twenty shares of Crédit Mobilier stock.
Some members of Congress considered impeaching Colfax, but because his term as vice president was about to expire they dropped the matter. Colfax claimed he had been exonerated, but his political reputation was ruined. After he left office he made a good living by touring the country delivering lectures. He died of a stroke on January 13, 1885, during a lecture tour.
Related Articles
---
Handy Answer: The Handy Presidents Answer Book
What was his first political position? His first political position was as a member of the Ohio state Senate in 1859. He served in that capacity unt
See more from Credo