Topic Page: Battle of Cold Harbor, Va., 1864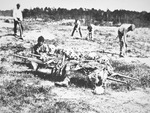 Summary Article: Cold Harbor, Battle of
From The Hutchinson Unabridged Encyclopedia with Atlas and Weather Guide
American Civil War engagement near Richmond, Virginia, 1–12 June 1864, in which the Confederate army under Robert E Lee repulsed Union attacks under Ulysses S Grant, inflicting heavy casualties and forcing Grant to adopt a siege of Petersburg.
The Union army sustained 8,000 casualties in the first two hours of battle on 3 June alone and lost over 12,500 in the period 1–12 June against Confederate losses of fewer than 3,000. This engagement, one of the final Confederate victories of the war, demonstrated their tenacity and kept Grant's army largely stationary until April 1865.
Related Articles
---
Chambers Dictionary of World History
A battle of the American Civil War , fought in Virginia, with General Ulysses S Grant 's forces suffering heavy losses (12,000 men in one day's...
The Hutchinson Unabridged Encyclopedia with Atlas and Weather Guide
Former town in Virginia, USA, scene of the surrender on 9 April 1865 of the Confederate army under Robert E Lee to the Union army under Ulysses S Gra
Britannica Concise Encyclopedia
(1864–65) Series of military operations in southern Virginia at the end of the American Civil War. The rail centre of Petersburg, Va., was a strate
See more from Credo