Topic Page: Battle of Cold Harbor, Va., 1864

Summary Article: Cold Harbor, Battle of
from American Civil War: The Definitive Encyclopedia and Document collection
Start Date: May 31, 1864
End Date: June 12, 1864
Costly Union defeat during the Overland Campaign (May 4–June 12, 1864). Union general in chief Lieutenant General Ulysses S. Grant accompanied Major General George Gordon Meade's Army of the Potomac in the field as it dueled with Confederate general Robert E. Lee's Army of Northern Virginia in an effort to capture the Confederate capital of Richmond. Beginning on May 28, 1864, Grant had endeavored to outflank Lee to the southeast, but Lee had moved faster than expected, established defensive positions, and rebuffed Grant in the Battle of Totopotomoy Creek (also known as the Battle of Bethesda Church and the Battle of Hanovertown) (May 28–30, 1864). Again Grant ordered a flanking maneuver south, this time toward the town of Cold Harbor in Hanover County northeast of Richmond, Virginia, in an effort to turn Lee's right flank.
Battle of Cold Harbor (May 31–June 12, 1864)

| | Union | Confederacy |
| --- | --- | --- |
| Force strength, approximate | 108,000 | 59,000 |
| Killed | 1,844 | 83 |
| Wounded | 9,077 | 3,380 |
| Captured or missing | 1,816 | 1,132 |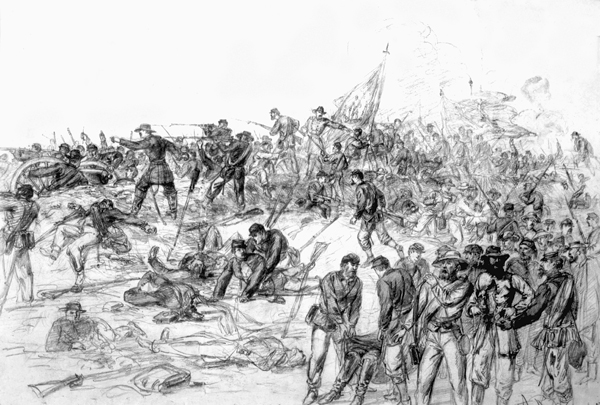 On May 31 Union major general Philip H. Sheridan, commanding the Army of the Potomac's cavalry corps of three divisions with 10,000 men, seized the key crossroads of Old Cold Harbor, some 10 miles northeast of Richmond. Armed with Spencer repeating carbines and having thrown up shallow earthworks, on June 1 the cavalrymen were able to hold their position against attacking Confederate infantry. That same day, reinforcements arrived from both Totopotomoy Creek and Richmond to bolster the Confederate lines, and later that same day the Union VI and XVIII Corps also arrived at Cold Harbor. Union attacks that day against the entrenched Confederates west of the crossroads enjoyed limited success.
By June 2, both armies were fully in place. Grant fielded some 108,000 men, while Lee, reinforced by 14,000 men drawn from the Shenandoah Valley and from operations along the James River, commanded some 59,000 troops. The lines extended over some seven miles of low ridgelines from Totopotomoy Creek on the north to the Chickahominy River to the south. Meade and Grant both believed that a concentrated attack on some portion of the Confederate line would be successful. Meanwhile, Lee took advantage of the delay to strengthen his earthen and log defenses.
Beginning at 4:30 a.m. on June 3, Grant hurled three corps—II Corps, commanded by Major General Winfield S. Hancock, and XVIII Corps, under Major General William F. "Baldy" Smith, followed by IX Corps, under Major General Ambrose Burnside—in frontal assaults against the southern portion of the Confederate entrenchments, held by Major General Richard H. Anderson's I Corps and a division under Major General John C. Breckinridge. Within a matter of minutes, the Federals suffered some 7,000 casualties in the most lopsided Union casualties since the First Battle of Fredericksburg (December 13, 1862). In his memoirs, Grant admitted that he had made a major mistake in ordering the attack.
The two armies continued to confront one another until June 12, when Grant ordered yet another effort to flank Lee's line to the southeast, marching to the James River and crossing it on June 14–15 by boat and then pontoon bridges in order to threaten Petersburg, south of Richmond.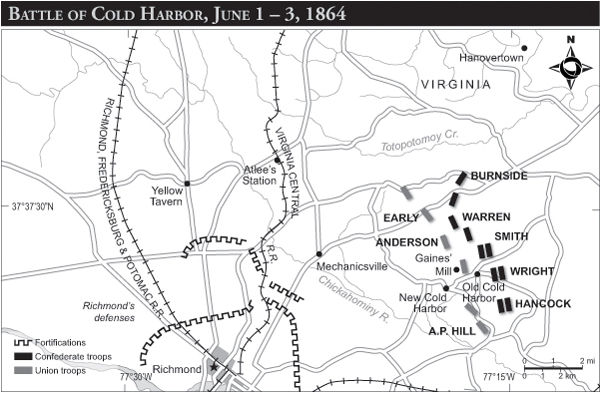 Cold Harbor was one of the bloodiest battles of the war. Casualty estimates vary widely, but the numbers of dead, wounded, and prisoners/missing were probably on the order of some 13,000 for the Union to 4,600 for the Confederates.
See also
Anderson, Richard Heron; Breckinridge, John Cabell; Burnside, Ambrose Everett; Fredericksburg, First Battle of; Grant, Ulysses Simpson; Hancock, Winfield Scott; Lee, Robert Edward; Meade, George Gordon; Overland Campaign; Sheridan, Philip Henry; Smith, William Farrar; Totopotomoy Creek, Battle of
Further Reading
A Victor, Not a Butcher: Ulysses S. Grant's Overlooked Military Genius

. Regnery

Washington, DC

, 2004.
Grant Takes Command

. Little, Brown

Boston

, 1968.
Not War but Murder: Cold Harbor 1864

. Knopf

New York

, 2000.
And Keep Moving On: The Virginia Campaign, May-June 1864

. University of Nebraska Press

Lincoln

, 2002.
Cold Harbor: Grant and Lee, May 26-June 3, 1864

. Louisiana State University Press

Baton Rouge

, 2002.
Bloody Roads South: The Wilderness to Cold Harbor, May-June 1864

. Little, Brown

Boston

, 1989.
Related Articles
---
Encyclopedia of the American Civil War: A Political, Social, and Military History
In 1864 as the armies of Ulysses S. Grant and Robert E. Lee collided violently in Grant's drive toward Richmond, Grant made the biggest mistake...
Chambers Dictionary of World History
A battle of the American Civil War , fought in Virginia, with General Ulysses S Grant 's forces suffering heavy losses (12,000 men in one day's...
American Civil War: The Definitive Encyclopedia and Document collection
Start Date: May 4, 1864 End Date: June 12, 1864 Major Union offensive. New Union Army general in chief Lieutenant General Ulysses S. Grant planned h
See more from Credo