Topic Page: Cobbe, Frances Power (1822 - 1904)

Summary Article: Cobbe, Frances Power
from Encyclopedia of Women Social Reformers
The Anglo-Irish feminist and social reformer, who was also a founder of the antivivisection movement in Britain, retained a wit and humanity in all her many lucid writings on moral and philosophical topics and the rights of women. Despite the fact that she was never a militant campaigner and never married, she was one of the first women to discuss the controversial issues of sexual exploitation and physical abuse of wives by husbands.
Born into a landowning family in Newbridge near Dublin, Cobbe was educated, as fitted her station, at home by governesses and for two years at a private girls' school in Brighton. She developed wide and eclectic interests at an early age, studying Greek, history, astronomy, geometry and the sciences as well as German philosophy. As a young woman during the Irish potato famine of 1845–1846, Cobbe helped her father set up schools for local tenants and teach reading and writing to their children. But she felt frustratingly constrained by the evangelical Protestant milieu in which she was raised. Having been forced by illness to spend much time inactive, she read a great deal and discovered the philosophy of Immanuel Kant. After suffering a crisis in her religious views, she rejected orthodox Christian teaching and adopted theism, through which she developed her own ideas on what was morally right and just. She became a follower of the thinking of the American Unitarian social reformer Theodore Parker, a man ahead of his time whom she met in Italy and whose fourteen volumes of works she later edited. It was Parker's work that further stimulated Cobbe's natural rejection of the patriarchy of organized religion and the traditional idea of a cruel and vengeful God. Instead, in all her writings Cobbe stressed the importance of intuition rather than blind acceptance in matters of religious faith and promoted the idea of a rational and just God possessed of a compassionate, gentle and feminine side.
Despite the objections of her authoritarian father regarding her change in religious faith, Cobbe challenged him further by anonymously publishing "Essay on Intuitive Morals" in 1855. In this book she attempted an exposition of her views on morality, which ironically were later commended by a critic from the Caledonian Mercury for being the work of a "lofty masculine mind" (Buck 1992, 428). But eventually, like her contemporary, the Swedish writer and reformer Fredrika Bremer (who had also been confined by a strict father), Cobbe found herself liberated by the death of her father in 1856 and with it from the stultifying role of housekeeper and companion (he had been widowed some years earlier) on the family estate. Now provided at the age of thirty-four with a small private income of £200 per year, which allowed her the freedom to travel, in 1856–1858 Cobbe toured Europe and the Near East, where her feminist consciousness was further stimulated by her meetings with several extraordinary British and American female expatriates in Italy. The Cities of the Past (1864) and Italics (1864) were the product of these travels, and she would frequently return to the subject of Italy—her great love—in articles for the British national newspaper, the Daily News.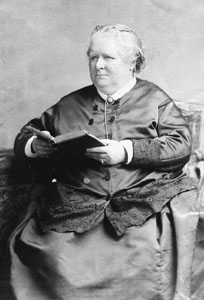 Returning to England, Cobbe threw herself into philanthropic work. In 1858 she joined the reformer Mary Carpenter in her social work in the "ragged schools" (for vagrant children, or those wearing "rags") and reformatories of Bristol and took great inspiration from her example of "teaching, singing and praying with the wild street-boys" (Perkin 1993, 207–208). But confronting juvenile delinquency soon became too trying for Cobbe and the conditions in which Carpenter lived and worked too spartan. Carpenter herself felt that Cobbe would be better suited to utilizing her undoubted talents in writing about reform. Cobbe would, however, always acknowledge the impetus she had gained from Carpenter in her pursuit of women's rights and her respect for the progressive reformist movements that Carpenter encouraged in India.
Cobbe therefore moved into other areas of welfare: the reform of workhouses, the care of sick and unemployed young girls, and improvements in the treatment and care of lunatics and the terminally ill. All her life she would remain an active supporter of the Workhouse Visiting Society and the Societies for Friendless Girls. Meanwhile, she was increasingly earning an income from writing—she proved to be a prolific professional journalist—with hundreds of articles published in journals, newspapers, and magazines on a wide range of topics. Much of the money she made was donated to her many social causes, from women's rights to antivivisection.
In the 1860s Cobbe also turned her attention to women's education, suffrage, and the thorny issue of the rights of married women. Along with Emily Davies, who was also tackling this issue at the same time, Cobbe was one of the first feminists to initiate the public debate on women's education. In 1862 she read a paper on the subject at the annual congress of the National Association for the Promotion of Social Science. Subsequently published as "The Education of Women, and How It Would Be Affected by University Examinations," the article advocated the admission of women to university degree courses and argued that they deserved the full benefits of education in order to feel themselves socially useful. It was Cobbe's fundamental belief that women needed to be trained to use their reason over their intuition, in order to open their minds to a wide range of social issues and be able to stand up for their rights. But although her feminist beliefs were deeply held, she disliked the idea of joining in a large and increasingly combative suffrage campaign. Her membership in the London National Society for Women's Suffrage lasted only a few weeks; for its own part, the suffrage movement at times found itself embarrassed by Cobbe's obvious Tory leanings—a legacy, no doubt, of her privileged background as a member of the gentry.
Throughout her long life, Cobbe's campaigning was primarily conducted through the written word in some thirty major published works (although this number excludes the literally hundreds of pamphlets she wrote on many issues). She preferred that her philanthropic works speak for themselves, being of the opinion that such activity should be undertaken by women voluntarily, without the constraints of organized and often dictatorial leadership (as in the case of the suffrage movement); nor, equally, should women be led by men in the fulfillment of good works. She also underlined the fact that unmarried, celibate women such as herself should not think themselves redundant members of society; they had a useful contribution to make, as she argued with ironic wit in her essay "What Shall We Do with Our Old Maids?"
In 1878, having been horrified by the increasing incidence of domestic assaults on women, Cobbe produced her most famous and politically provocative piece of writing, "Wife Torture in England." In it she examined the issue of women's economic dependence on men and their right to separate from violent and abusive husbands. She also savagely attacked the legalized theft of women's own property and inheritance that was effectively sanctioned by existing laws penalizing married women. Cobbe argued not only for the provision of financial maintenance to separated wives but also that they should receive custody of all children under the age of ten. She was one of a group of British feminists who through their writings directly brought about a change in the law, culminating in the introduction of the Married Women's Property Act of 1882 and the Matrimonial Causes Act in 1884.
Cobbe was greatly concerned with women's health and well-being. In "Wife Torture," she not only raised the issue of physical abuse by husbands of their wives but also described with horror the physical harm suffered by women at the hands of unsympathetic, incompetent doctors. Cobbe herself remained resolutely single and, while underlining the immorality of servitude and obedience required of women within marriage, made a point in her writings of contrasting the married state with the happiness of the unmarried, celibate life and the opportunities for freedom and self-fulfillment it provided.
Cobbe never ceased to write eloquently in support of all her social concerns. Her book The Duties of Women (1881) was looked upon as one of the more "philosophical" discussions of the subject, with its cogent argument that women must first be emancipated in order to be freed from any constraint in playing their full part in philanthropic and social good works. But it also exposed the underlying conventionality of Cobbe's attitude toward women's moral duty as wives and mothers. Her attitude did not prevent her, however, from emphasizing the right to self-determination of daughters obliged to remain at home and care for sick and elderly parents. For although Cobbe accepted the primary duty of daughters in this regard, she objected to their exclusion from social contact and education as a result of the fulfillment of that duty.
Cobbe's most passionate concern, and one that dominated her later life, was for animal welfare, and this aspect of her reformist activities is now being given the attention it deserves. It was born in part of her inherent mistrust of the medical profession, its misogyny and abuse of women patients (notable in the then current practice of removing women's ovaries in an attempt to control forms of hysteria—as PMT was then perceived). Animals, even more so than women, were, in Cobbe's view, at the mercy of cynical male experimenters. She had espoused anti-vivisection campaigning while in Italy in 1863, where she had staged protests by members of the English community in Florence against the medical experimentation carried out on animals at the Royal Superior Institute by its professor of physiology, Moritz Schiff.
Although Cobbe supported the work in Britain of the Royal Society for the Prevention of Cruelty to Animals (RSPCA) she persistently urged it to take a decisive stand against vivisection—a step it could not and would not take because of its significant backing by members of the medical and scientific professions. In 1875, therefore, she abandoned her long commitment to independent campaigning, having come to the conclusion that "the authority of a formally constituted society was needed to make headway against an evil which daily revealed itself as more formidable" (Cobbe 1894, 586). She founded the Victoria Street Society for the Protection of Animals Liable to Vivisection (popularly known as the Victoria Street Society) in 1875, to which she attracted many eminent personalities, including Lord Shaftesbury—its first president—as well as the tacit support of Queen Victoria (herself a great animal-lover). As honorary secretary (1876–1884) and later president, Cobbe threw her energies into an exhausting round of writing, speechmaking, and lobbying, turning out dozens of anti-vivisection pamphlets—most notably the moving and eloquent "Light in Dark Places" (1885), which was subsequently translated into French and German by sympathizers in Europe. The rise of the Victoria Street Society prompted the proliferation of other anti-vivisection and animal rights groups, dominated by a female membership that was often as high as 70 percent—and many of these conservative women who would never ordinarily have taken up public campaigning. For Cobbe the huge and compassionate response of women to the suffering of animals was a vindication of her belief that they would be the moral and spiritual regenerators of society—a society that should cease to degrade itself by the deliberate infliction of cruelty on animals.
However, Cobbe's tireless work against vivisection wore down her health and strength and at the end of the 1880s she left London for the rural seclusion of Wales, where she lived with her lifelong, self-effacing friend and companion, Mary Lloyd, until Lloyd's death in 1896. In 1898 after the Victoria Street Society voiced its willingness to compromise on vivisection issues and condone limited experimentation on animals under anesthetic, Cobbe formed the British Union for the Abolition of Vivisection, which was adamant in its total rejection of all forms of experimentation. As a result of her uncompromising stance on this issue, Cobbe fell out with her old friend and campaigner on women's education, Emily Davies, who allowed her science students at Girton College, Cambridge, to witness (although they did not take part in) experiments on living animals.
Among Cobbe's other published works, the most notable are The Scientific Spirit of the Age (1888), Essays on the Pursuits of Women (1863), Darwinism in Morals and Other Essays (1872), and The Moral Aspects of Vivisection (1875).
See also Blackwell, Elizabeth; Bremer, Fredrika; Davies, (Sarah) Emily.
References and Further Reading
1992

. Bloomsbury Guide to Women's Literature. London:

Bloomsbury

.
, ed.
1992

. Victorian Feminists. Oxford:

Oxford University Press

.
.
1894

. The Life of Frances Power Cobbe.

2

vols. London:

Allen and Unwin

.
.
1995

. Women: Power and Consciousness in Nineteenth-Century Ireland. Eight Biographical Studies. Dublin:

Attic Press

.
, and .
1975

. Anti-Vivisection and Medical Science in Victorian Britain. Princeton:

Princeton University Press

.
1993

. Victorian Women. London:

John Murray

.
.
1982

. Women of Ideas and What Men Have Done to Them. London:

Routledge and Kegan Paul

.
.
2001

. Power and Protest: Frances Power Cobbe and Victorian Society. London:

Rivers Oram Press

.
.