Topic Page: Clinton, George (1739 - 1812)
Summary Article: Clinton, George
from Encyclopedia of the War of 1812, The: A Political, Social, and Military History
Birth Date: July 26, 1739
Death Date: April 20, 1812
New York politician, governor of New York (1777–1795, 1801–1804), and vice president (1805–1812). George Clinton was born on July 26, 1739, in Little Britain, New York. He studied law in New York City and then returned to Ulster County, where he farmed and practiced law. During the French and Indian War, he served aboard a privateer in the Caribbean and fought as a subaltern in the militia.
Clinton became a Patriot leader during the events leading to the American Revolutionary War and served in New York's Provincial Assembly, in the Provincial Congress, and in the Second Continental Congress, where he supported the Declaration of Independence. After being commissioned brigadier general commanding the militia brigade of Ulster and Orange Counties, he left Congress. In March 1777, Clinton received a commission as a brigadier general in the Continental Army.
In July 1777, Clinton was unexpectedly elected governor of New York, a post he held until 1795. While remaining strongly committed to the 13-state union, Clinton advocated policies that benefited New York over the confederation. Later, Alexander Hamilton would refer to the governor's policies as "Clintonism." In 1783 at Dobbs Ferry, New York, Clinton and Continental Army commander General George Washington negotiated with British lieutenant general Sir Guy Carleton for the evacuation of British troops remaining in the United States.
By 1787, Clinton and his followers saw the new U.S. Constitution as yet another effort by non-New Yorkers and by anti-­Clintonians within New York to unseat the governor and establish a more aristocratic government. Clintonism peaked in April 1788, when two-thirds of the delegates elected to New York's ratifying convention initially opposed the adoption of the U.S. Constitution. Clinton led the state's anti-Federalist faction but then served as president of the state's ratifying convention.
In 1795 after 18 years as governor, Clinton retired. In the spring of 1800, however, Aaron Burr coaxed him out of retirement with the argument that New York's presidential electors would probably determine the presidential election later in the year. Reluctantly, the thoroughly upstate leader Clinton stood for and was elected a New York assemblyman from New York City.
In 1801 Vice President Aaron Burr seemed ready to run for governor of New York. To thwart him, Clinton agreed to stand for governor again and was elected. After serving as a figurehead for the three-year term dominated by his nephew DeWitt Clinton, George Clinton again attempted to retire, but President Jefferson asked Clinton to serve as his vice president. In February 1804, the Democratic Republican congressional caucus nominated Clinton for the position, which he won that autumn.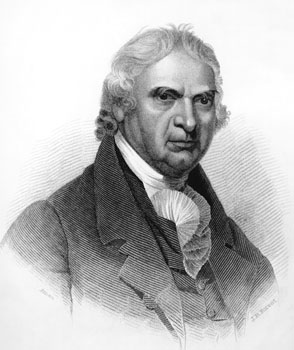 In January 1808, Secretary of State James Madison was nominated for president, with Clinton for vice president. Clinton's supporters, most of whom boycotted the meeting, condemned the caucus and strenuously worked for his election as president. Although strongly opposed to the administration's foreign policy and its failure to mobilize adequately for war, Clinton remained silent. Clinton was reelected vice president in 1808 by an electoral vote of 113 to 47.
Throughout his tenure as vice president, Clinton opposed the foreign and defense policies of Jefferson and Madison. Many opponents of those policies clustered around Clinton, but he was too old and ill to provide effective leadership. Nor was he well suited to be vice president. He knew little about the protocol of presiding over the Senate, and his performance paled when compared with his masterful predecessor, Burr. On several occasions, however, Clinton displayed his allegiance to high Democratic Republican principles by casting the tie-breaking vote in the Senate, such as on February 20, 1811, when an attempt to recharter the Bank of the United States was defeated. Clinton died in office in Washington, D.C., on April 20, 1812, shortly before the War of 1812 began.
See also
Clinton, DeWitt; Clintonians; Jefferson, Thomas; Madison, James; New York State
Further Reading
Hastings, Harold

, ed.

Public Papers of George Clinton

.

10

vols. State of New York, 1899-1911

Albany

.
George Clinton: Yeoman Politician of the Young Republic

. Madison House

Madison WI

, 1993.
George Clinton: Master Builder of the Empire State

. Syracuse University Press

Syracuse NY

, 2010.
Related Articles
---
Presidential Campaigns, Slogans, Issues, and Platforms: The Complete Encyclopedia
The election of 1804 so weakened the Federalist Party that something akin to one-party government appeared, at least for a time, to be a very real p
Public Opinion and Polling Around the World: A Historical Encyclopedia
Following the end of the Revolutionary War, the Founders of America, in a meeting in Philadelphia on May 25, 1787, that lasted nearly a year,...
Mercenaries: A Guide to Private Armies and Private Military Companies
In concept, the filibuster is a leader (or member) of an irregular military force that embarks on an unauthorized military incursion, expedition, or
See more from Credo