Topic Page: Christie, Dame Agatha (1890 - 1976)
---
Definition: Christie from Merriam-Webster's Collegiate(R) Dictionary
---

Summary Article: Christie, Agatha
From The Social History of Crime and Punishment in America
The English "Queen of Crime" and renowned author of detective novels, Agatha Christie created some of literature's most iconic characters and shaped how many people today imagine not only the genre of crime fiction, but also the nature of crime and the work of detectives. Born Agatha Mary Clarissa Miller on September 15, 1890, to an English mother and an American father, she left home in 1906 for a finishing school in Paris, her first formal education after a childhood tutor. At age 18, Christie turned to writing her first book while recovering from an illness and soon afterward began placing stories and poetry in magazines. At a dance at age 22, Agatha met her future husband, Archibald (Archie) Christie, a member of the Royal Flying Corps. They married on Christmas Eve, 1914, and Agatha moved to London when Archie went to war shortly thereafter. While working in a hospital dispensary, she learned about poisons, which became a central feature in many of her books. During this time, Christie also wrote her first detective novel, although she did not publish it until after the war.
In 1928, having had one child, Agatha divorced Archie after discovering his infidelity. In 1930, Christie met archaeologist Max Mallowan, marrying him the same year. Remaining together until her death in 1976, Christie traveled as part of her husband's archaeological team to clean and photograph their findings. Christie published her first detective novel, The Mysterious Affair at Styles, in 1921, introducing one of her most famous characters, Mr. Hercule Poirot, an eccentric and egotistic Belgian refugee living in England. As a former policeman, Poirot employs his skills of deduction and the art of interrogation to solve murders in some of Christie's most famous works, including The Murder of Rodger Ackroyd (1926), Murder on the Orient Express (1933), The ABC Murders (1936), and Death on the Nile (1937). Christie's second famed detective, Miss Jane Marple, appeared for the first time in a full-length novel, Murder at the Vicarage (1930). An English spinster and, unlike Poirot, an amateur investigator, Miss Marple draws on a studied understanding of human nature in combination with keen powers of observation and a modicum of nosiness. Christie later reported that she modeled Miss Marple on her grandmother.
In total, Christie wrote 66 detective novels featuring Marple and Poirot, along with scores of other novels, plays, and short stories. Her books typify the detective novel genre. In particular, she wrote her stories as puzzles, inviting the reader to act as detective from the pieces she laid out, though her novels characteristically culminate with surprising plot twists. Christie was a member and later president of the Detection Club, formed in 1930 by a group of British writers who pledged to give readers a fair opportunity to guess the perpetrator. Still, having helped create "rules" of fair play for the genre (such as giving the reader the same infor- mation as the detective), Christie was famous for breaking them; her stories frustrate readers when the detective reveals a crucial detail at the very end or when the narrator suddenly admits their guilt.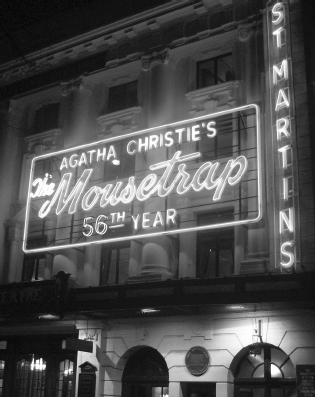 Credited as the best-selling writer of all time, with her work adapted many times to film and translated into more than 100 languages, Christie is the foremost figure in the development and increasing popularity of crime fiction as a literary genre. Preceded by Arthur Conan Doyle and joined by Dorothy Sayers and others, Christie's work encouraged readers to see the brilliant detective as the primary figure in investigation. That trope has recently undergone changes as technological developments (such as DNA testing and ballistics analysis) have emphasized the impartial collection of scientific evidence. Christie's overwhelming popularity extended to the United States, and has persisted, even as American audiences provided a ready readership for the "hard-boiled" sub-genre of crime fiction, including the unsentimental or more violent stories of Dashiell Hammett, Raymond Chandler, and later, Mickey Spillane. With her characters' keen insight into the motivations of criminals, Christie's work has also been associated with the fascination in and rise of psychological profiling, a tool used successfully in many real-life, high-profile investigations to identify and efficiently interview possible suspects. Some police have criticized the literary devices of crime fiction popularized by Christie and others for presenting a distorted picture of forensic work and raising false expectations among the public for how easily crimes can be solved.
See Also: Detection and Detectives; Dime Novels, Pulps, Thrillers; Literature and Theater, Crime in.