Topic Page: Chisholm, Shirley (Nov 30, 1924 - Jan 1, 2005)
Summary Article: Chisholm, Shirley
from Encyclopedia of American Studies
The first African American woman elected to the United States Congress, Shirley Chisholm was a forceful advocate throughout her career on behalf of children, the economically disadvantaged, and Americans of color. A tireless and courageous proponent of progressive causes, including federally financed social programs, Chisholm served as a role model to many Americans and as a symbol of big-spending, liberal interventionism to others.
Born Shirley Anita St. Hill in Brooklyn, New York, on November 30, 1924, Chisholm spent her early childhood in Barbados, her parents' country of origin, returning to Brooklyn when she was ten. Chisholm earned a bachelor of arts degree in sociology from Brooklyn College and a master's degree in early childhood education from Columbia University. She married Conrad Chisholm in 1949. They divorced in 1977, and she married businessman Arthur Hardwick, Jr., later that year. While serving as a teacher and school administrator in New York City, she organized and campaigned on behalf of black political candidates in the Democratic Party. In 1964 Chisholm ran for the New York State Assembly, winning by a significant margin. Her adherence to principle rather than party lines contributed to her growing reputation as an effective and independent legislator. Running for Congress in New York's Twelfth District in 1968, Chisholm overcame racist and sexist opposition to win her party's nomination and ultimately the election to the Ninety-first Congress, where she served on the powerful Ways and Means Committee and the Committee on Agriculture.
Known primarily for her stands on increased funding for education and anti-poverty programs and against military spending and South African apartheid, Chisholm served in Congress for fourteen years. She eventually served on the Veterans Affairs Committee, the Committee on Education and Labor, the Rules Committee, and the Committee on Organization and Review.
In 1972 Chisholm again made history by seeking the Democratic nomination for president. Despite a poorly financed campaign and opposition from the party establishment, Chisholm refused to abandon the race. She garnered 150 votes from convention delegates on the first ballot. Although she failed to win the nomination, she characteristically influenced the party's platform and debates beyond others' expectations, although she was stung by the lack of support from organizations primarily led by African American men and white women.
After retiring from the House in 1983, Chisholm moved to upstate New York with her husband. Although she lectured periodically, and spoke for Jesse Jackson's presidential campaigns, she considered herself withdrawn from politics. President Bill Clinton nominated her as United States Ambassador to Jamaica in 1992. Citing failing eyesight, she declined.
Although her liberal leanings eventually fell out of favor in Congress and in America during the Nixon, Ford, and early Reagan administrations, Chisholm was praised, even by her critics, for her tenacity and integrity. Her fearless advocacy for unpopular stands and on behalf of disenfranchised individuals with little clout has led many, especially African Americans and women, to consider her a catalyst for change and a heroic maverick. She died January 1, 2005.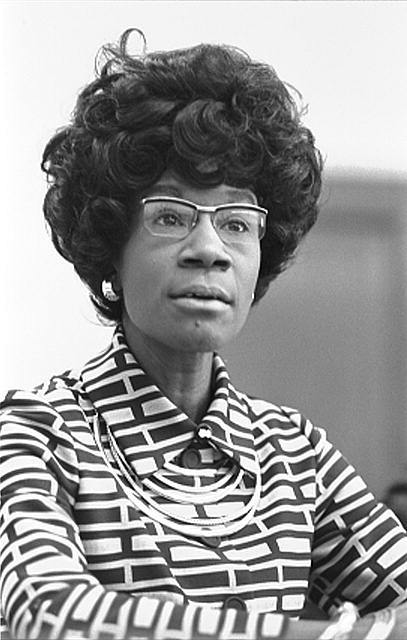 Bibliography
"A New Era in American Politics": Shirley Chisholm and the Discourse of Identity

, Callaloo

31

(2008):

1013-1025

.
,
Shirley Chisholm: A Biography

(

Doubleday

1970).
,
The Good Fight

(

Harper

1973) [focuses primarily on her bid for the presidency].
,
Unbought and Unbossed

(

Houghton

1970) [Chisholm's first autobiography, titled after her campaign slogan].
,
Shirley Chisholm: A Bibliography of Writings by and about Her

(

Scarecrow

1988).
, comp.,
Waging "The Good Fight": The Political Career of Shirley Chisholm, 1953-1982

, Journal of African American History

92

(2007):

392-416

.
,
Chisholm '72: Unbought & Unbossed

(

20th Century Fox

2004) [film].
, dir.,