Topic Page: Childhood Obesity

Summary Article: Obesity in Children
from Encyclopedia of Lifestyle Medicine and Health
Since the mid-1970s, the prevalence of overweight and obesity among adults and youth has increased dramatically. Data from the 1976-1980 and 2007-2008 National Health and Nutrition Examination Surveys show that the prevalence of obesity (BMI of 30 or greater) among adults, 20 to 74 years of age, has increased from 15.0% to 33.8%. Obesity (above the 95th percentile on the Centers for Disease Control and Prevention [CDC] growth charts) among children 2 to 5 years of age has increased from 5.0% to 10.4%. Among children 6 to 11 years of age, obesity has increased from 6.5% to 19.6%, and among adolescents 12 to 19 years of age, it has increased from 5.0% to 18.1%. The prevalence of overweight (defined as between the 85th and 95th percentiles on CDC growth charts) and obesity for youth has increased from 13% to 31.7%. Comparing youth from several industrialized nations, the prevalence of obesity and overweight among American youth is significantly greater.
In 1999-2002, the average 10-year-old child weighed 11 lb (1 lb = 453.6 g) more than in 1960-1962, and the average BMI of a 16-year-old boy increased from 21.3 in 1963 to 24.1 in 2002. These trends have led some experts to project that the present generation of youth will not enjoy as long a life span as their parents. Another disturbing trend is the increasing frequency of bariatric surgery among adolescents. Although in 2003, the absolute number of bariatric surgeries among adolescents was relatively low at 771, this represented 3 times as many as were performed in 2000. In response to these trends, the National Institutes of Health launched the ongoing Teens Longitudinal Assessment of Bariatric Surgery to evaluate the safety, indications, and efficacy of bariatric surgery in adolescents.
Medical spending attributable to obesity in the United States was estimated to be $147 billion in 2008, and between 112,000 and 400,000 deaths per year are attributable to overweight and lack of physical activity. Although many factors have contributed to the epidemic of overweight and obesity, an increasingly sedentary lifestyle is a major factor.
Physical Inactivity Among Youth
In 2009, the Youth Risk Behavior Surveillance System showed that only 45.6% of males and 27.7% of females were physically active for a total of 60 minutes or more per day on 5 or more of the past 7 days. Between 1991 and 2005, the percentage of adolescents participating in daily physical education fell from 41.6% to 33.0%. Other data from the Surveillance System found that between grades 9 and 12, vigorous physical activity of 20 minutes or more, 3 d/wk decreased from 64% to 56% of students between 1991 and 2005. By 16 or 17 years of age, 56% of African American and 31% of Caucasian girls report that they do not engage in any leisure-time physical activity.
A study of nearly 4500 children aged between 9 and 13 years found that 61.5% do not participate in any organized physical activity in their nonschool hours and 22.6% do not engage in any leisure-time physical activity. Non-Hispanic black and Hispanic children were significantly less likely to participate in organized after-school physical activities or leisure-time physical activity than non-Hispanic white children. These and other studies demonstrate that many youth do not achieve the recommended 60 minutes of daily physical activity.
Objectively measured physical activity suggests that studies that rely on self-reporting probably underestimate activity in children and adolescents. For example, a study of 78 three-year-old preschoolers who wore an accelerometer, a matchbox-sized instrument that monitors physical activity and calories expended, found that the toddlers spent about 20 min/d engaging in moderate to vigorous physical activity (MVPA) and expended about 1300 cal/d. A study of the activity levels of 281 children from 9 preschools in the United States, in which the children wore accelerometers for an average of 4.4 h/d for a mean of 6.6 days, showed that on average the children engaged in MVPA for 7.7 min/h, or approximately 1 hour during an 8-hour school day. Mean minutes of MVPA varied considerably among preschools, from 4.4 to 10.2 min/h. These findings suggest the importance of school policies and procedures directed toward providing preschool children adequate daily MVPA. Recent guidelines recommend that preschool children engage in 120 min/d of physical activity, half of that time in structured physical activity and the other half in free-play settings.
Research also suggests that many children and youth may not take advantage of opportunities for incidental activity during the day. For example, one study of youth 9 to 15 years of age found that only about 16% walked or biked to or from school, although about twice that percentage lived within 1 mile (1 mile = 1.6 km) of their school. Other studies have found similar results: For instance, the CDC found that in 2002, only about 20% of students living within a mile of their school walked or biked to school, versus 87% who lived that close in 1969.
Consequences of Obesity, Overweight, and Physical Inactivity
Overweight and obesity are associated with a number of comorbidities, many of which are manifested in children and adolescents. For example, the increased rates of overweight and obesity among youth parallel the increased rates of diabetes, leading some experts to use the term diabesity to characterize this epidemic.
Four percent of all youth have the metabolic syndrome (MetS), a collection of risk factors associated with increased risk of serious diseases such as stroke, coronary artery disease, and type II diabetes, but among overweight or obese youth, 30% to 50% have the MetS. Approximately 4.1 per 1000 adolescents have type 2 diabetes mellitus, and as many as 45% of all new cases of diabetes among children and adolescents are type 2 diabetes mellitus. Various studies have shown that a higher BMI in youth is associated with higher blood pressure, and increases in both systolic and diastolic blood pressure among youth, as measured by the National Health and Nutrition Examination Survey, were noted in 1999-2000 as compared with 1988-1994. These increases are considered to be partially attributable to the increased prevalence of childhood overweight and obesity.
Eighty percent of obese and overweight adolescents become obese adults, and early-childhood obesity that persists into adulthood is associated with more severe obesity among adults. Approximately 60% of overweight youth have at least one additional risk factor for cardiovascular disease, and 25% have 2 or more additional risk factors. The onset of diabetes in youth increases the risk of renal failure and death by middle age. Overweight and obese youth have increased incidence of risk factors, such as increased triglycerides and low-density lipoprotein cholesterol, lower high-density lipoprotein (HDL) cholesterol levels, and extensive fatty streaks, when compared with normal-weight youth. Overweight in youth is associated with a greater degree of coronary artery calcium in 29- to 37-year-old adults, and a BMI of more than 30 is associated with the development of premature atherosclerosis.
Obese girls have a 3-fold risk of early death as adults, and among boys, an elevated BMI (greater than the 85th percentile) is associated with an increased risk of hypertension in young adulthood. Obese preschool children have been shown to be at increased risk of stroke in middle age. Weight gain during the first week to 112 days of life was associated with a greater risk of overweight in adulthood among European American infants who were fed infant formula. Among white girls, the rate of increase of BMI was associated with an increase in the development of insulin resistance. Among black girls, early onset of obesity was more predictive of impaired fasting glucose and insulin resistance.
Cardiovascular disease risk factors identified in childhood and adolescence have been associated with decreased carotid artery elasticity and intima media thickness. Systolic blood pressure, triglycerides, and fasting insulin have been shown to be significantly higher and HDL cholesterol significantly lower among overweight and obese adolescents. Among urban African American adolescents, increased body fat and lower levels of physical activity are associated independently with insulin resistance. Finally, studies show that overweight and obese youth have elevated blood levels of inflammatory markers and impaired endothelial function.
Risk of adult cancer also appears to be increased among overweight and obese children. One longitudinal study found that the risk of adulthood cancer increased 9% for every standard deviation increase in childhood BMI. The same study found a 30% increase in the risk of smoking-related cancers per standard deviation increase in childhood BMI.
Risks of obesity extend to psychological illness as well. One study found that adults with major clinical depression had higher BMIs as youth than nondepressed adults. A different study in which researchers tracked nearly 11,000 American adolescents found that obese girls were half as likely to attend college, had more negative self-images, and were more likely to consider committing suicide and to use alcohol and marijuana than normal-weight girls.
Interventions
Potential interventions for treating and preventing obesity and its complications among youth span a continuum from primordial prevention of the onset of overweight to treating established obesity and its complications. Both population-based approaches that focus on environmental and policy changes with a broad societal reach and individual treatment-centered methods that focus on high-risk youth are necessary if the epidemic of obesity is to be reversed.
Several studies have found an inverse relationship between physical activity and important health risk factors. One large study of adolescents with type 1 diabetes mellitus found that increasing the frequency of physical activity was associated with a decreased likelihood of low HDL, high triglycerides, high glycosylated hemoglobin (HbA1c), and high blood pressure. Another study found a significant inverse relationship between increased fitness in adolescence and young-adult body fatness. This study also found that reduced adolescent body fatness was associated with improved cardiovascular risk factors in adulthood. Even among overweight and obese youth, fitness is associated with reduced central and total body fat. Increased physical activity can also have preventative effects: One study found that physical activity in young adults (18-30 years of age) was associated with a 15% reduction in the development of high blood pressure over a 15-year period.
It is critical to prevent further weight gain among overweight youth. A recent report from the CARDIA study (Coronary Artery Risk Development in Young Adults) found that only 3.6% of overweight young adults (18-30 years of age) who maintained their weight over 15 years developed the MetS compared with 18% of those who gained additional weight. Regular physical activity countered some of the risk related to overweight and weight gain for the development of the MetS. Numerous cross-sectional studies have found similar results relative to the association of childhood and adolescent body fatness and cardiorespiratory fitness with adult fatness and cardiovascular risk factors.
Several researchers have developed effective interventions to facilitate weight control among children and adolescents. For instance, Mary Savoye and colleagues compared the effects of a 1-year weight management program that involved an intensive family-based program, including exercise, nutrition, and behavioral modification (the Bright Bodies Program). with traditional clinical weight management counseling every 6 months. Two hundred nine participants, aged 8 to 16 years, were randomly assigned to either group. After 12 months, BMI and percent body fat decreased and insulin sensitivity increased significantly among the participants in the Bright Bodies Program compared with those in the traditional counseling group. S. Bryn Austin and colleagues implemented the Planet Health obesity prevention curriculum plus the School Health Index of Physical Activity and Healthy Eating in 13 middle schools. After 2 years, a 1.2% rate of self-reported disordered weight control behaviors in the intervention schools versus a 3.6% rate in the control schools was reported.
Several studies have reported that interventions that include exercise training and diet-induced weight loss are associated with a reduction in endothelial dysfunction in overweight and obese children and adolescents. One randomized study assigned obese children (mean age = 10 years) to a diet-only or a diet plus exercise training group. Exercise consisted of three 60-minute sessions of walking, jogging, and recreational exercise. The diet was 1400 kcal/d, with 50% to 70% of the calories from carbohydrates, 10% to 15% from protein, and 15% to 30% from fat. Although diet and diet-plus-exercise interventions were equally effective in promoting weight loss, the diet-plus-exercise intervention was more effective than the diet-alone intervention in improving blood pressure and forearm vascular conductance.
A different study evaluated the effect of high- versus low-intensity exercise programs in eighty 13- to 16-year-old obese adolescents. Individuals trained 5 d/wk and expended 250 kcal per session. One group trained at 55% to 60% and the other at 75% to 80% of maximal oxygen uptake (Vo2max). The higher intensity group improved significantly more in maximal oxygen uptake than the low-intensity group, but body composition improved similarly in both groups.
Recommendations
Several organizations, including the Institute of Medicine and the National Association for Sport and Physical Education, and the 2008 Physical Activity Guidelines for Americans recommend that youth aged between 6 and 19 years accumulate 60 or more minutes of physical activity per day. A summary of the recommendations of NASPE for children aged between 5 and 12 years is provided as follows:
1. Youth should accumulate at least 60 minutes and up to several hours of age-appropriate physical activity on all or most days of the week.

2. Youth should participate in several bouts of physical activity lasting 15 minutes or more per day.

3. Youth should participate each day in a variety of age-appropriate physical activities designed to improve health, wellness, fitness, and performance.

4. Extended periods of physical inactivity should be discouraged.

5. Youngsters should be exposed to a wide variety of activity.

6. Lifetime physical activity skills that promote health and fitness should be taught.

7. Self-monitoring should be encouraged so that youth can see how active they are and set goals.

8. Activities should be individualized and should include both moderate- and vigorous-intensity activity.

9. All parents, teachers, and community leaders must serve as role models.

10. Feedback should focus on the process of doing your best rather than on outcome.

11. The focus, in particular, should be to promote physical activity during the period from 3 to 6 pm (after school), as this is a time when children are likely to be sedentary.

12. Periods of inactivity during waking hours should be limited to less than 2 hours.
The Institute of Medicine, almost a decade ago, produced a document titled Recommendations to Reduce Obesity in Children and Adolescents and suggested that this goal will require a multipronged approach by schools, families, communities, industry, and government that will need to be at least as comprehensive and ambitious as the national antismoking efforts.
Among efforts to promote physical activity at the community level, the American Heart Association (AHA) has produced a statement on promoting physical activity among children and adolescents focusing on the responsibilities of school. In this statement, the AHA recommends that schools ensure that all youth participate in a minimum of 30 minutes of moderate to vigorous physical activity during the school day, including active time during physical education classes. In addition, physical education programs should meet national standards and be taught by well-qualified and certified teachers. The AHA also urged schools to provide other opportunities such as clubs, lessons, intramural sports, and interscholastic sports programs that meet the physical activity needs and interests of students and to promote other informal opportunities for activity, such as walking to school where appropriate.
To provide effective interventions, it is also important to understand why youth are inactive and what can motivate them to sustain high levels of physical activity. A leading researcher in the field, Maureen R. Weiss, has summarized research findings in the area of motivating kids in physical activity and concluded that interventions designed to enhance perceptions of physical competence, peer support, and enjoyment will result in more youth adopting and sustaining high levels of physical activity. Weiss has suggested the following strategies for motivating youth to be physically active:
1. Provide optimal challenges by matching the activity to the skill level of each child.

2. Create a mastery motivational climate that promotes learning, effort, and self-improvement and where success is self-referenced and personal improvements are recognized, praised, and emphasized.

3. Make physical activity fun. Youth need to find activities in which they have a high level of personal involvement and where they can establish positive friendships.

4. Help youth help themselves by guiding them in setting personal goals and using self-monitoring methods that allow them to adopt individualized and self-reliant standards for enhancing perceptions of competence and self-efficacy.
Table 1 presents Weiss's guidelines for promoting physical activity among youth.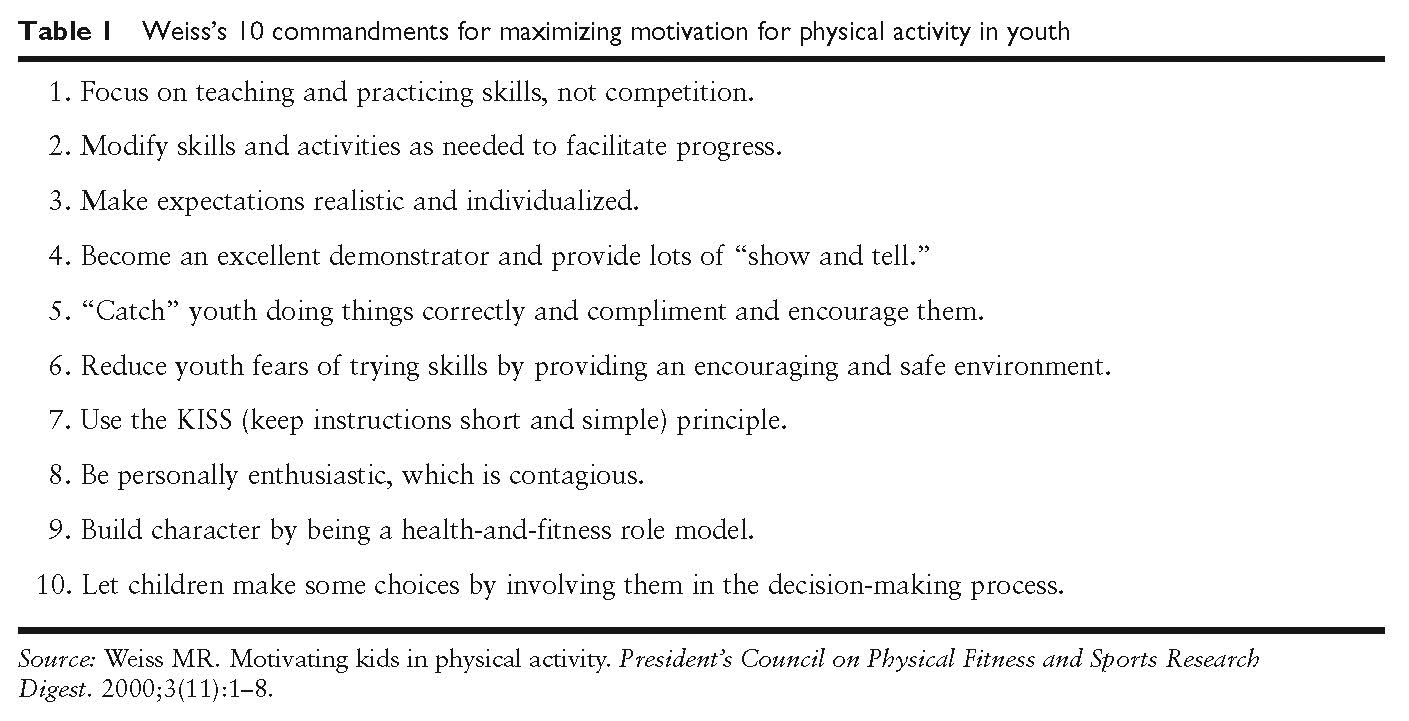 Conclusion
The nearly 3-fold increase in youth overweight and obesity in the past 3 to 4 decades represents a potentially devastating tragedy for the health of the nation. The consequences of this epidemic are very costly in terms of both dollars and physical and emotional suffering. However, numerous studies, position statements, and guidelines have been published in the past 10 to 15 years suggesting interventions that work. It is the responsibility of parents, schools, related industries (food, insurance, medical), worksites, communities, government, and essentially all citizens to advocate and promote opportunities for physical activity among youth.
See also
Obesity, Lifestyle Management of, Obesity in Adolescents, Fitness in Children, Development of
Further Readings
School-based overweight preventive intervention lowers incidence of disordered weight-control behaviors in early adolescent girls.

Archives of Pediatriatric & Adolescent Medicine.

161

:

865-869

.
; ; , et al.
Risk factors for the metabolic syndrome: the Coronary Risk Development in Young Adults (CARDIA) Study, 1985-2001.

Diabetes Care.

27

:

2707-2715

.
; ; , et al.
Physical Activity for Children: A Statement of Guidelines for Children Ages 5-12.

2nd ed. Reston, VA:

National Association for Sports and Physical Education

; 2004.
;
Effects of exercise intensity on cardiovascular fitness, total body composition, and visceral adiposity of obese adolescents.

American Journal of Clinical Nutrition.

75

:

818-826

.
; ; , et al.
Institute of Medicine.

Preventing Childhood Obesity: Health in the Balance. Washington, DC:

The National Academies Press

; 2004.

http://books.nap.edu/catalog/11015.html

. Accessed September 15, 2007.
Childhood body mass index and later cancer risk.

International Journal of Cancer.

112

:

348-351

.
; ; , et al.
The epidemic of obesity and overweight among youth: trends, consequences, and interventions.

American Journal of Lifestyle Medicine.

2

(

1

):

30-36

.
National prevalence and correlates of walking and bicycling to school.

American Journal of Preventive Medicine.

33

:

98-105

.
; ;
National Association for Sport and Physical Education.

Active Start: A Statement of Physical Activity Guidelines for Children Birth to Five Years. Reston, VA:

National Association for Sport and Physical Education Publications

; 2002.
Promoting physical activity in children and youth: a leadership role for schools.

Circulation.

114

:

1214-1224

.
; ;
Total energy expenditure and physical activity in young Scottish children: mixed longitudinal study.

Lancet.

363

:

211-212

.
; ; , et al.
Diet and exercise training restore blood pressure and vasodilatory responses during physiological maneuvers in obese children.

Circulation.

111

:

1915-1923

.
; ; , et al.
Effects of a weight management program on body composition and metabolic parameters in overweight children.

Journal of the American Medical Association.

297

:

2697-2704

.
; ; , et al.
US Department of Health and Human Services.

2008 Physical Activity Guidelines for Americans.

http://www.health.gov/paguidelines

. Accessed July 4, 2011.
Motivating kids in physical activity.

President's Council on Physical Fitness and Sports Research Digest.

3

(

11

):

1-8

.